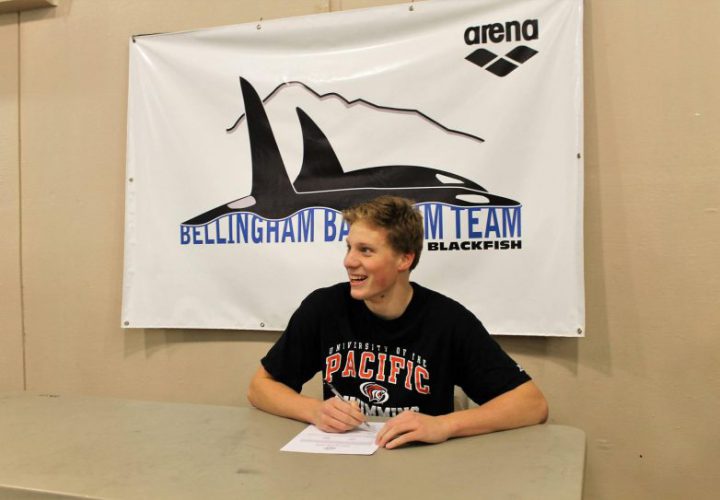 Photo Courtesy: Christina Boyd/Bellingham Bay Swim Team
By Ashley Illenye, Swimming World College Intern.
The deadline of November 8 for swimmers to sign their National Letter of Intent has come and past. With that, the spring deadline of April 11 is another two months away, and high school seniors who have not signed their NLIs might be feeling anxious. Waiting to finalize one of the most important decisions of your life up to date is not as easy as signing a paper. A lot of thought goes into where you decide to continue your academic and swimming careers.
There are plenty of reasons why it's more than okay to wait until the spring to sign your NLI, or decide what school you want to go to if a scholarship isn't involved. If you haven't signed yet: all of your doors are not closed and you are alone. According to the collegeswimmnig.com list of recruitment, about one-fifth of the top 50 recruits for the class of 2018 still have not yet signed to a college.
There are reasons why not all of even the top recruits in the country have committed to a school yet. Committing to school is just that—a commitment. While it's not a binding contract of four years, the goal when you go to a school is not just to find a place to get through your college career. Spring recruits want to go into a family. That isn't a decision to make over-night, so the swimmers who haven't committed to a school yet still have time to find the home they're looking for.
1. Spring Recruits Have the Wiggle Room to Take Their Time.
Signing your NLI and committing to go to school in the fall is one of the biggest decisions high school seniors have made up to date. College means moving away from the only home you've ever known. Swimmers are thrown into a different atmosphere than club or high school experiences. Academics are more rigorous than the classes you took in high school.
All of these factors push toward one main idea: signing in the spring means that you don't have to rush on your decision. November 8 could be too early for some to make this decision. You may not have enough time to finish all your recruiting trips with practice, meets, and schoolwork on the table. If you have taken all your trips, you could still meet the same time restriction with the other activities that prevent you from making the big decision.
Don't let anyone- parents, coaches or friends- pressure you into making a decision before it's right for you.
2. Spring Recruits Have More Chances to Improve Their Times.
Boys don't completely physically mature, particularly in their bone structure, until the age of 20. This leaves room for improvement virtually any time in their senior year—even after November 8. Particularly with midseason taper meets in December, there are more opportunities for men and women alike to improve their times.
If you don't immediately get a spot on the team in the fall recruiting period, coaches might give you example times that would make the team or go to conferences. If not, you can always check meet results and see what the ballpark times of your events were in season and at conferences. Spring recruits have the opportunity to improve their times in order to get into their dream school.
3. Spring Recruits Have More Time to Improve Their Grades.
Something that college coaches look for isn't only times, but academics as well. The College Swimming Coaches of America give academic honors to teams that have over a 3.0 GPA. Institutions also individually recognize and reward teams for exemplary academics.
If a coach's qualification for you to attend that school is to bring your grades up, the signing date of April 11 gives you time to do so.This time isn't just meant to bring up your GPA. College coaches are also looking for improvement and the effort you put in. Ultimately, putting more time into your school work proves that you truly want to be at the university of your choice.
 4. Spring Recruits Get to Learn the Coach's Interest.
If a coach is truly interested in you and wants you on their team, they will continue to contact you even after the first signing period is over. This is particularly true if the team is continuing recruiting in the spring. If a strong relationship with your coach is something that you prioritize, their continual interest in you could be the first step to that.
5. If A Dream School Didn't Reply the First Time Around, They Might Now.
Especially after conference season is over, schools that haven't met their quota for the number of swimmers they want for the class of 2022 might be looking for a fresh batch of recruits. A recruiter that didn't answer your email the first time around might have had a chance to reevaluate what they're looking for and reply to your interest in the school.
There could be several non-detrimental reasons why the coach didn't reply the first time around, that doesn't necessarily mean they aren't interested. The team could have been overbooked in recruiting events in the fall term. They could have thought that they had met their recruiting quota but realized they wanted more.
A swimmer's decision on where to go to school is one that they will carry with them for years to come. There might still be stress about not having signed in the early period. Spring recruits in this situation should look at all the benefits that signing in the spring has to offer.
All commentaries are the opinion of the author and do not necessarily reflect the views of Swimming World Magazine nor its staff.