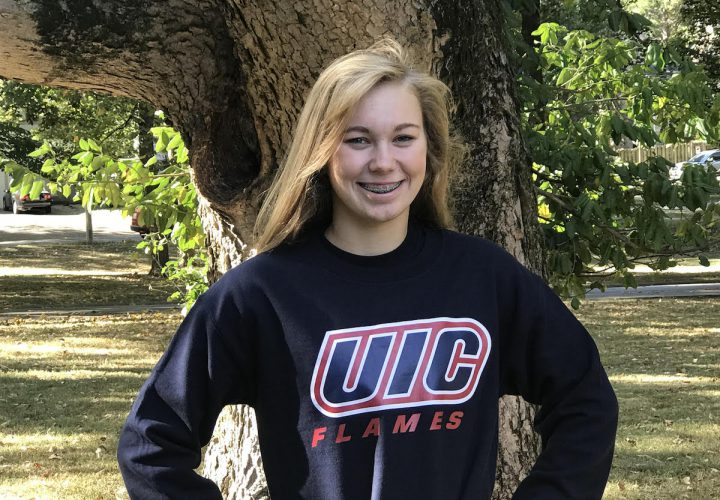 Photo Courtesy: Priscilla Tobias
Agon is the proud sponsor of all high school coverage (recruiting, results, state championships, etc.) on SwimmingWorld.com. For more information about Agon, visit their website AgonSwim.com.
To report a college commitment, email HS@swimmingworld.com. Join Swimming World's Watch List
NEW COMMIT: Sydney Tobias of Bearsharkopus Aquatics Swim Club has announced her verbal commitment to swim for the University of Illinois at Chicago. Tobias is from Springfield, Illinois. She's a senior at Southeast High School. A four time All Conference athlete, Tobias is a conference record holder. Last year she broke a 22 year old Conference record en route to the 100 backstroke conference title.
Tobias told Swimming World,
"I am ecstatic to commit to the University of Illinois at Chicago (UIC). I absolutely fell in love with the school, coaches, and teammates. The coaches are committed to the student athletes growing individually, academically, and athletically. The team members are great and are very close. The coaches and the team made me feel like I could call UIC home and successfully pursue a degree in nursing. I cannot wait to be a member of the UIC Flames swim team and to "Make It Matter" in and out of the pool!"
Her top times include:
100 Back 59.20
200 Back 2:09.95
50 Free 25.55
100 Free 55.37
200 IM 2:14.46
The Flames finished third in the Horizon League last year. UIC put three underclassmen into the 100 backstroke finals last year. Jessie Stangret (56.45) and Abby Kunze (57.50) will overlap with Tobias for two years, while she'll train with Hannah Olsen (57.49) for one year. The sprint freestyle group will still be led by Dani Cabrera when Tobias makes the move to Chicago.