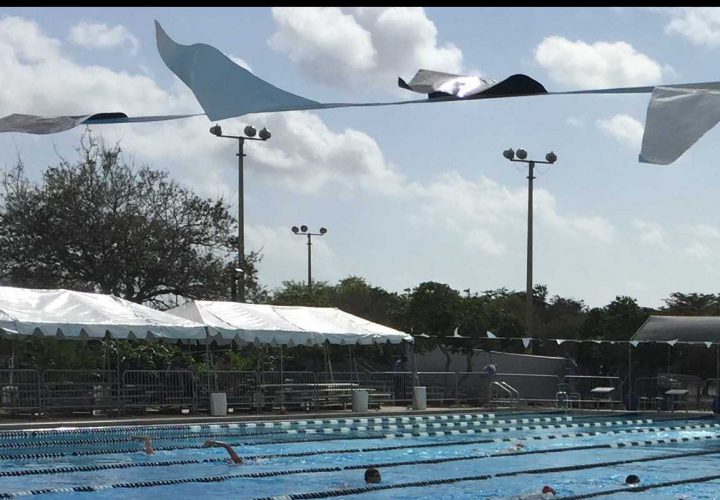 Photo Courtesy: Todd Schmitz
Speedo Sectional Series is proudly sponsored by Speedo. Visit SpeedoUsa.com for more information on our sponsor.
The Plantation stop of Speedo Sectionals wrapped up Sunday evening with top performers making more repeat appearances.
In the opening 200 meter butterfly Mabel Zavaros of Oakville Aquatic Club was just faster than AquaKids Sharks Swim Team's Mary Smutny as the two touched in 2:14.13 and 2:14.85. Alena Kraus of Makos Aquatics Club of Gainesville. (2:17.79) finished third.
University of Southern California commit Marta Ciesla faced some close competition in the 100 freestyle. The Pine Crest swimmer touched in 56.77. Southern Florida Aquatic Club's Kathleen Golding and Smutny were on her heels in 56.98 and 56.99.
Pine Crest's Hannah Virgin then dominated the 200 breaststroke. The 16 year old posted a 2:36.28, over a second ahead of Gator Swim Club's Isabel Ivey in 2:38.09. An unattached Nicole Hunnewell was third in 2:39.89.
Georgia-Mae Hohmann of Gator Swim Club won the 200 backstroke with a 2:17.24. Her teammate Talia Bates finished third with a 2:20.38. Adair Sand of Bolles touched second (2:17.91).
In the 800 free Bolles' Kensey McMahon cleared nine minutes with her 8:59.79. Anna Auld of East Coast Aquatic Club (9:01.67) was just behind. Grace Monahan from Kamehameha Swim Club finished third (9:18.70).
Azura Florida Aquatics' Marcos Lavado was just quicker than Mack Darragh of Oakville in the men's 200 butterfly as the two finished in 2:01.14 and 2:01.79. Sean Campsie of Gator Swim Club (2:07.09) placed third.
Corey Main of Gator Swim Club was first to the wall in the 100 freestyle with his 50.62 while Lavado finished second (51.68) and Performance Aquatics' Runar Borgen (52.26) placed third.
Adan Diaz of Azura swam a swift 2:20.95 in the 200 breaststroke, three seconds faster than Izaak Bastian of Saint Andrew's'(2:23.52). Hurricane Swim Club's Julio Horrego (2:24.17) was third.
Jian Wang of Gator Swim club was well ahead in the 200 butterfly with a 2:05.34. Ricardo Roche of South Florida was runner up (2:09.79) while Saint Andrew's' Nicholas Sharp (2:11.47) finished third.
The men's 1500 went to Colin Rockwell with a 16:17.39. Azura's Bernardo Abascal was second (16:21.22) just ahead of Rafael Rodriguez in 16:22.06.
Azura Florida Aquatics won the combined meet with 2012 points. Kamehameha Swim club scored 1850.5 points for second and Pine Crest Swimming was third with 1666 points.
All results can be found on Meet Mobile – 2017 So. Zone South Sectional Championships