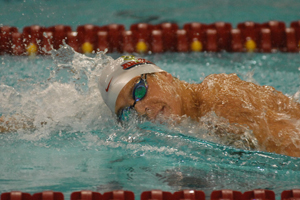 By Jason Marsteller
MINNEAPOLIS, Minnesota, March 16. IN the Arizona Wildcat Invitational, where four Wildcats placed in the championship heat, Darian Townsend claimed Arizona's seventh title in the event in NCAA history with a time of 1:33.29. That moved Arizona into a tie with Southern California for the most 200 free titles. It also gave Arizona three straight wins, with Simon Burnett repeating the past two years.
Meanwhile, California's Dominik Meichtry placed second in 1:33.45, while Arizona's Adam Ritter finished third in 1:33.76.
Auburn pushed its first-place total to 270 points, with Arizona in second with 207 points. Stanford (191), Florida (165) and Texas (154) make up the rest of the top five.
Click here to listen to Townsend following the win.
NCAA Division I Champ. Meet 3/16/2007 – 19:50PM
NCAA Men's D1 Championships – 3/15/2007 to 3/17/2007
Event 10 Men 200 Yard Freestyle
=========================================================================
NCAA: N 1:31.20 3/24/2006 Simon Burnett, ARIZONA
NCAA Meet: M 1:31.20 3/24/2006 Simon Burnett, Arizona
American: A 1:32.08 3/3/2005 Michael Phelps, Club Wolverine
US Open: O 1:31.20 3/24/2006 Simon Burnett, ARIZONA
Pool: P 1:33.28 3/25/2005 Simon Burnett, Arizona
Name Year School Prelims Finals Points
=========================================================================
=== A – Final ===
1 Townsend, Darian JR ARIZ 1:34.26 1:33.29 20
21.77 45.01 (23.24)
1:08.61 (23.60) 1:33.29 (24.68)
2 Meichtry, Dominik JR CAL 1:34.00 1:33.45 17
21.89 45.47 (23.58)
1:09.26 (23.79) 1:33.45 (24.19)
3 Ritter, Adam SR ARIZ 1:34.60 1:33.76 16
21.52 45.21 (23.69)
1:09.76 (24.55) 1:33.76 (24.00)
4 Basson, Jean FR ARIZ 1:34.59 1:33.85 15
22.36 45.99 (23.63)
1:09.78 (23.79) 1:33.85 (24.07)
5 Nilo, Nick SO ARIZ 1:34.21 1:33.90 14
21.99 45.83 (23.84)
1:10.05 (24.22) 1:33.90 (23.85)
6 Phillips, Shaun SR STAN 1:34.18 1:34.01 13
22.11 46.00 (23.89)
1:09.97 (23.97) 1:34.01 (24.04)
7 Grant, Andy SR STAN 1:34.35 1:34.11 12
22.56 46.53 (23.97)
1:10.34 (23.81) 1:34.11 (23.77)
8 Walters, Dave FR TEX 1:34.80 1:35.49 11
22.02 46.18 (24.16)
1:10.65 (24.47) 1:35.49 (24.84)
=== B – Final ===
9 McGinnis, Matt JR TEX 1:34.96 1:33.39 9
21.88 45.90 (24.02)
1:09.80 (23.90) 1:33.39 (23.59)
10 Johnson, Grant JR FLA 1:34.97 1:34.07 7
22.34 46.39 (24.05)
1:10.59 (24.20) 1:34.07 (23.48)
11 Fraser, Shaune FR FLA 1:35.06 1:34.96 6
22.34 46.46 (24.12)
1:10.83 (24.37) 1:34.96 (24.13)
12 Barba, Sal SO MICH 1:35.39 1:35.42 5
22.64 46.92 (24.28)
1:11.40 (24.48) 1:35.42 (24.02)
13 Jensen, Larsen SR USC 1:35.38 1:35.74 4
22.88 47.33 (24.45)
1:11.84 (24.51) 1:35.74 (23.90)
14 Beal, Danny JR STAN 1:35.04 1:35.79 3
22.72 46.98 (24.26)
1:11.70 (24.72) 1:35.79 (24.09)
15 Schneider, Joey SR AUB 1:35.30 1:36.10 2
22.35 46.89 (24.54)
1:11.41 (24.52) 1:36.10 (24.69)
16 Rudolf, Roland FR FLA 1:35.69 1:36.38 1
22.59 47.36 (24.77)
1:12.35 (24.99) 1:36.38 (24.03)
=== Preliminaries ===
17 Schmidt, Tyler JR MINN 1:35.76
22.21 46.40 (24.19)
1:10.99 (24.59) 1:35.76 (24.77)
18 Verlatti, Ryan SO TEX 1:35.89
22.96 47.18 (24.22)
1:11.53 (24.35) 1:35.89 (24.36)
19 Nilsson, Eric SO NW 1:36.08
22.27 46.24 (23.97)
1:10.86 (24.62) 1:36.08 (25.22)
20 White, Dan JR SCAR 1:36.13
22.33 46.41 (24.08)
1:11.06 (24.65) 1:36.13 (25.07)
21 Smit, Michael SR CORN 1:36.17
22.33 46.85 (24.52)
1:11.57 (24.72) 1:36.17 (24.60)
22 Holmes, David SR BING 1:36.23
22.48 46.77 (24.29)
1:11.36 (24.59) 1:36.23 (24.87)
23 Slocki, Daniel SR AUB 1:36.24
22.59 46.28 (23.69)
1:11.02 (24.74) 1:36.24 (25.22)
24 Cormier, Kyle JR SCAR 1:36.28
22.31 46.37 (24.06)
1:11.09 (24.72) 1:36.28 (25.19)
25 Cerensek, Igor SR MINN 1:36.36
22.08 46.60 (24.52)
1:11.80 (25.20) 1:36.36 (24.56)
26 Harris, Jeremy JR TEX 1:36.46
21.78 45.66 (23.88)
1:10.82 (25.16) 1:36.46 (25.64)
26 Povazsai, Zoltan FR WVU 1:36.46
22.33 46.73 (24.40)
1:11.59 (24.86) 1:36.46 (24.87)
28 Savulich, Bobby SO MICH 1:36.72
22.41 47.01 (24.60)
1:11.75 (24.74) 1:36.72 (24.97)
29 Morrell, Nolan SO TENN 1:36.73
23.19 47.62 (24.43)
1:12.67 (25.05) 1:36.73 (24.06)
30 Ryser, Evan SO MICH 1:36.94
21.90 45.86 (23.96)
1:11.18 (25.32) 1:36.94 (25.76)
31 Browning, Hank SO UNC 1:37.14
22.24 46.73 (24.49)
1:11.92 (25.19) 1:37.14 (25.22)
32 Greenshields, Joel FR ARIZ 1:37.48
22.21 46.23 (24.02)
1:11.68 (25.45) 1:37.48 (25.80)
33 Newman, Wesley SO CORN 1:37.73
22.82 47.44 (24.62)
1:12.47 (25.03) 1:37.73 (25.26)
34 Millen, John SR VA 1:38.27
23.11 47.47 (24.36)
1:12.46 (24.99) 1:38.27 (25.81)
35 Biedermann, Sean JR PSU 1:38.92
22.69 47.28 (24.59)
1:12.48 (25.20) 1:38.92 (26.44)
36 Woodson, Michael JR MINN 1:39.15
22.99 47.36 (24.37)
1:12.71 (25.35) 1:39.15 (26.44)
37 Betuzzi, Ray FR MINN 1:39.73
23.04 47.84 (24.80)
1:13.74 (25.90) 1:39.73 (25.99)
— Young, Kyle JR FSU DFS
— Azevedo, Lucas JR ASU DFS
— Sussex, Sean SR USC DFS
Men – Team Rankings – Through Event 10
1. Auburn 270 2. Arizona 207
3. Stanford 191 4. Florida 165
5. Texas 154 6. Northwestern 121
7. Michigan 109 8. California 101
9. Southern California 88 10. Tennessee 67
11. Ohio State 53 12. Minnesota 52
13. Georgia 41 14. Southern Methodist 38
15. Indiana 34 16. Virginia 28
16. West Virginia 28 18. Florida State 27
19. California Irvine 25 20. Alabama 22
21. Hawaii 17 22. Texas A&M 14
23. Purdue 12 23. Louisiana State 12
25. Arizona State 11 25. Miami 11
27. Wisconsin 6 27. Harvard 6
29. Brigham Young 5 30. Yale 3
30. North Carolina 3