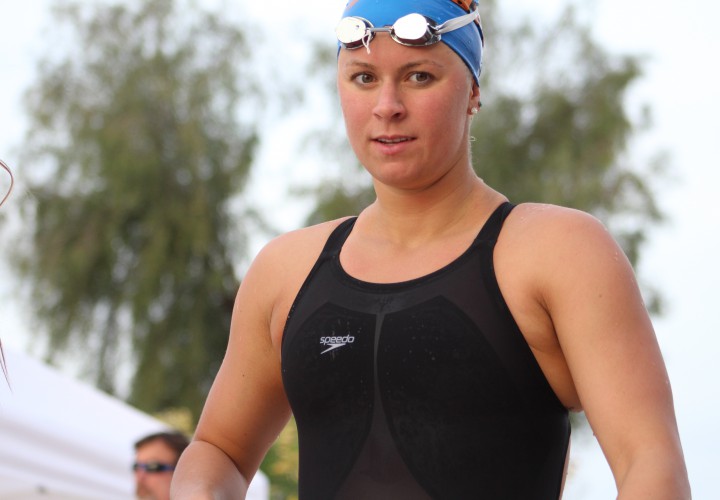 Arena Grand Prix – Mesa editorial coverage is proudly sponsored by Arena USA. Visit ArenaUSA.com for more information on our sponsor. For all the latest coverage, check out our event coverage page.
MESA, Arizona, April 26. THE final day of the Arena Grand Prix in Mesa, Ariz., will be full of plenty of storylines for swimming fans to discuss, from a packed day for Elizabeth Beisel to Ryan Lochte's first time racing breaststroke since injuring his knee.
View Saturday prelim heat sheets
View women's 800 free and men's 1500 free heat sheets
After winning the 400 IM and placing third in the 200 back on Friday, Beisel is set to swim three events on Saturday. After competing in the 200 fly and 200 IM prelims, Beisel will take a breather and likely swim in the championship final of both events. She'll also take lane eight in the last timed final of the 800 freestyle, continuing a year of competing in more distance freestyle events.
In that 800 freestyle, Katie Ledecky and Lotte Friis will race together again eight months after their epic battles in the 800 and 1500 at the world championships. The two raced in Austin at the Arena Grand Prix with Ledecky beating Friis by two seconds. A couple of North Baltimore Aquatic Club teammates could challenge the Olympians in that 800 free as well. Gillian Ryan and Becca Mann are swimming well in Mesa and could be spoilers in tonight's race.
While the women's 800 will have multiple challengers, Michael McBroom should have easy sailing to winning the men's 1500 free title. His seed time is 11 seconds faster than Arturo Perez Vertti, and McBroom's win in the 400 free on Thursday gives him a leg up on the competition.
The 200 IM could be the top men's event of the day. Ryan Lochte is scheduled to race the event for the first time since injuring his knee last fall. Breaststroke will be the questionable stroke for Lochte, since it's the stroke that involves the knee the most. Lochte will also race in the 100 backstroke prelims, where Olympian Matt Grevers will be the top seed.
View Saturday prelim heat sheets