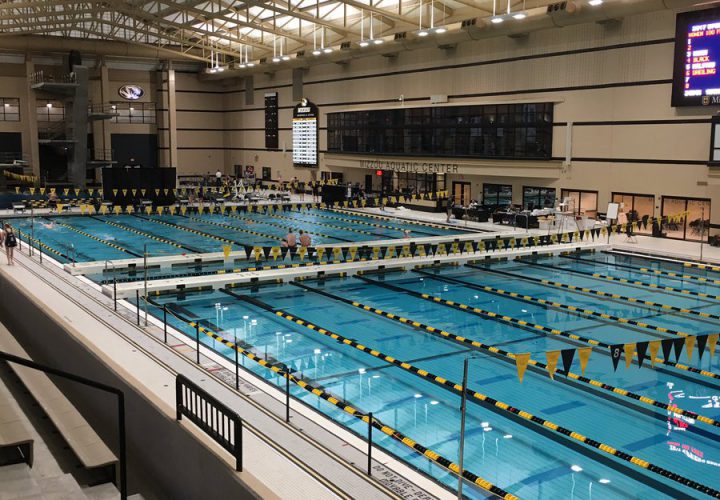 Photo Courtesy: @SwimMoVal Twitter
Speedo Sectional Series is proudly sponsored by Speedo. Visit SpeedoUsa.com for more information on our sponsor.
Speedo Sectionals competition got off to an exciting start in Columbia, MO with the 1000 freestyle and two sets of relays this evening. The Razorback Aquatic Club Aquahawgs racked up gold and silver in the women's distance event, while Rockwood Swim Club landed on the podium twice in the two relays.
Women's 4 x 50 Free Relay
The women's competition started off with a photo finish in the 200 free relay. The Arkansas Dolphins Swim Team led the whole way and came away with the gold in 1:34.84. The victory proved to be a true team effort. Angelina Ke and Claire Hyatt both dropped 23-second splits to set up the squad for success. Rachel Zhang held steady, and Alyssa Bloser hit the touchpad in 23.35.
The team did not win without putting up a fight, however. Lincoln Select edged closer in the final two legs of the race, as Anna Heinrich finished her leg in 23.79 and Alana Palmer laid down a blazing 22.86. Palmer couldn't quite make up the gap, but the team finished close behind the Dolphins in 1:35.05. The Kansas City Blazers team of Olivia Davison, Mackenzie Bravence, Joely Merriman, and Katherine Sullivan nabbed the bronze in 1:35.74, just ahead of Kansas Splash Club (1:35.80).
Men's 4 x 50 Free Relay
On the men's side, Rockwood Swim Club came away with the win thanks to fast swims from Jack Dolan (20.43) and Nicolas Wamsley (20.68) on the front half. The team, also composed of Andrew Noltkamper and Mihir Chandra, posted a 1:23.41.
Empire Swim Club's team of Caleb Musser (21.44), Andy Huffman (21.47), Lance Godard (21.11), and William Bresette, who charged for the fastest split in the pool, 20.06, and a team time of 1:24.08. The Greater Omaha Aquatics Leopard Sharks team, made up of Collin Lafave, Javier Quinones, Nicholas Soltys, and Kayden McCullough landed third in 1:24.68.
Women's 1000 Free
Luciana Thomas of Razorback Aquatic Club Aquahawgs earned the top spot in the women's 1000 free, posting a solid 9:53.07. Thomas chose to take out the race at an aggressive pace and held steady, with only one 100 over the minute barrier.
Not far behind, her teammate, Hayley Pike, took a slightly different approach. Pike stayed more conservative on the front and came back strong in 56.51. Pike's final split landed her with second place and a 9:54.14. The rest of the pack followed the two Aquahawgs standouts about seven seconds behind. Fourteen-year-old Kate McCarville earned the bronze in 10:02.69.
Men's 1000 Free
The men's race was similarly dominated, this time by Dane Florea of Columbia Swim Club, 9:04.76.
Meanwhile, the Rec Plex Sharks' Adam Grimm led a tight-knit group of later finishers. Grimm surged in the final 100 to hit the wall in 9:17.27 for silver. Matthew Hillmer of Clayton Shaw Park Tideriders was close behind in 9:17.32.
Women's 4 x 50 Medley Relay
The night of women's competition wrapped up with an exciting fight for gold in the medley relay. Alana Palmer led off Lincoln Select Swimming's team with a blazing 25.80 split in the backstroke. Lauren Naeger made up significant ground for Columbia Swim Club in the butterfly leg.
Ultimately, though, Lincoln's Anna Heinrich brought home the gold with a solid free leg in 23.60. The final marks were Lincoln in 1:43.33 and Columbia in 1:43.44. Meanwhile, American Energy Swim Club made a move for bronze on the back half, stopping the clock in 1:43.82.
Men's 4 x 50 Medley Relay
On the men's side, the podium time margin proved greater, as Sooner Swim Club put together an all-around solid squad for the top spot. Alden Hayes earned a sizeable lead with an impressive 22.52 backstroke split, while Alexander Stamatin, Caleb Sullivan, and Jonathan Tang held onto the lead for gold.
The Greater Omaha Aquatics Leopard Sharks were good for silver in 1:32.42, and Rockwood Swim Club settled for the bronze in 1:32.71.
The action will continue in Columbia tomorrow as prelims begin at 9 am.
Live results are available on MeetMobile – 2018 Region VIII Speedo Spring Sectionals.