Annie, Matt Grevers Welcome Third Child, First Boy: Gideon Grevers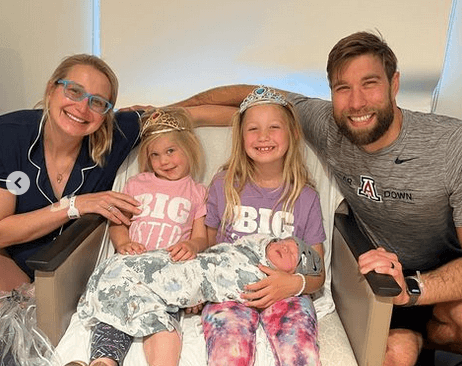 Photo Courtesy: Annie Grevers via Instagram
Left Sidebar
Annie and Matt Grevers welcomed their third child into the world on Sunday. Gideon Grevers is the couple's first boy.
"Gideon Andrew Grevers zoomed into the world on 3/19/23 at the modest weight of 9lbs13oz. We arrived at the hospital at 4 pm, went home disappointed at 6 pm, thinking we could have another week. My water broke at 9 pm and Giddy stormed into the world at 10:15 pm. He has the two proudest big sisters on planet earth," Annie Grevers posted on Instagram. " I maybe slept one hour last night because of vital checks but also by choice, because there's nothing like the afterglow of having a brand new human. The miracle of it all is too much to comprehend. So very thankful for this new life God has entrusted to us. We named him Gideon because we like the name and alliteration 🙂 and Andrew because we think his uncle is a really wonderful guy. Can't wait for you to meet our little Giddy guy. 💙 also, shout out to my incredible dad who has played nanny all week as his miserably pregnant daughter moped around attempting to induce labor every day in every way. We sure do love you, Papa!"
View this post on Instagram
The Grevers family has two daughters , Skyler and Barbara, and now is a family of five.
Matt Grevers is a two-time Olympian and a four-time Olympic gold medalist. At the 2008 Beijing Games, he earned two golds as a member of the 4x100m medley relay and 4x100m free relay in addition to racing to silver in the 100m back. In London 2012, he was part of the winning 4x100m medley relay and earned his first individual gold in the 100m back, bettering Aaron Peirsol's Olympic record.
Annie Grevers, née Chandler, swam for the University of Arizona and won the 100 breast at the NCAA DI Championships in 2010. She was also a member of six NCAA relays during her college career as well as part of Arizona's NCAA Championship title team in 2008. She represented the United States at the Pan Pacific Games in 2010 and at the Pan American Games in 2011, where she won the 100 breast.