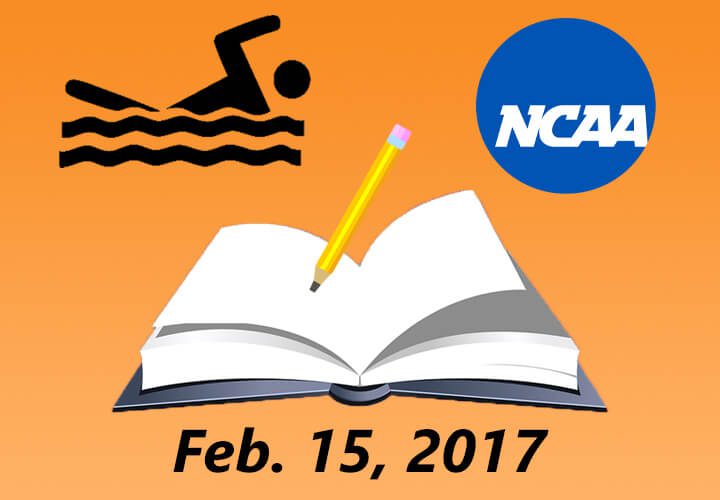 NCAA DI editorial coverage is proudly sponsored by Adidas. Visit adidasswimming.com for more information on our sponsor. For all the latest coverage, check out our event coverage page.

CLICK FOR FULL RESULTS
By David Rieder.
With the women's ACC championships heading into the middle day and the first day of prelims at the SEC championships getting underway at 10 a.m. ET, check out the entries in today's notebook.
100 breast: Race of the meet at women's ACCs?
Florida State junior Natalie Pierce enters as the top seed in the 100 breast, with her entry time of 58.37 ranked second in the country behind Olympic gold medalist Lilly King.
That mark is more than two seconds faster than the 1:00.70 Pierce swam to finish fifth in the event a year ago at ACCs. But right behind her in the entry rankings is Laura Simon at 58.41, and lurking is Andrea Cottrell, who edged out Simon to win the event last year in Greensboro.
Three swimmers in the 58-second range should make for a good one, but don't forget about NC State's Kayla Brumbaum, who is seeded at 59.55. Having never broken 1:00 before this season, she swam a time of 59.79 in a practice suit during the Wolfpack's dual meet win over UNC in late January.
Pitt's Lina Rathsack is also entered under the one-minute barrier, at 59.97. Only three swimmers broke 1:00 at last year's ACCs (and Weronika Paluszek has graduated), and only 15 did so at the NCAA championships. So in terms of high-level competitive racing, this one is about as good as it gets at the conference level.
Dressel not the only Gator impressing early on in Knoxville.
In case you are living under a rock or are not on Twitter, Caeleb Dressel split 17.90 anchoring Florida's 200 medley relay at the SEC championships Tuesday night.
That's a simply ridiculous split, and the conversation over the next two days will inevitably center on whether the Florida junior can go under 18 from a flat start at some point this season. (His reaction time on the relay, by the way, was an average 0.21, and Dressel does have one of the best flat starts in the world.)
But check out some of Dressel's teammates: Jan Switkowski, not exactly known for his 50 fly skills, split 20.13 on the Gators' medley relay to set up Dressel's heroics, and freshman Maxime Rooney propelled Florida to victory in the 800 free relay with his 1:31.54 split.
For some perspective, only two men split faster than that at last year's NCAA championships: Townley Haas at 1:30.52 and Switkowski at 1:31.33.
Moffitt's time to shine in Atlanta.
Wednesday will be the big day for North Carolina's Hellen Moffitt as she attempts the 100 fly-100 back double. She swam just one race Tuesday, anchoring UNC's 200 free relay in 21.49, the fastest split in the field.
Now, the senior gets to go for the first conference championship of her career. A season ago, she was overshadowed by Kelsi Worrell in the 100 fly, but her prelims time of 50.67 actually moved her into the top ten all-time in the event before finishing third in the 100 back behind Courtney Bartholomew and Alexia Zevnik.
This year, Moffitt is the top seed in both events. Worrell and Bartholomew have both graduated, and Zevnik might not even swim the 100 back this time around. UNC had a tough season, losing all but one dual meet amidst a tough schedule, but the Tar Heels have started off well at ACCs. Currently third with 384 points, UNC figures to get a big boost in the 100 fly and 100 back with Moffitt in the pool.
All commentaries are the opinion of the author and do not necessarily reflect the views of Swimming World Magazine nor its staff.