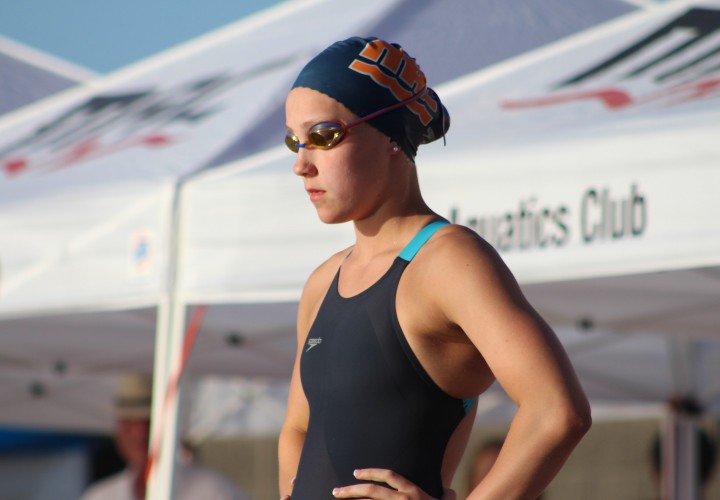 Photo Courtesy: Azaria Basile
Agon is the proud sponsor of all high school coverage (recruiting, results, state championships, etc.) on SwimmingWorld.com. For more information about Agon, visit their website AgonSwim.com.
SwimMAC Carolina's Alyssa Marsh is staying in North Carolina for college, making a verbal commitment to attend Duke University next fall.
Marsh will greatly help the Blue Devils in the pool, particularly in the sprint freestyles. That gives her a lot of value for the team, as she should contribute well for the team on relays, which earn double points at meets. Marsh knows about success on relays, as she was a part of two squads that set national age group records in the 800 free relay and 200 medley relay.
Marsh holds short course yards best times of 22.76 and 50.15 in the 50 and 100 freestyles, respectively. To diversify her program, she could reach into the 100 fly and 100 back. Her best 100-yard fly time is 53.72, while her best time in the 100 back is 54.80.
Marsh has won multiple North Carolina high school state titles, taking the 50 free and 100 fly last February while helping Pine Lake Preparatory School place in the top three in the 200 medley relay and 200 free relay.
Before she heads to Duke, Marsh will swim at the Olympic Trials in the 50 free and 100 fly. She's within a second of the 100 back cut and about 1.2 seconds away from qualifying in the 100 free.
Marsh is the second of three children of newly-appointed U.S. Olympic team head coach David Marsh, who had more than a decade of success as coach at Auburn University.