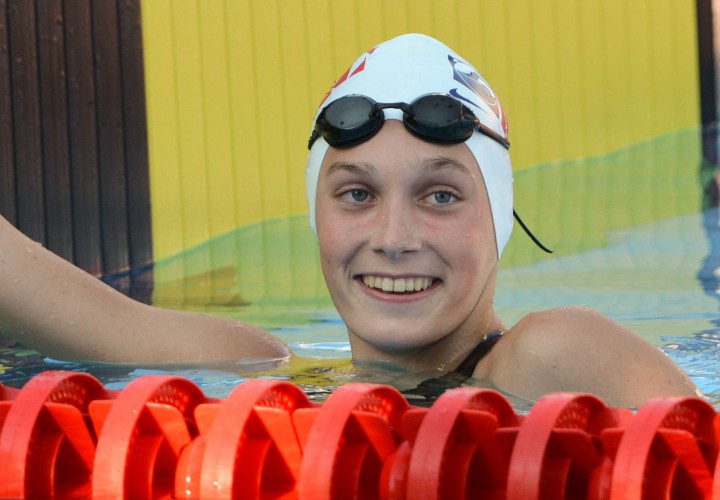 Photo Courtesy: Donna Nelson
Agon is the proud sponsor of all high school coverage (recruiting, results, state championships, etc.) on SwimmingWorld.com. For more information about Agon, visit their website?AgonSwim.com.?National Records for High School Are Pending Application Verification.? Click Here to Learn More
Agon is the proud sponsor of all high school coverage (recruiting, results, state championships, etc.) on SwimmingWorld.com. For more information about Agon, visit their website AgonSwim.com.
By Emily Messina, Swimming World College Intern
Women
Harpeth Hall took the first race of the meet by winning the 200 Medley Relay. The team of Alex Walsh (24.47), Julia Eskew (28.80), Alex Massey (25.18), and Ophelia Pilkinton (23.39) went a 1:41.84, over four seconds faster than St. George's. St. Mary's rounded out the top three.
They also claimed the 400 freestyle relay breaking a state record set back in 2012 (3:22.99). The group of Pilkinton (51.12), Nelson (51.09), Eskew (51.54), and Walsh (48.26) combined to go a 3:22.01. Hardin Valley (3:27.39) took second and Brentwood High swam in for third (3:30.35).
Nelson topped the field in the 200 IM coming in just over the 2-minute mark with a 2:00.11. Lauren Mabie (2:03.74) of St. Mary's and Carissa Armijo (2:04.10) of Hardin Valley followed Nelson into the wall.
Mabie also finished second in the 100 breaststroke (1:02.36).
Harpeth Hall continued to have control of the meet when freshman Walsh took first in the 200 freestyle going 1:45.24 and eclipsing the previous state record set in 2015 by .52. Walsh was one of the youngest swimmers this summer at the Olympic Trials where she finished 11th in the 100 backstroke with a 1:00.95. In the yards edition of her signature event she stopped the clock in a winning 52.80. She was followed by St. George's Sarah Thompson (55.81) and BHS' Lauren Hurt (55.91).
Erica Laning of Hardin Valley and Allie Raab of Brentwood Academy were the only other swimmers in the 200 free to break the 1:50 mark going 1:46.26 and 1:49.44, respectively.
Raab went on to take the 100 breaststroke in a 1:00.55 breaking her own state record that she set last year (1:00.95). Eskew posted a 1:03.42 for third.
Laning won the 500 free in 4:47.69 and teammate Armijo also stood on the podium with a third place 4:54.56. Harpeth Hall's Ella Nelson (4:50.05) was second.
Laning led her team to victory in the 200 freestyle relay when she anchored the race in a 22.98. Emily Aycock (24.32), Ashley Catchpole (23.97), and Rachel Aycock (24.07), helped her out to post a 1:35.34. Baylor turned in a 1:35.89 for  second, while Harpeth Hall followed them to the wall.
Thompson won the 50 free in a swift 23.01. But, Pilkinton was there for Harpeth Hall finishing in second with a 23.43. Kiara Norris of St. Mary's raced in for third in a 23.54.
Pilkinton took another second in the 100 free (51.24).
The only swimmer to break 55 in the 100 butterfly was Station Camp's Riley Gaines (54.15). Norris swam in her second individual event of the night finishing in a 55.90. Massey took the third spot in a 55.95.
Gaines claimed another gold in the 100 freestyle going a 50.19. Erin Milligan of Collierville finished for third with a 51.26.
Men
Memphis University's team of Alex Robinson (22.59), Parker Kaye (25.12), Jack McCaghren (21.01), and Christian Berry (19.86) won the first event of the night for the men finishing the 200 Medley Relay in 1:28.58. The Baylor School (1:31.33) and MBA (1:35.35) finished in second and third, respectively.
Trey Freeman of Baylor broke his own state record from 2016 (1:36.70) in the 200 free when he stopped the clock in a 1:34.92. Collierville's Joshua Walsh touched in a 1:36.95 for second, and Eric Whisenant of the University School of Jackson followed in for third (1:38.95).
Walsh went on to take the gold in the 100 free breaking the previous state record (44.76) with a 44.60. Whisenant topped the 100 back in 48.43 just head of McCaghren (48.78) and BAY's Zach Althoff (49.45).
Freeman continued his dominance by taking the 500 freestyle in a 4:23.89. His teammate Peter Lochmaier followed him to the wall in a 4:31.93. Rick Reinhard swam in for third (4:32.08).
Freeman then led Baylor to a victory in the 200 freestyle relay when he split a 20.21 from a flat start. His split broke the 50 free state record of a 20.28 set back in 2015. The relay that finished in a 1:23.03 also included Greene (20.60), Boyer (20.89), and Jack Best (21.33). Science Hill and Memphis University followed in a 1:25.60 and 1:26:66, respectively.
In the 200 IM, Stem Gryphon's Alex Hines topped the field posting a time well under the 1:50 mark (1:48.99). Touching for second place was Kaye (1:51.18), while Science Hill's Owen Devine (1:51.34) finished for third. Hines' second victory came in the 100 breaststroke where he stopped the clock in 56.04. Kaye (56.72) and Seth Kyriakidis of Learning Lab (56.81) were second and third.
Four swimmers swam the 50 free in under 21 seconds. Caleb Harrington of Bearden (20.39), Berry (20.55), Matthew Lattin of Brentwood High School (20.97), and Baylor's Gershwin Greene (20.99) took the top for spots.
Berry also took second in the 100 free finishing in a 45.27. Matthew Boyer of Baylor finished in a 45.86 for third.
Harrington then went on to stop the clock in a 48.22, good enough for first place in the 100 butterfly. He was followed by McCaghren in a 48.48 and Kyriakidis in a 48.64.
The Baylor men closed the meet with a 400 freestyle relay victory as Freeman, Althoff, Lochmaier and Jack Kirby combined for a 3:01.21. Memphis University School was second in 3:03.60.
Full results can be found here.