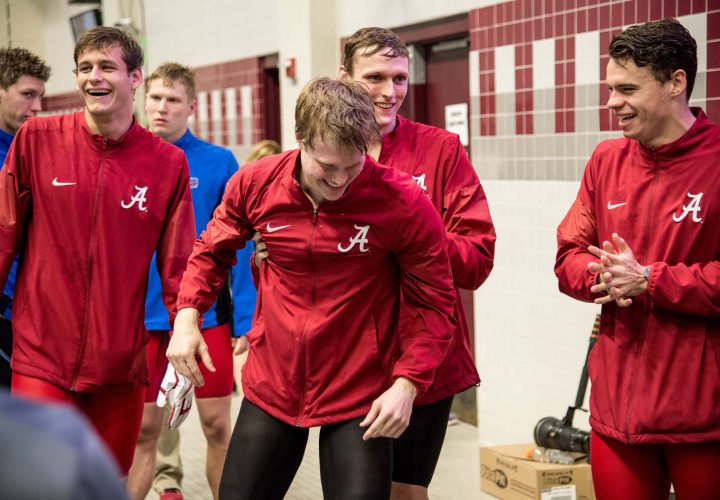 Photo Courtesy: Thomas Campbell/Texas A&M Athletics
University of Alabama head swimming and diving coach Dennis Pursley announced that Chris Collier has been added to the Crimson Tide staff as an assistant coach.
"We're very excited to add Chris to our staff," Pursley said. "He brings great credentials to Tuscaloosa and is someone that will fit in very well with the culture of excellence that is Alabama Athletics."
Collier joins the Crimson Tide following five seasons as an assistant coach with the University of Wisconsin. During his time with the Badgers, he helped lead both the men and women to top-20 finishes at the NCAA Championships.
"I want to thank Coach Pursley for giving me the opportunity to join his great staff in Tuscaloosa," Collier said. "With a rich history of producing world class student-athletes and a current team with unparalleled attitude, character and commitment, the future is very bright for the University of Alabama swimming and diving program and I'm excited to be a part of it."
On the conference level, Collier helped Wisconsin's women to a third place finish at the 2017 Big 10 Championships, its best finish since 2005, while the men posted three consecutive top-five finishes at Big 10s from 2015-17, its best stretch since the early 2000s.
During his tenure at Wisconsin, Collier-coached swimmers earned All-America, Big 10 Swimmer of the Year, All-Big 10 and Big 10 titles. His swimmers also shattered multiple Big 10 and Wisconsin school records over his five years in Madison. He also coached 2017 FINA World Championship, 2017 World University Games and 2016 Rio Olympic qualifiers.
Collier joined the Badgers after spending 2011 and 2012 as High Performance, Challenge and Imagination coach at the famed North Baltimore Aquatics Club (NBAC) in Baltimore, Md., under 2016 USA Head Olympic Coach Bob Bowman. The High Performance group placed a pair of athletes on the 2012 U.S. Olympic team, earning seven gold medals, three silvers and a bronze at the 2012 Olympic Games in London. The group sent 13 athletes to the USA Olympic Trials with numerous finals qualifiers and earned a 2012 USA Swimming Summer Junior National women's title. Collier's athletes also earned all six national champion freestyle titles.
Prior to joining NBAC, Collier coached high school, YMCA and USA Swimming club teams starting in 1987.
A native of Newark, Del., Collier graduated from the University of Delaware with a B.S. in physical education in 1992.
The above press release courtesy of Alabama Swimming and Diving