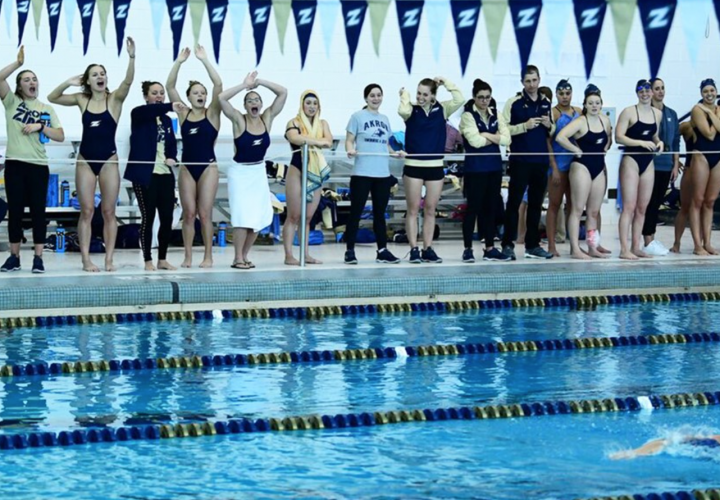 Photo Courtesy: Akron Athletics
The 2018 Mid-American Conference Women's Swimming and Diving Championships began Feb. 21 at Ohio University. Akron won both of the opening relays as they seek to win their fifth-consecutive MAC Championship title.
Akron started the weekend off with a win in the 4×50 medley relay. The quartet of Madison Myers (24.56), Paloma Marrero (27.63), Sadie Fazekas (22.83) and Susan Franz (22.18) combined to stop the clock in 1:37.20.
Eastern Michigan's Claire Young (25.12), Delaney Duncan (26.59), Michelle Liberman (24.26) and Stephanie Johnston (22.61) finished second in 1:38.58 while Buffalo's Andrea Ernst (25.45), Sarah Baxter (28.69), Olivia Sapio (24.57) and Megan Burns (22.17) took third with a time of 1:40.88.
Akron continued their day one winning ways with a six-second victory in the 4×200 free relay. Fazekas (1:45.93), Paulina Nogaj (1:47.37), Jackie Pash (1:48.90) and Ellie Nebraska (1:47.72) posted a final time of 7:09.92 to earn the gold.
Buffalo's Burns (1:47.24), Hannah Miller (1:49.40), Sapio (1:50.33) and Ernst (1:48.51) swam to silver in 7:15.48 and Miami Ohio's Ella Moynihan (1:46.43), Molly Zilch (1:49.83), Claire Doerr (1:50.94) and Abby Stone (1:50.22) grabbed the bronze in 7:17.42.
Prelims will begin tomorrow at 10:30 a.m. EST.