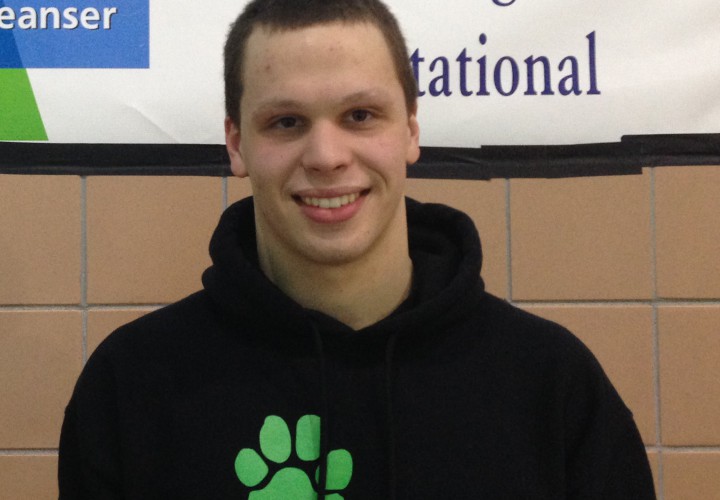 By Nicholas Lehman, Swimming World intern
This is the story of a hard-working swimmer who was considered the underdog, but beat the odds. This is the story of success achieved through exhausting and never-ending work. This is the story of Stephen Husch.
Husch is competing this year at the CeraVe Invitational, and in between his races this morning I learned more about his journey to becoming a junior national qualifier and a top college recruit. Husch swims for the Cougar Aquatic Team in Montclair, N.J., and is a senior at Westfield High School.
What drew me to him this morning was his intense focus before swimming in the prelims of the 100-meter breaststroke, staring down the lane in front of him. The 50-meter course at the Sonny Werblin Recreation Center is a far cry from the pools he first splashed in as a young kid growing up in northern New Jersey.
"I started out like many of us did, swimming in our backyard pool when we weren't supposed to be," Husch said about his siblings when he was 4 years old. He joined the Westfield YMCA a few years later, but discovered he wasn't progressing as well as he expected. Last year he made the switch from the Westfield YMCA to Cougar Aquatic Team a half hour further from his home.
"During most of my high school years, I worked with a personal trainer who helped me keep muscle balance and made sure to include injury prevention exercises," he said. On many occasions, Husch did 8,000-yard workouts twice a day on his own for weeks. As college coaches began contacting him during the recruiting season, he realized he had big goals to achieve.
"The colleges that I applied to told me they needed me to have at least Junior National times to qualify for the team," he said. All of the hard work finally paid off when he achieved the junior national qualifying time in the 100-yard breaststroke with a 56.95 in October. That got him the thumbs up from some of his potential schools, and after an intense period of recruiting trips, he picked Indiana University.
Husch's story is a story about hard work paying off. It is the story of endless hours of dedication and unwavering self-confidence persevering through adversity, even though the odds might have been against you. It is the story of facing obstacles, many of which are difficult to overcome. It is a story that shows a rare combination of professionalism, friendliness and determination that gets you far in every aspect of life.