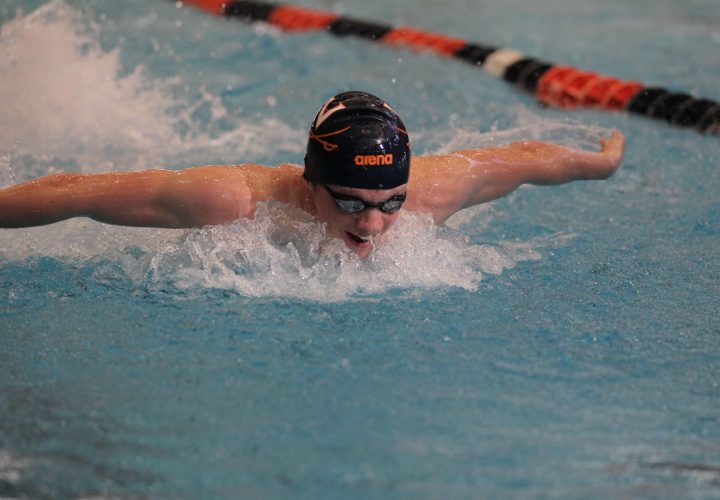 Photo Courtesy: University of Virginia Athletics
Possibly the most anticipated dual meet of the ACC swimming and diving regular season will take place Friday in Charlottesville, Va., as the reigning conference champions for both the men and the women come to town: NC State.
The Wolfpack men, behind Ryan Held, Andreas Vazaios and Justin Ress, have yet to lose this season, and they surely will not be challenged by the Cavalier men (coming off a tough loss to Virginia Tech) until they get to the NCAA championships in March. That squad is by far the best men's or women's unit in the conference.
It's the women's meet that should draw so much interest, as the undefeated Cavalier women face off against the team that knocked them off a season ago. UVA was riding a nine-year winning streak at the ACC championships before NC State upset the Cavaliers in a January dual meet in Raleigh and then dominated the conference meet.
Oh, and lest we forget: the man now leading the Cavaliers was one of the key forces in the Wolfpack's rise to elite status. Friday will mark the first time UVA head coach and former NC State associate head coach Todd DeSorbo has faced off against his former team since departing Raleigh in August.
In late August, shortly after DeSorbo departed for Virginia, NC State head coach Braden Holloway explained that he was bummed to lose an excellent coach — and good friend — from his staff, but that he was happy for DeSorbo's opportunity.
I told the team, 'We're not going to replace him. You can't.' He's a unique individual, he's had a unique role with our program, and he's really good at what he does," Holloway said. "We've rearranged some things within our program to keep moving forward. Our team is competitive, our coaches are competitive, so we'll continue to progress, continue to do what we need to do to be successful, and it'll be a little more fun of a rivalry."
Ah, yes, a rivalry. For the women, both teams lost key pieces from last season — think Leah Smith from the Cavaliers and Alexia Zevnik and Kayla Brumbaum for the Wolfpack — but plenty of great swimmers remain. For NC State, Hannah Moore is arguably the country's best distance swimmer not named Katie Ledecky, while DeSorbo has worked his magic on the likes of Caitlin Cooper and Jen Marrkand.
One day later, North Carolina will also make its way to Charlottesville to face Virginia. In that one, the UVA women should have the advantage over Caroline Baldwin and co., while the UNC freshman class could lead the men to a victory over the Cavaliers that has been a rare accomplishment in recent years.
Other Meets
Speaking of rivalry meets, the Louisville Cardinals will receive a visit from their in-state rival, the Kentucky Wildcats. While Arthur Albiero's Cardinals have become a staple in the top ten in both the women's and men's NCAA championships, Lars Jorgensen has helped make Kentucky's women nationally relevant.
Neither women's team is particularly deep, but each one has its stars: Mallory Comerford for the Cardinals and sophomore backstrokers Asia Seidt and Ali Galyer for the Wildcats.
Elsewhere, the only other intra-ACC meet on the schedule is Notre Dame at Florida State. Virginia Tech, coming off a split against the Cavaliers, will take part in two larger meets, including crashing the Ohio State-Michigan rivalry meet Saturday.
Full Schedule:
Pittsburgh at West Virginia, 4 p.m. Thursday
NC State at Virginia, 3 p.m. Friday
Notre Dame at Florida State, 4 p.m. Friday & 10 a.m. Saturday
Virginia Tech & Xavier at Cincinnati, 5 p.m. Friday
Denison at Pittsburgh, 6 p.m. Friday
North Carolina at Virginia, 10 a.m. Saturday
Florida Gulf Coast at Miami, 12 p.m. Saturday
Georgia Tech at South Carolina, 12 p.m. Saturday
Virginia Tech, Michigan & Rutgers (women) at Ohio State, 12 p.m. Saturday
Kentucky at Louisville, 1 p.m. Saturday