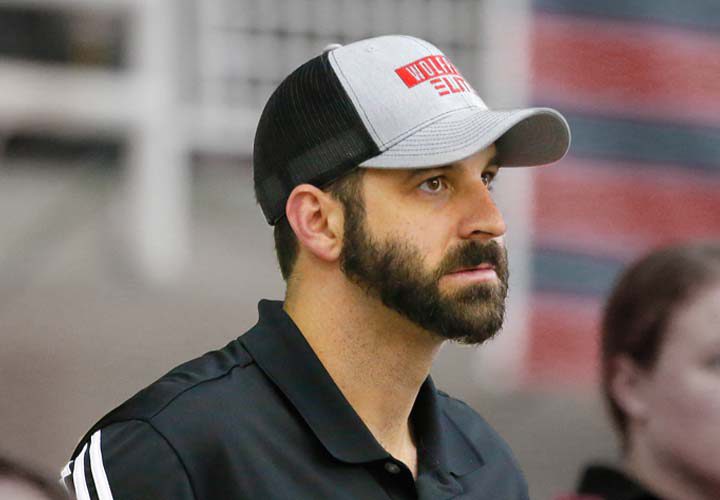 Photo Courtesy: Todd Kirkland/theACC.com
Morning Splash by David Rieder.
There was a time not too long ago when any mention of the North Carolina State swimming program reminded fans of disqualified relays.
In 2014, the upstart Wolfpack men began their NCAA championships with a false start DQ in the 200 free relay. One year later in the very same relay, the team was DQed in prelims, then reinstated and then, after apparently winning the national championship in the evening, DQed again.
But even then, the program had major potential, and head coach Braden Holloway clearly had his team moving in the right direction.
At the men's ACC championships in 2014, Holloway's Wolfpack team had all the momentum, ripping through the sprint events and relays. That weekend in Greensboro, N.C., NC State was undoubtedly the loudest and most energetic team on deck.
But the team's conference title chase fell short that year. Virginia Tech—a team coached by Holloway's former boss, Ned Skinner—had loaded up on diving points one week earlier (those events were contested during the women's meet) and that decided the team title.
For the Wolfpack, that was only the beginning. One year later, NC State's men won their first of three straight ACC titles and then broke into the top ten at the NCAA championships. In 2016, the team finished top five at NCAAs and also won its first relay national title under Holloway, edging out Texas to win the 400 free relay at the men's NCAA championships.
And then, three months later, Ryan Held made the Olympic team.
But for all the success his men have accumulated over the past several years, it's what the women's team has pulled off that has been most fulfilling for the head coach.
Before Holloway arrived in 2011, NC State had not finished higher than seventh in the ACC in 10 seasons. The team had scored at the NCAA championships in exactly one of the previous 19 seasons.
In 2017, Holloway's sixth year with the program, the Wolfpack women out-swam nine-time defending conference champion Virginia to win their first ACC title since 1980. One month later, the team finished a program-best seventh place at the NCAA championships.
"Having the women win (the ACC championship) this year when people told me the women would never win I think has probably been the most gratifying thing," Holloway said. "Just to do something when the women were so down, I think that's something that we were really proud of."
International Pack
This summer, more Wolfpack swimmers dotted American international teams as Justin Ress took down two Olympic gold medalists to win the 50 back at U.S. Nationals and book a spot on the World Championships team, and Ress was joined by Held, distance swimmer Hannah Moore and breaststroker Kayla Brumbaum on the World University Games team.
Ress had barely gotten any national attention prior to the summer, but he ended up making the final at Worlds in the 50 back before going to WUGs and winning gold in the 100 back and throwing down a 48-low split on the 400 free relay.
"He came into our program probably the most versatile swimmer we've signed since I'd been there," Holloway said. "He could do whatever he wanted. You can tell, he likes to sprint. He was exposed to so many things in club that, with strength gains, it was only a matter of time before he was going to be shot out of a cannon."
As for the Wolfpack's star of 2016, Held got a bit of a wake-up call at this year's Nationals. He finished seventh in his signature event, the 100 free, leaving him one spot away from the Worlds team. But he did manage to put the unexpected setback aside in time to win gold in the 100 free at WUGs.
"He's had the highest of highs at the Olympics, and now he's tasted some defeat at World Champ Trials. I think it puts many things into perspective for him," Holloway said. "I think he'll be able to learn from that."
With four of his swimmers on the team at WUGs, Holloway was tapped to serve as an assistant coach on the American staff in Taipei. That marked his first time ever representing the United States internationally as a coach.
Having never before been on an international staff for the U.S., Holloway explained that it felt somewhat weird at first "working with coaches you normally compete against," but that he enjoyed getting to know the other coaches as human beings.
And while putting on a USA shirt for the first time was personally satisfying, the most special part for Holloway was watching his swimmers receive and put on American flag caps with their names printed on the side for the first time.
"To see Hannah Moore and Kayla Brumbaum put it on for the first time and feel such pride and see their smile, I think that's probably the most enjoyment for a coach to see that," Holloway said.
Filling a Void
If Holloway has been the architect of the NC State program for the past six years, Todd DeSorbo was one of the key builders. DeSorbo came in with Holloway as associate head coach and was the primary coach running the esteemed Wolfpack sprint group.
When the NC State men won the 800 free relay at the NCAA championships in 2017 in NCAA record-time, Holloway insisted that DeSorbo accompany him for the post-race interview. In six years working together, the two became not just colleagues but good friends. Their children often spent the night at each other's houses.
But all the sudden, DeSorbo has become a rival. He was hired in early August to replace Augie Busch at the University of Virginia, an ACC rival of NC State located only a few hours north of Raleigh.
Holloway had known that DeSorbo's departure was inevitable: as people around the country took note of NC State's success, he had been getting calls for head coaching opportunities and had already turned some down. But to Virginia, he couldn't say no.
How do you replace someone like that?
"I told the team, 'We're not going to replace him.' You can't," Holloway said. "It's not going to be the same—whenever you lose someone like that that has such a big role, it's just not going to be the same, and it doesn't have to be the same. We can still be successful and it be different."
Bobby Guntoro, who actually swam for DeSorbo at UNC-Wilmington before the two came to NC State, has taken over many of DeSorbo's coaching responsibilities with the sprint group. Holloway called Guntoro "probably the most crazy, intense person on our staff."
"The structure of our program is going to stay the same," Holloway said. "It'll just have a couple of spices mixed in and some spices removed. We just want to continue to have a good recipe."
Looking Forward and Looking Back
Heading into year seven of Holloway's tenure in Raleigh, no swimming and diving program in the country has elevated further during that time span. And yet, Holloway insists that not all that much has changed: team chemistry has stayed more or less the same, and those on the inside of the program still feel like they are building momentum.
But if your men's team finishes top-five at NCAAs two years in a row and your women's team top-ten, shouldn't recruiting get easier? Not really, Holloway insisted.
"People are still trying to figure us out," he said. "People think that their kids could go to school at NC State and improve and enjoy the experience, but I wouldn't say it's easier because we're trying to recruit the next level up, and when you recruit the next level up, you're going against the big dogs."
Immediately, Holloway caught himself: "People think we're big dogs now."
Well, yeah. NC State has put swimmers on every U.S. international team for the past two years and become a force across the board at NCAAs.
The program is producing swimmers like Brumbaum, who went from not even being invited to the NCAA championships as a sophomore to finishing fifth in the event at the national level as a senior. Unsure if she would even keep swimming past college, Brumbaum ended up making the WUGs team in the 200 breast and finishing fourth in Taipei.
The name Braden Holloway means something much different in swimming than it did when he was hired off Virginia Tech's staff six years ago.
"People ask me, 'What's the best thing that you've done in coaching?'" Holloway said. "'Which kid—Ryan or Alexia (Zevnik) or…?" I was like, 'No, it was picking the right staff to do what we did, and we did it.'"
It's clear how much pride Holloway takes in all his team managed to accomplish over the past six years, but he can't fully process it all—not yet, anyway.
"Sometimes I sit back and think about what we've been able to do, and I don't really think I'll value it as much until I'm done doing what I'm doing, to be honest," he said.
As for Holloway's most treasured moments of his time at NC State, two came to mind: the 800 free relay win at the NCAA championships—"probably the most exciting race I've ever seen where we had kids involved"—and then one other that few swimming fans noticed.
NC State had a senior this past season who was not on the conference championship team, but she had one simple goal she wanted to accomplish by the end of her career: break 2:00 in the 200 fly. In the final race of her career, she did.
"To see her reaction after she broke 2:00 just reminds you of why you do what you do," Holloway said.