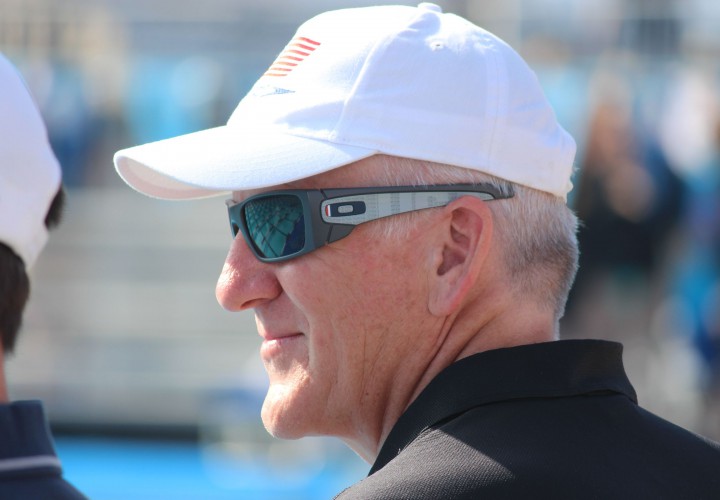 Photo by Griffin Scott
Editorial coverage for U.S. Senior Nationals proudly sponsored by Master Spas!
Commentary by Jeff Commings
IRVINE, California, August 10. THE assistant coaches for the American squad headed to the Pan Pacific swimming championships will be a Who's Who of six talented men backing up head coaches Bob Bowman (men) and Teri McKeever (women) in Australia.
On the men's side, Rick DeMont is named to the coaching staff on the strength of putting Matt Grevers (100 back) and Kevin Cordes (100 and 200 breast) on the team. Yuri Suguiyama will get on his first senior-level coaching staff after Nathan Adrian, Josh Prenot, Tom Shields and Ryan Murphy landed spots from California Aquatics men's squad (and presumably Anthony Ervin after tonight's 50 free).
And Alex Braunfeld, a longtime coach associated with the University of Georgia and Athens Bulldog Swim Club, adds another international coaching gig to an already impressive list. Nic Fink's strong runner-up finishes in the 100 and 200 breaststrokes were primarily a factor in earning Braunfeld the roster selection. Georgia has a strong connection on the women's side, too, with Shannon Vreeland, Hali Flickinger and Melanie Margalis traveling to the Gold Coast as well.
It's no surprise that Katie Ledecky's primary coach, Bruce Gemmell, will travel to Australia to help Ledecky continue to excel in 2014. Gemmell will also have the opportunity to provide a bit of guidance to the open water coaching staff and will watch his son Andrew in the 10K race on August 25. Naturally, Gemmell will help Cierra Runge and others on the women's squad swimming in the distance events.
David Marsh has worked wonders with Micah Lawrence, and was able to get youngster Kathleen Baker on the Pan Pac team as well. He'll travel with the team to offer his decades of experience in and out of the pool. Though he's assigned to the women's staff, surely he'll be able to do some work with Ryan Lochte, Nick Thoman and Tyler Clary in his spare time. And going into his third season as head coach of the Stanford women's team, Greg Meehan was added to the staff thanks to getting Felicia Lee and Maya DiRado on the team.
Looking at the coaching staff, it's likely that some or all of them could be a part of the Olympic staff in 2016. Gemmell is a no-brainer; DeMont and Marsh are likely choices based on the swimmers they coach every day. Meehan is a wild card, and Suguiyama might be the coaching representative for the Cal men if Dave Durden elects to take his name out of contention. It would seem like a logical choice to put Durden on the staff with the way his team in Berkeley is performing.
Bob Bowman is another wild card. He's never had a head coaching berth at the Olympics. Eddie Reese was the head coach in 2004 and 2008, while Gregg Troy led the men's team in 2012. If Bowman doesn't get head coaching duties, he'll at least get one of the three assistant jobs.
No assistant coaches were put on the open water squad, but with only six swimmers on the team (three men, three women), Catherine Vogt as the women's coach and Dave Kelsheimer as men's coach should be able to handle things.