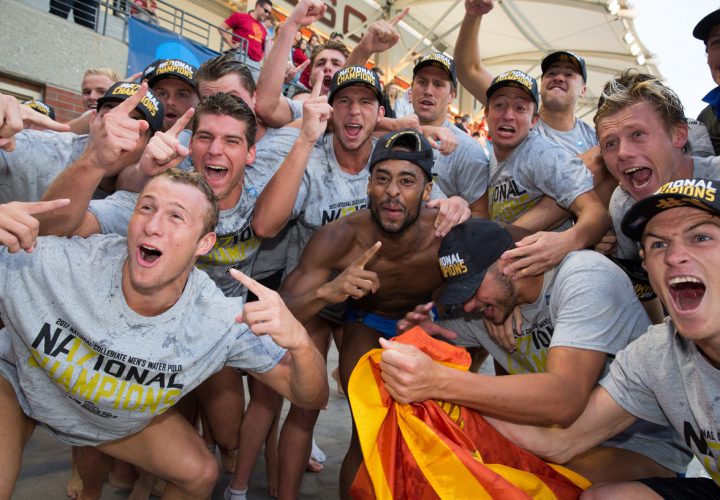 Celebration of Bruin pride. Photo Courtesy: Catharyn Haynes/KLC fotos
By Michael Randazzo, Swimming World Contributor
It was—in many ways—an impossible dream: a talented and determined young water polo player from the middle of the country going west to play water polo at UCLA, one of the country's most accomplished programs.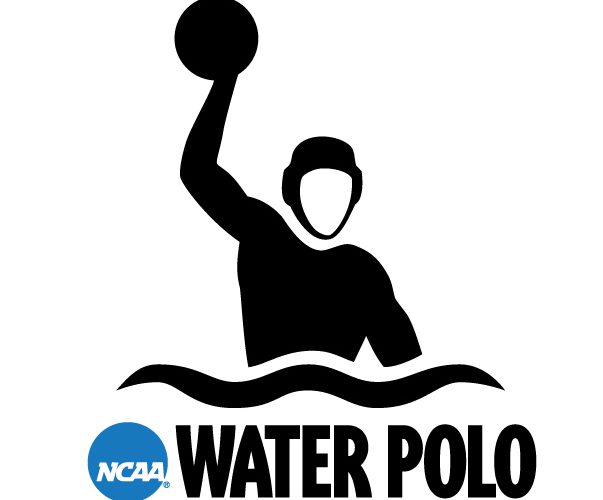 But Matt Farmer of La Grange, Illinois, was not just any player. Starting at age eight when he got in the water with the Lyons Swim Club and continuing through his training under legendary coach Dave Perry and his son Kyle at Chicago's Fenwick High School, Farmer was one of the best prospects coming out of the Midwest since Chris Wendt, who also played at UCLA.
Farmer's hard work has now paid off many times over. With a gritty 7-5 win last Sunday over arch-rival USC, Farmer combined with fellow seniors Jack Grover, Max Irving and Alex Roelse to lead the Bruins to a third NCAA title in in their UCLA careers.
The win caps Farmer's amazing career in Westwood, one which makes him arguably the most accomplished water polo athletes to come out of the Midwest. Following UCLA's victory last Sunday at Uytengsu Aquatics Center, Swimming World spoke with Farmer, his coach Adam Wright and his father Jim for the backstory of one of the the 2017 NCAA champions' most endearing competitors.
++++++++++++++++++++++++++++++++++++++++++++++++++++++++++++++++++++++++++++++++++++
Matt, how many kids from the Midwest get to play on an NCAA men's water polo champion?
Not many, that's for sure. I got the most out of my experience at UCLA and it's been unbelievable. I can't thank everyone who supported me enough. My coaches back in Chicago, my parents—and of course Adam has been amazing and turned me into a player that I never thought I could become.
I believed the whole way that we could get it done.
How did USA Water Polo's John Abdou impact your career?
I was trying out for the [Cadet] team as a utility [player], but he convinced me to play center, and that's what I've been doing ever since. I guess it was the right move.
What is it about the UCLA winning culture?
It's the culture that Adam instills in us. The seniors and the leaders that have come before us and have passed this down to us. The culture that training every day the same way is how we do things, and treating everything the same.
I hope that culture passes down to the younger guys as I leave.
Your team has a bunch of seniors, just like USC, but even though you had won before you were still hungry.
We believed we had the capability to do something really special—even if people didn't really think we did. We worked every single day in the off-season, all through the season bringing in the new guys and trying to be good examples for them.
Everyone from top to bottom believed we could do it. We might have been the only ones but we were the ones who believed. And that's all that mattered.
How might your success inspire other from the Midwest to reach the same heights?
I hope it inspires people to chase their dreams when it comes to water polo and that kids from the Midwest can come out and make an impact on a high-level in NCAA. I hope it impacts the coaching and the officiating back there because there's a lot of work to do in those departments.
Starting as an eight-year-old, my coaches in Chicago instilled in me a great basis of love for the fundamentals game, especially when it came to defense. Those stay with me to this day, and they kept getting better and better every coach I played for. Of course Adam turned me into what I am now.
++++++++++++++++++++++++++++++++++++++++++++++++++++++++++++++++++++++++++++++++++++
UCLA Head Coach Adam Wright about Matt Farmer
[C]oming from Illinois…. [Matt] had the drive before he come to UCLA. That's instilled probably from home. And he was coming out to California to play in the summers.
[He] willed his way into being a big contributor on our 2014 team. If you were looking at the straight depth chart under center when he came in as a freshman, he was at the bottom. He took it upon himself in his redshirt year. He was going to the weight room six days a week and coming to the pool at night.
[Matt] did everything he could because he wanted to be in there. [His success] is a direct result of his drive to be the very best he could be.
++++++++++++++++++++++++++++++++++++++++++++++++++++++++++++++++++++++++++++++++++++
Jim Farmer talks about his connection with his son
He's exceeded every dream I ever had. I couldn't be prouder. When he was eight years-old and he tried water polo—which he didn't want to do—he came out and said: "This is my sport."
I was fortunate enough that I could help him go to the places that he needed to go. In the summers in seventh grade I sent him out here to California. The families that we've dealt with in his club—VCP, Delmar—they've been so wonderful. It's a small world and we help each other out; there's no way I could thank all those people for what they've done for Matt.
How will Matt's success impact the water polo scene in Chicago?
Between my son and Danielle Jackovich at Stanford, I hope it's an incentive for them. I know there are kids at Fenwick who strive to do what Matt has been able to accomplish.
There were eight Illinois coaches and referees up in the stands. They're into it; they want to grow the sport.
Whatever we can do to help them, the more the better. Little steps; you've got to walk before you can run.