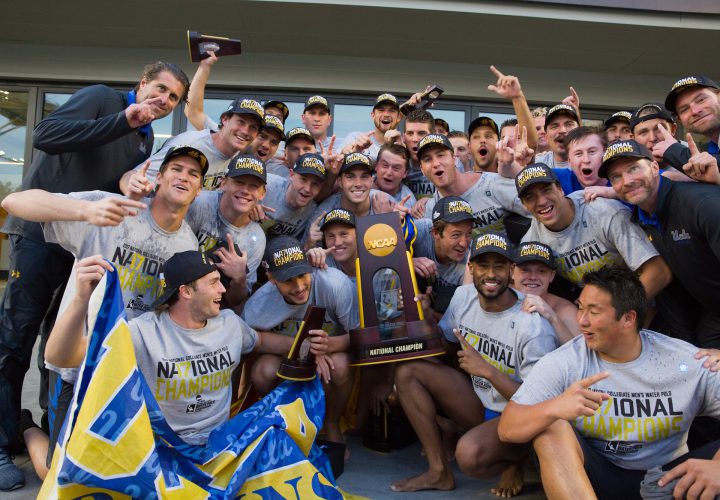 UCLA Bruins, 2017 NCAA Men's Water Polo Champions. Photos Courtesy: Catharyn Haynes/KLC fotos
By Michael Randazzo, Swimming World Contributor
LOS ANGELES — When a senior-laden Southern Cal team and a youthful UCLA squad faced off Sunday afternoon in the 2017 NCAA Men's Water Polo Championship Final, excitement buzzed in a sold-out Uytengsu Aquatics Center, as frenzied fans representing both schools anticipated a high-scoring affair befitting the schools' storied rivalry.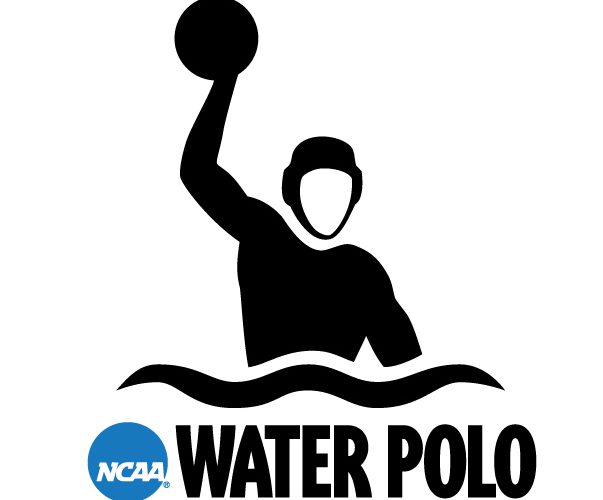 Much to the dismay of USC faithful, that was not the match that took place.
In a gritty defensive performance featuring numerous field blocks, exclusions and just plain grit, an underdog UCLA squad rallied in the third quarter to beat the host Trojans 7-5 and capture their third national championship in four years—all over their "number one" opponent—and fourth in seven meetings all-time.
"If we're going to get this done and beat a team like that," a satisfied UCLA Head Coach Adam Wright said of his squad after the match, "you're going to have to dig deeper than you've ever dug before."
A Very Special Rivalry
Whenever USC and UCLA meet, the ferocity of their rivalry threatens to overwhelm a single contest's significance. Given the excellence of the two programs—over the past nine years the Bruins and Trojans have met six times in the NCAA finals—the atmosphere was charged.
Both teams came into the championship match with sizeable chips on their shoulders. Despite being the top seed in the tournament, the Bruins (21-4) have labored all year under suspicions that they may be overrated.
The Trojans (27-4) had opposite concerns. A veteran squad, USC's class of 2018 bore the burden of not having won a championship in three previous attempts, a fact that weighed heavily on these seniors, considering the program's NCAA-record 13 straight finals appearances. The last—and only—time that a Trojan class failed to earn an NCAA championship trophy during Head Coach Jovan Vavic's 23-year tenure was 1999.
On Sunday Vavic's squad was also dealing with a problem more immediate than an extended championship drought. Saturday's semifinal win over defending NCAA champion Cal came at a high price; senior two-meter man Lachlan Edwards was ejected from the match for flagrant misconduct. This meant that Edwards, a first-team All-American selection, was ineligible to play in the final game of his USC career.
"It really hurt us that we didn't have our primary center, and it also hurt us that in the first quarter our primary defender and second center picked up two ejections," Vavic said after the match.
It was in that context that the teams took to the pool Sunday afternoon for a fourth match-up this season. As in the other three—two wins by UCLA and a USC win two weeks ago in the Mountain Pacific Sports Federation tournament final—the Trojans drew first blood. On his team's first opportunity with the man advantage, Matteo Morelli beat UCLA goalie Alex Wolf straight on from five-meters at the 6:42 mark.
A half-minute later, Trojan Matt Maier—one of many players dispatched to man Edwards' position at set—committed a five-meter penalty. UCLA's Max Irving lined up to convert an almost sure-fire scoring chance. But nothing is sure-fire with USC's McQuin Baron in nets. The current Peter J. Cutino Award holder stopped Irving's shot cold, then let out a roar that delighted his team's cardinal-clad supporters.
A troubling indicator for USC's hopes took place early but its impact was initially felt by UCLA. Nikolas Saveljic, the Bruins' superb freshman by way of Montenegro, was whistled for an exclusion in the first minute of play. Not only was this a problem for Wright, it signaled that the referees Danielle Dabbaghian and Joe Piela, who had worked the pool deck the previous night in the contentious Cal vs, USC semifinal, would exercise tight control over all physical play.
When USC's Marin Dasic converted with less than two minutes to go in the first, the host Trojans went up 2-0; but, as their coach later recalled, missed opportunities in the first period would come back to haunt his team. UCLA's Quentin Osborne scored with a minute and a half remaining, and USC's lead was reduced by half.
Back and forth it went. When Zach D'Sa took advantage of an opening to the right of the UCLA cage and beat Wolf halfway through the second period, the Trojans were again able to go up by two goals. Fighting off four exclusions in the period, though, UCLA finally broke through on offense, as Alex Roelse collected his first goal of the game with a massive blast past his Team USA teammate Baron.
But as the exclusions piled up—a total of 19 were doled out for the match, eight for USC and 11 for UCLA—defense predominated. Which played into the game plan of the Bruins, even though they had to adjust to a major variable—the absence of Lachlan Edwards.
"Obviously it's a big loss," UCLA's Coach Wright said. "It adjusted our game plans. We were all ready to go with who's matched up on who, and then it becomes a chess match."
As it turned out, the Trojans would miss Edwards dearly.
"Jovan's one of the best, said Wright, speaking of USC's celebrated Coach Vavic. "To figure out who he's putting in there…we just tried to do our best to get the right guys on the right people."
Bruins Win the Third Quarter…
Whatever Wright said in the locker room at the half, whatever adjustments he made, the third period saw a change of momentum, as the Bruins outscored the Trojans 3-1.
"We were able to get the game to where we wanted it midway through the third, and then these guys just dug deep and made stop after stop," he said.
The reversal, though, did not come easy. Midway through the quarter, three different Trojans made field blocks on an extended Bruin possession. But UCLA was not deterred, and they finally broke through at 3:33, when Matt Farmer fought off a defender and beat Baron to his right.
James Walters answered back on USC's next possession, hammering a shot past Wolf to again put the Trojans up 4-3. But Max Irving, shrugging off three blocked shots—including a first-period penalty shot—rose up after an ordinary foul to score from five meters, tying the game with 1:56 remaining in the period. The 6-7 Roelse scored a minute later on a long shot with UCLA a man up to again give UCLA the lead.
…And Hang On
But the Trojans weren't done just yet. The fourth period saw them successfully draw a third exclusion on Saveljic, which happened one minute in (for his first-ever NCAA title, the talented freshman was in the pool for precious few minutes). And Blake Edwards, a USC co-captain who wore cap #14 in honor of his absent brother, rallied his team one final time, beating Wolf at 6:47 to tie the match. But 30 seconds later, UCLA's Farmer, operating in the spot that Lachlan Edwards typically would have patrolled, found space in front of the USC cage.  He converted a nifty pass from Jack Grover into a one-timer past Baron that turned out to be the game-winner.
Six minutes is a long time to shut down an offense, especially one as potent as USC's. But the Bruins were able to accomplish it with a combination of goalie play and team defense that continually frustrated the Trojans. When UCLA's Warren Snyder drew an exclusion at 1:07, Vavic's team had one last gasp at the equalizer. After working the ball around, it was left to Vavic's son Marko to take the shot that would make or break his team's season.
With 32 seconds remaining he missed high over the net, dooming the Trojans to another second-place finish. Goalie Wolf's empty-net score with two seconds left was merely window dressing on what was a dominant defensive display by the Bruins.
"Nobody believed in us except ourselves," said Wright, whose team has now thoroughly proved its critics wrong. "But these guys kept believing."
For USC's Vavic, the reality of finishing second a fourth straight year was sobering.
"We had a lead, we had many opportunities, but we missed five on six shots," he said. "Nobody is to blame for that but us."