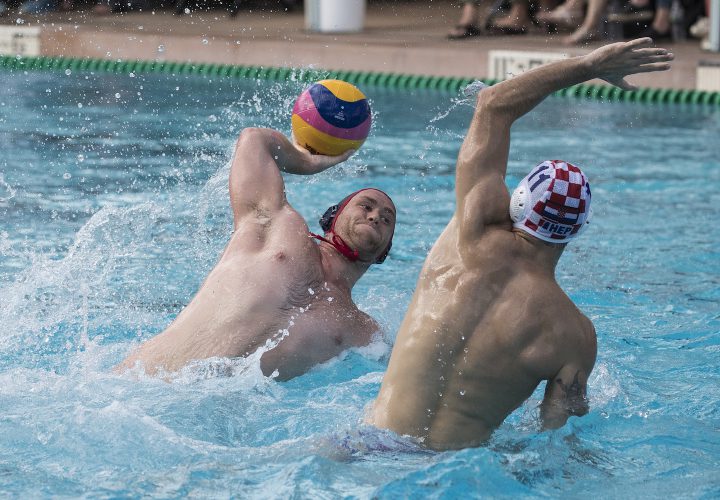 USA versus Croatia at Stanford in early June. Photo Courtesy: Jeff Cable
By Michael Randazzo, Swimming World Contributor
With the 2017 FINA World Swimming Championships opening next month in Budapest, the U.S. men's and women's national water polo teams renew a quadrennial chase for Olympic success that culminates at the 2020 Tokyo Games. Prior to FINA Worlds, I had the opportunity to speak with perhaps one of the most important decision-makers in American polo.
John Abdou— USA Water Polo's Chief High Performance Officer who is the preeminent talent evaluator for the country's largest water polo association—has become an invaluable partner to Dejan Udovicic and Adam Krikorian, head coaches respectively for the U.S. women's and men's teams.
Prior to taking a fulltime position with USAWP, Abdou spent five years at Bucknell University as head coach of both the men's and women's programs then two as associate head coach at the University of California at Santa Barbara. A 2001 graduate of the University of California-Irvine, he played for the Anteater men's water polo team.
Abdou addressed the recent lack of international success by the U.S. men's team, specific challenges Team USA faces going into FINA Worlds, and why the U.S. Senior Women's National Team is head and shoulders above the rest of the world.
Editor's Note: the complete interview with John Abdou is on the Water Polo Planet website.
How the international calendar negatively impact U.S. men's water polo:
The biggest challenge that both Coach Krikorian and Coach Udovicic face is to integrate the national team calendar into a system that has high school water polo, club water polo, NCAA water polo [and] year-round academics. That's a huge challenge because the calendars do not align.
FINA makes the international calendar for the year based on what works best for Europe and not for those countries outside of Europe.
In terms of understanding the system it's more about understanding the calendar first and then understanding the priorities of an American athlete. On both the men's and women's side, the priorities are to get into college and use water polo as an avenue to a great education. That's in stark contrast to what's happening in Europe.
Another way to look at this is that in America our high-performance process for national team athletes is essentially self-select. That can be said world-wide but—even more so here—athletes need to self-select to be part of the national team. For every male or female athlete it's a decision-making process to be a part of the national team. And they weigh that against academics, lifestyle and career.
History shows that success is fleeting for Team USA:
For example—and again the goal should always be the highest level of achievement at the Olympic Games or in any world championship—but to put that in context with the facts; in the past 30 years our men's team has won one Olympic medal.
That's 30 years; Coach Udovicic has been here for four. In the history of our competition at the World Championships, we have never placed higher than fourth. We have six FINA medals total in the last 30 years as well. One of those came last year at the World Super Final.
Specifically, the last 27 years are important because in 1991 Yugoslavia broke up into separate countries that includes Serbia, Montenegro and Croatia. That created a different competitive landscape than what was happening pre-1991. The silver medal that came before the one we won in Beijing in 2008 was in 1988 in Seoul, Korea.
In between that time, the break-up of Yugoslavia has changed the landscape [of international water polo].
That being said, we were highly competitive in the Rio games. Some more data; at the end of the London Games in 2012, if you did a plus/minus of our results against opponents we were -9 in all the games. In all the games in the Rio Olympics we had an even goal differential with our opponents. We lost a very close game to Spain, a very close game to Montenegro, a close game to Croatia and then beat Italy on the final day.
Continuity: a double-edged sword for the U.S. men's squad:
In response to your second question, about how competitive are we going to be now in regards to our team and some of these players, another fact that everyone must deal with—us, Australia, and a lot of other sports in America—is that in the first year of a quadrennial in an Olympic cycle is always one of transition.
You're going to see some athletes retire and some athletes question whether they're going to return. This is across all sports in America after an Olympics.
While Tony [Azevedo] has made it official, there are others who are still considering what's [next]. John Mann, Merrill Moses and Jessie Smith are in talks with Coach Udovicic about their futures.
You also deal with injuries; Josh Samuels is injured for the year but return next year.
The one silver medal that we have in 30 years is due to a group of men who stayed together—a critical mass from the 2004 team that stuck it through to 2008 and then achieved greatly in Beijing.
Everything I've described now was known in 2008. The decision was made after the 2008 Olympics to keep the band together, so to speak. To avoid the trap of being perpetually young, if they could keep the team together for another four years they would have even greater success in the London Olympics.
Those men sacrificed quite a bit to make it work so they could stay together as a team but had disappointment in 2012 with an eighth-place finish.
The idea of keeping a group together had great success for 2008; keeping the group together in 2012 didn't. That roster had aged by 2012 [so] we had to start over with a whole new pipeline of athletes.
A host of younger players restock the men's roster for 2017 FINA Worlds:
You're seeing the maturation of McQuin Baron. He recently won the Cutino Award and has continued to improve his game on a daily basis. You're seeing Alex Obert, who played professionally in Australia, who has continued to evolve his game. Luca Cupido, after winning a national championship—he's not at the World League Super Final because he's finishing a summer school course and trying to graduate [from Cal].
You're looking at a core group that involves them and Alex Roelse, who's off another strong season at UCLA. And then trying to compliment all those strong athletes with players like Chancellor Ramirez, who just graduated from UCLA and had a strong showing in the Croatia series and is playing in the World League Super Final.
There's Ben Hallock and [Thomas] Dunstan, who both went to Rio, they're coming back now. We should start seeing the payoff this year, the next and through this quad, which is the maturation of those athletes that we did take to Rio and are now developing—Baron, Cupido, Roelse, Obert, Dunstan, Hallock—all these guys are continuing to develop.
Johnny Hooper has been in the USA Water Polo ODP pipeline for many years. He was born in 1997 and this year he's getting a lot of playing time with the Senior National Team. He was the leading scorer at the Intercontinental Cup in Australia in April and helped us win a silver medal there. He played throughout the Croatia series and is playing in the World League Super Final right now. It's interesting to know that he's also eligible to play in the Junior World Championship in Belgrade this August.
Why American women's polo is ahead of the rest of the world—for now:
Again, going back to the facts, it's unfair to compare the men and the women. Men's water polo was the first Olympic team sport, competing in the Olympic Games since 1904, which dramatically changes the competitive landscape in relation to women's water polo which has been in the Olympic Games since the year 2000.
Fact number two; the number of country's playing men's water polo is drastically different than those playing women's water polo.
Fact number three: the women's NCAA water polo is the best women's water polo league in the world, hands down. That's a huge advantage for the women versus the men, where the best leagues have been developed for over a hundred years outside of the USA.
The women's NCAA league invites some of the best players from all around the world, and they are attracted to that league to play and develop.
The fourth factor is that the women's calendar, the way it is now with the women's NCAA season, being in the spring, is a huge advantage for the U.S. women as well. As their spring seasons are done they immediately go into national team play. For example, the women who just finished competing in the NCAA championships in Indianapolis immediately left from there and went to China to compete in the Kunshan Cup where Team USA won the gold medal.
I would say that those four data points are the biggest things to compare in terms of men and women but they still share similar issues. The competitive landscape for the women and the strength of our development of athletes in general in America is a huge asset for our women's success. There's a smaller competitive landscape and we've dominated because we're the ones in control of the best league in the world.
Coach Krikorian is quick to remind everyone how well the rest of the world is developing at women's water polo. The Hungarians are developing rapidly. In the last world championship we beat Holland 5-4 in the final. We're one goal away from losing a world championship to a Dutch team that didn't even qualify for the Olympics.
With Ashleigh Johnson out, Gabby Stone and other need to step up if America is going to stay on top:
Kaleigh [Gilchrist] is shooting for Tokyo in surfing; Kami (Craig) and Courtney (Mathewson), I don't think it's safe to assume they're completely done [but] they're looking to start new chapters in their lives. We'll see after this year where Ashleigh Johnson goes. She just graduated from Princeton last month.
Two new goalies step in; one of them Stanford's Gabby Stone, the other Mia Rycraw from Arizona State and both had great runs in China. Last year Stone was part of the fulltime group with the women's senior team so she was the third-string goalie who's been waiting her chance and finally got an opportunity.
As a reflection on the men's side—the Hallocks and the Hoopers and Bowens and these other athletes that have spent their time developing through the USA Water Polo pipeline—the same is happening on the women's side.
Jordan Raney, Brigitta Games, Mary Brooks–all those athletes have been part of the USA Water Polo pipeline for many, many years. At the last junior world championship in 2015 Brooks won a gold medal with Team USA.
These athletes that we're mentioning, they are not unfamiliar to Coach Krikorian and now they're gaining more familiarity with international water polo.