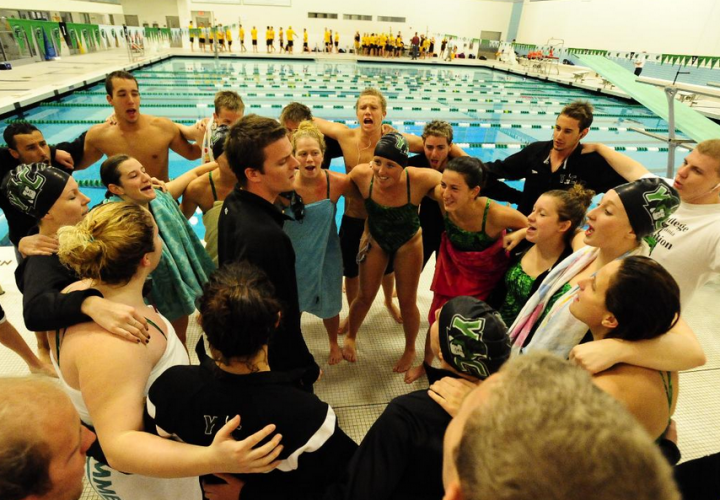 Photo Courtesy: York College Athletics
By Erin Himes, Swimming World College Intern
So you're committed to four more years of swimming. Now that all of the stress of choosing a college is over, here are some things you can do while you wait to join your new team next fall!
1. Keep up your grades.
While it may be easy to let your guard down, keeping your academics strong will make a good impression. Plus, if you're in AP classes, passing the AP test could make your student athlete life much easier! Look into what test scores your school accepts so that you can take a little less of a course load one semester during season.
2. Focus on being a good teammate.
College swimming involves being an all-star teammate. Coaches always love a team player and they likely saw this trait in you if they wanted you on their team! Practice these habits now, you'll have more fun and you'll be ready for next year.
3. Keep your social media clean.
Clean up your social media. It's the first thing many of your new teammates will see, along with anyone on the internet. If you didn't already do this during the process, make sure that your social media represents you well! From your commitment on, you are expected to be a good representative of your team and your school, so start now!
4. Connect with your future teammates.
Connect with teammates in your recruiting class and beyond! Whether you're looking for a roommate or have a question about moving in, or what you should pack, teammates are the best resource. Take advantage of this incredible network of people with knowledge of the situation you're about to enter!
5. Set long term goals.
Think about what drove you to want to keep swimming. Is it a specific goal you have? Or just the experience? Whatever it is, know it confidently before you enter college swimming. My personal goals were to enjoy swimming and be a good teammate. Knowing my aspirations within college swimming has helped keep me grounded over the past four years.
6. Make sure to follow any given deadlines.
Follow any freshman class deadlines set by your university. Check your email frequently and try following your school and their admissions department on social media for helpful reminders. From forms you need to sign to picking your meal plan, there will be plenty of deadlines over the next few months you'll want to keep up with.
7. Follow your teammates' successes.
Follow your future team's big meets all year long so you're knowledgeable about the team you're joining! Knowing this will help you find your place and also show that you're a teammate who cares about everyone's success.
8. Have fun!
You've certainly earned the right to relax! Now that the stress of impressing colleges has passed, have fun with swimming and enjoy the end of high school. You don't want to burn yourself out when you've already signed on for four more years. Learn how to enjoy swimming even more and get excited for the college swimming experience!
All commentaries are the opinion of the author and do not necessarily reflect the views of Swimming World Magazine nor its staff.