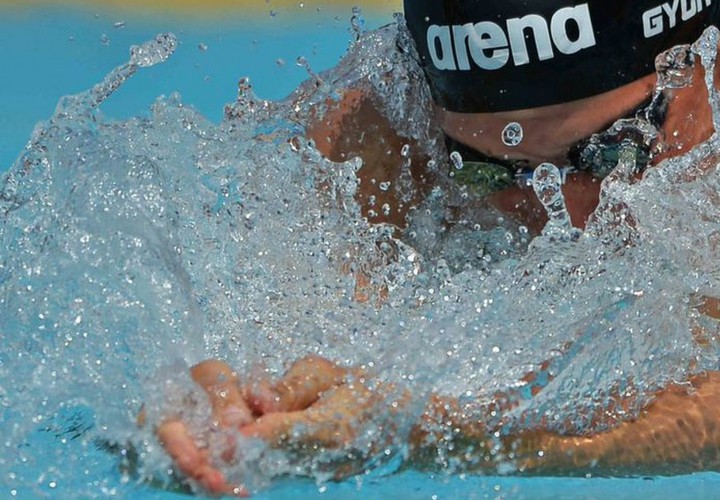 Photo Courtesy: Gian Mattia Dalberto/Lapresse
Commentary by Jeff Commings
DOHA – Since there was no single international long course meet held in 2014, this week's short course world swimming championships will be our only opportunity to see most of the best in the world racing in one venue.
I say "most" because a lot of the names you know well are not competing in Doha. Missy Franklin. Katie Ledecky. Michael Phelps. Sun Yang. Many countries, especially those not on the European continent, do not put a big priority on the short course world championships, as this time of year is crucial for training leading up to the long course worlds next summer.
We will still have plenty of notable names racing in Qatar starting tomorrow, and we could see a few world records tumble. Here are five races in which we could see some new world marks.
World Swimming Championships Men's 400 individual medley
At the Japanese training camp last week, Kosuke Hagino made it known that he wants the world record in the 400 IM. His lifetime best is only a second slower than the 3:55.50 Ryan Lochte posted at the 2012 worlds, and I think Hagino has a very good shot at it. The Swimming World Magazine Male World Swimmer of the Year has been on fire in 2014, and this would be a great way to finish it. Unfortunately, Lochte is not swimming the 400 IM, but Hagino's teammate Daiya Seto will give a big challenge. Seto won the 400 IM at the 2010 short course worlds and is the reigning long course world champion.
World Swimming Championships Women's 100 backstroke
Katinka Hosszu has the potential to take her individual medley records even lower this week, and that will be expected. But will she be able to break Shiho Sakai's 55.23 world record from 2009? Hosszu, dubbed "The Iron Lady" for her amazing racing skills in multiple events without showing much fatigue, got close this fall during the World Cup, posting a 55.34 in Hong Kong. Sometimes, 12 hundredths of a second can seem like a lot of time to drop, especially at the ultra-elite level. Hosszu has the chops to make it happen, judging by the way she consistently dropped time in the 100 back through the World Cup circuit. Look for the Hungarian superstar to make a big statement in this event, setting herself up for a place among the best sprint backstrokers in history.
World Swimming Championships Men's 200 breaststroke
Remember when Kevin Cordes smashed through the 1:50 barrier in the 200-yard breaststroke in 2013? We're finally ready to see someone go under 2:00 in the short course meters version, and it will be just as mind-blowing. Daniel Gyurta lowered his world record to 2:00.48 a couple of months ago and will be pushing the envelope this week. Germany's Marco Koch and Japan's Yasuhiro Koseki will likely flank Gyurta in the final, and might get under 2:01 if they can hold on to Gyurta's trademark closing 50 meters. Gyurta will need more speed in his opening 50 if he has a shot at breaking the barrier, but with the pressure of competition and the anticipation of a big swim, I believe the Hungarian will give the crowd a big reason to cheer on Friday.
World Swimming Championships Women's 50 breaststroke
Alia Atkinson has had Jessica Hardy's world record of 28.80 in her sights for more than a year, but the Jamaican has never been able to get under it. As is the case with every race 50 meters long, the start and turn are critical. Atkinson has the chops to put everything in place for a stellar show, and she'll need it if she wants to keep Ruta Meilutyte at bay. The Lithuanian will be looking to break that record as well, and both swimmers' lifetime bests are within a fingernail of the mark. Will both of them wait until finals to go after the record, or lay it on the line in semifinals? Meilutyte set her long course world records last year in semifinals, and Atkinson would be advised to be prepared for that possibility.
World Swimming Championships Men's 100 butterfly
It was a toss-up between the men's 100 fly and the 200 fly for this list. As much as I think Tom Shields and Chad Le Clos will chase the 200 fly world record of 1:48.56, I think the 100 fly record is more in danger. The days of Evgeny Korotyshkin's 48.48 are numbered, and it's likely that Shields and Le Clos will both dip under the record. While Shields is a master at underwater kicking, Le Clos outswims everyone in the pool. With this being a short course meet, I give the advantage to Shields on the fact that 60 percent of the race is underwater. But Le Clos is a fighter and knows how to get to the wall first in the close races. What we saw from these two in the World Cup circuit was only a prelude to what will unfold in Doha.