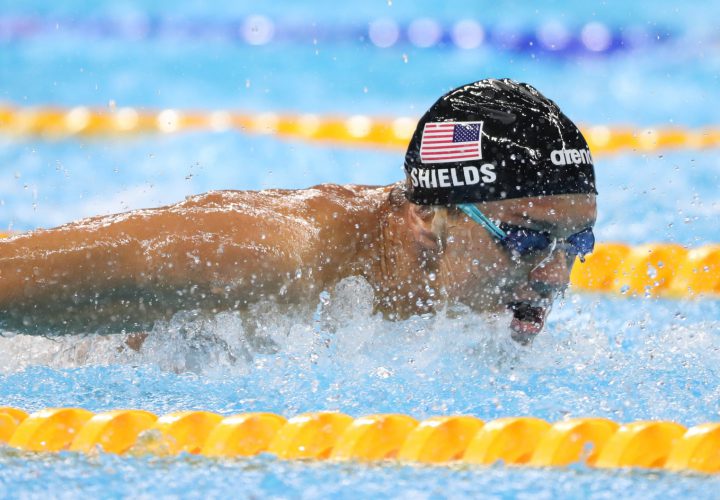 Photo Courtesy: Rob Schumacher-USA TODAY Sports
By David Rieder.
Thursday's domestic whiparound featured Jack Dolan, the 15-year-old who continues moving up the all-time lists in the 15-16 age group across all his events, and Isabel Ivey, the 16-year-old who split the difference between Olympic medalists Melanie Margalis and Amanda Weir in the women's 200 free and posted a 1:43.96.
In Saturday morning's prelims, Dolan qualified for his third championship final of the weekend in the men's 100 free, and Ivey posted a 48.23 in the women's 100 free to take the second seed in the event. She will swim out of lane four in the final after Weir scratched.
What's next? Well, plenty, between busy Friday night sessions at Winter Nationals, the Georgia Invite, the Texas Invite and, yes, the Miami University Invite in Oxford, Ohio.
1. Tom Shields breaks the American record he wanted most.
During a prolific career competing for the California Golden Bears, one record eluded Tom Shields. He won the event at the NCAA championships three of his four years and finished a close second to Austin Staab as a sophomore. But despite posting times in the 44-second range each time out, he could never crack Staab's American record of 44.18.
Shields turned professional in 2013 and spent the next few years establishing himself as a successful long course performer while returning to his short course roots occasionally on the World Cup circuit and at the Short Course World Championships. But those meets were in short course meters—Shields had hardly any time for yards.
Earlier this year, Joseph Schooling became the first man to crack Staab's record, posting a 44.01 for a new U.S. Open record at the NCAA championships. Just another marker for Shields to chase after when he made a long-awaited return to tapered yards racing this weekend at Nationals.
Surprised by Shields' exuberant reaction when he saw that he had finished in 43.84 Friday night? No reason to be. That one meant a lot—even if smart money says he might not hold onto the fastest time ever for too long.
I cannot express how long I've tried to break this record. Won't be mine for long I bet, but you can never take my name off this list. https://t.co/EZLIgGuoQZ

— Tom Shields (@beefyTshields) December 3, 2016
2. Chase Kalisz makes a statement, takes down four Olympians in the men's 200 IM.
You might not think of Chase Kalisz as much of a 200 IMer. He won Olympic silver in the 400 IM this summer in Rio, but he scratched out of the 200 IM at Olympic Trials this summer. At his last NCAA championships in 2015, he didn't even make the championship final of the event.
The event also happened to be one of the most competitive at the NCAA championships last year. Josh Prenot, the runner-up from that race, has exhausted his eligibility, but Texas' Will Licon and Cal's Ryan Murphy both posted times in the low-1:40 range.
Friday night in Athens, Kalisz dominated a field that included Murphy, Andrew Seliskar and fellow Olympians Gunnar Bentz and Jay Litherland. He posted a 1:41.26, just off his lifetime best of 1:41.19, and won the race by more than a second.
When Kalisz swam that 200 IM best time back in 2014, he went on to win the NCAA title in the 400 IM the next day, posting a 3:34.50 that still stands as the fastest time in history. No one has come within 1.3 seconds of that mark. That could change this evening, when Kalisz swims the 400 IM final in Athens.
3. Michigan women show off strength in the 500 free.
The Michigan women have been resurgent this season, ranking as high as no. 1 in the CSCAA poll earlier in the year. The Wolverine women had been mostly quiet since opening the season with strong efforts against Louisville and at the SMU Classic, but they have put up some quick swims so far at the Georgia Invite in Athens.
Most notably, teammates G Ryan and Rose Bi finished first and second, respectively, in the 500 free. Ryan blasted a 25.50 last 50 to come from behind and win in 4:34.28, with Bi just behind in 4:34.63. Those times rank third and fourth in the country this season behind Olympic medalists Katie Ledecky and Leah Smith.
Only three swimmers beat those times at the NCAA championships a year ago, and two of them—Georgia's Brittany MacLean and Hali Flickinger—have graduated. But still, the 500 should be especially deep this season, even without accounting for Ledecky's entrance into college swimming.
Over in Austin at the Texas Invite, Wisconsin's Cierra Runge posted a 4:35.55 Thursday, which ranks fifth in the country. Runge finished second behind Smith at the NCAA championship meet in 2015 and is returning from a redshirt season. In addition, Arizona's Hannah Cox and Georgia Bulldogs Stephanie Peters and Meryn McCann have all swum under 4:39 over the past two days.
Seven others have season-best marks in the 4:39 range. Seems safe that it will take quite a bit faster than 4:38.27 (last year's eighth-place time) to make the championship final at NCAAs.
4. Dylan Carter sparking USC Trojans.
USC redshirt junior Dylan Carter has been a force to be reckoned with so far this weekend at the Texas Invite, particularly on relays. Take a look at his results so far:
Wednesday night, he led off USC's 800 free relay in a quick 1:32.61.
He posted an 18.61 split on the Trojans' 200 free relay and then a 19.32 flat start 50 free.
He split 45.12 on the fly split of the 400 medley relay and then finished second to Jack Conger in the individual 100 fly in 45.27.
A 19.91 split as the fly leg on the 200 medley relay.
Carter qualified second in Saturday morning's 100 free prelims at 43.04, but he seems poised for a much quicker effort in the evening finals. Seems like a solid candidate for Pac-12 swimmer of the week, no?
Carter sat out last season as he trained for the Olympic Games, where he represented Trinidad and Tobago and finished 23rd in the 100 free. Santo Condorelli gets the most attention of USC's redshirt junior sprinters, and the Canadian has been solid all weekend in Austin—his top effort was an 18.91 split on the 200 free relay—but combined with Carter, the Trojans have one of the top sprint duos in the country.
In 2015, Carter, Condorelli and the now-graduated Cristian Quintero led the Trojans to a fourth-place finish at the NCAA championships, and they were the catalysts behind wins in both the 400 and 800 free relays. With all three out of action, USC fell to 13th at last year's NCAA meet, but this season figures to bring a big rebound effort.
5. Emory's Andrew Wilson blasts quick 100 breast in Ohio.
For number five on this list, we head to Oxford, Ohio, and Miami University's annual fall invitational. In Friday night's final of the men's 100 breast, Emory redshirt junior Andrew Wilson popped a massive 51.14, making him the seventh-fastest swimmer all-time in the event.
Wilson took the last year off of school to swim with the Texas men's squad and prepare for the Olympic Trials, where he finished fifth in the 100 breast and fourth in the 200 breast. Back in school this fall, he is wreaking havoc on the Division III ranks. He won Friday night's final by almost three full seconds.
The names Wilson now ranks behind on the all-time list: Kevin Cordes, Cody Miller, Damir Dugonjic, Chuck Katis, Fabien Schwingenschlogl and Nic Fink. That's pretty solid company. Schwingenschlogl has by far the top time in the country in Division I this year at 51.07, but that's just ahead of Wilson's mark from Friday night.
In March, Schwingenschlogl will be competing at the Division I NCAA championships in Indianapolis, where he will be favored to win the 100 breast. But he figures to have a quick time to chase—that is, whatever mark Wilson throws down a week earlier at the Division III championships in Houston.
All commentaries are the opinion of the author and do not necessarily reflect the views of Swimming World Magazine nor its staff.