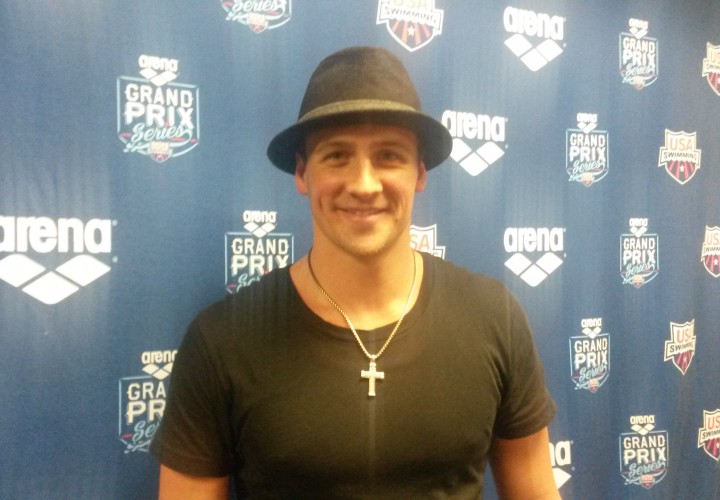 Arena Grand Prix – Charlotte editorial coverage is proudly sponsored by Arena USA. Visit ArenaUSA.com for more information on our sponsor. For all the latest coverage, check out our event coverage page. Also make sure to see our Facebook photo gallery.
Commentary by Jeff Commings
CHARLOTTE, North Carolina, May 18. The Charlotte stop of the Arena Grand Prix is now a part of history, with SwimMAC Carolina wrapping up its 30th year of hosting the event. I've always found this meet to be a bit weird, both as a competitor and as a spectator.
As a swimmer, I was always in the first few weeks of long course training after the college season, and I hadn't fully made the adjustment. Thus, I swam horrible every year. As a spectator, it's always been hard to judge how fast everyone will swim. It's too early for postgrads to start resting, and too early in the season for college swimmers to know how well training is going. So, when you see a fast swim in Charlotte, it's cause for elation. We saw many fast swims this weekend, and below are my five observations from the four days of swimming.
1. Arkady Vyatchanin needs to find a country to represent, stat! A year after his falling out with Russia, Vyatchanin is in search of a country to represent at international competitions. After seeing his amazing backstroke races this week, it's clear that the 30-year-old needs to be in the world championships and Olympic Games. His 53.81 in the 100 back was great, but his 1:55.33 in the 200 back was even better. As he said after the race, it was his fastest time in a textile suit, and that's got to be enough to get any country salivating over the hopes that Vyatchanin could help boost their medal rankings. I think this needs to happen soon for Vyatchanin to be eligible for the world championships — which will be held, coincidentally, in Russia.
2. Ryan Lochte was definitely missed. Lochte might not have been able to post a 1:55 in the 200 back at this point in the season, but what a presence he would have made. Lochte hates to lose, and he would have done everything in his power to keep Vyatchanin from winning. I would have liked to see Lochte race Thiago Pereira in the 200 IM, battle Michael Phelps in the 100 fly and challenge Connor Dwyer in the 200 free. But knee problems kept him from racing in his new hometown, and I think his biggest fans are OK with it. "Better now than in August," they replied on social media after the news of withdrawal went public. I agree wholeheartedly.
3. Katinka Hosszu is on pace for a great European championships. Hosszu won the 200 IM and 400 IM at the world championships last summer, and was third in the 200 fly. Spain's Mireia Belmonte Garcia will be her biggest threat, but Hosszu is throwing down some great times that suggest she's setting up for multiple gold medals in Berlin in August. Hosszu's massive improvement in backstroke will help her IM races, and it could present a new addition or two in her already packed event schedule. Though she'll need to be under 58 seconds to be competitive internationally in the 100 back, she's got the potential to show up in that final in the Olympics, if that is her desire.
4. Micah Lawrence is dangerous. She doesn't say much in media interviews, but Micah Lawrence is the embodiment of the clich? "Do the talking in the pool." This weekend, she showed off some speed in the 100 breaststroke that few thought she had. She should be the top 200 breaststroker for the United States through 2016, but now she has the potential to make the international roster in the 100 breast. Both breaststroke events are dominated by Europeans, but after a bronze medal in the 200 breast at worlds last year, Lawrence is making her case to be the next Rebecca Soni. Remember that in 2008, we never pegged Soni as a 100 breaststroker. But then she won Olympic silver in Beijing, and the rest is history.
5. Charlotte and Baltimore are the new postgrad meccas. In 2010, the idea of a non-university swim club taking on postgrad swimmers was still new. In 2014, two teams are now welcoming them with open arms. North Baltimore Aquatic Club and SwimMAC Carolina are brimming over with postgrad talent, taking the reins from such teams as Trojan Swim Club and Gator Swim Club. It appears to be working for coaches Bob Bowman and Dave Marsh, as their elder swimmers put up some great times this week and are likely to take many of the lanes at this summer's nationals. Both teams foster a camaraderie that postgrads often do not find on teams based on college campuses, and give them a place to train uninterrupted by the seven-month college season. Add in the smaller squad at Club Wolverine, and no postgrad is without an option when it comes to life after receiving that diploma.