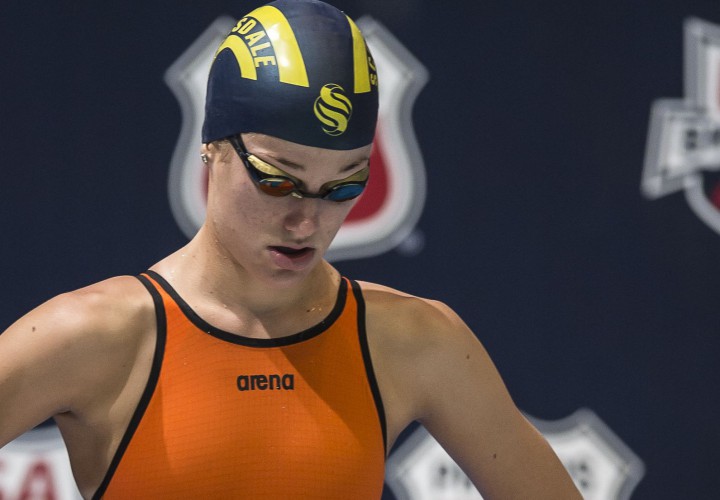 Agon is the proud sponsor of all high school coverage (recruiting, results, state championships, etc.) on SwimmingWorld.com. For more information about Agon, visit their website Agonswim.com.
MESA – This weekend's Arizona Interscholatic Association's swimming and diving championships will feature some very exciting racing at the Skyline Aquatic Center, and SwimmingWorld.TV will be a part of the live webcast of the event Saturday in Mesa.
In association with Play On Sports, Swimming World's Jeff Commings and Tiffany Elias will serve as on-air announcers for the meet. Elias will be calling all the girls' races, while Commings will do the same for the boys' meet. Both meets will be streamed on NFHSNetwork.com live. You can also download the NFHS Network app to watch the meet on your smartphone or tablet!
Saturday's finals for the Division II competition begins at 9:30 am Mountain Standard Time, with the Division I meet scheduled for a 2:30 p.m. start. Diving finals will take place at 9:30 a.m. Friday for Division II and 1:30 p.m. Friday for Division I. Tucson's Catalina Foothills High School is looking for another sweep of the boys' and girls' team titles, though several Phoenix-area schools won't make it easy for the Falcons.
Today, we highlight five athletes to watch at the Division I meet.
Matt Anderson, Arcadia High School
Anderson's best event is the 200 breaststroke, having placed second in the event at last summer's junior nationals. But he'll be looking to show his future teammates at Stanford that he can sprint well with a time in the 54-mid range on Saturday. Last year, Anderson set the state record with a 55.44 and will get a push from Chaparral senior Marcello Quarante.
Ryan Hoffer, Chaparral High School
Hoffer was amazing in his debut high school championships last year, blazing to a state record 19.55
as a freshman
. He has his eyes on a sub-19 second swim, which would mean the crowd at Skyline High School would see the first such swim done in an official high school meet. Hoffer's lifetime best stands at 19.54 from last December's junior nationals, and though five tenths is a lot to drop in a 50-yard race, Hoffer seems up to the challenge. He'll have some stiff competition in the 100 free, with Brophy's Jack Blake and Cactus Shadows' Connor Stirling within reach.
Mark Jurek, Chandler High School
Jurek was the only male swimmer to set two individual state records last year, posting a 1:48.31 in the 200 IM and 47.80 in the 100 fly. Jurek had a great battle with Hoffer in the 100 fly in 2013, but with Hoffer switching to the 100 free, that creates clearer water for the Chandler High junior to lower his record. Jurek, the fourth-place finisher in the 200 fly at last summer's juniors, will take out the first half of the 200 IM fast, and will hope to hold off Anderson's strong breaststroke.
Taylor Ruck, Chaparral High School
Ruck will make her high school championship debut as the hot favorite in the 200 and 500 freestyles. That's a lot of pressure for most freshmen, but Ruck will likely handle the challenge well. She nearly won the long course junior national title last summer in the 200 free, one of the most pressure-packed meets in the country.
Victoria Toris, Pinnacle High School
Toris was a finger's length from claiming the state record 22.93 in the 50 freestyle last year, posting a 23.12. Toris' lifetime best is 22.85 from a sectional meet in 2013, so she knows what it's like to break 23 seconds. The future Southern California Trojan won't have an easy path to repeating as 100 free champ, with Arcadia's Samantha Carlson making big strides in the past year to break 51 seconds.