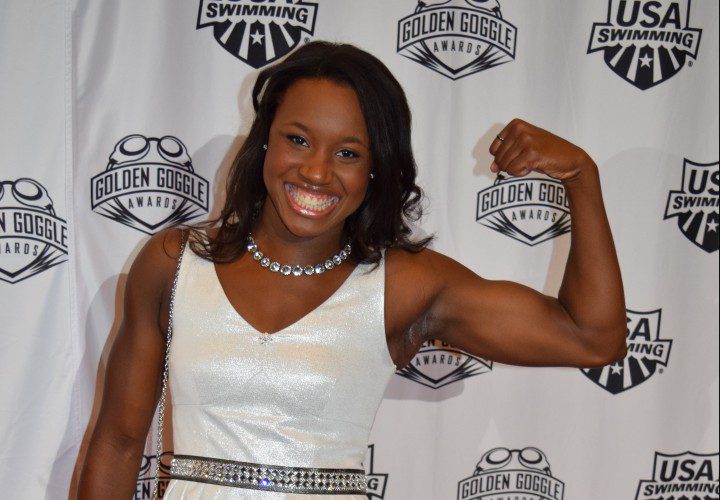 Photo Courtesy: Annie Grevers

Editorial Coverage Sponsored By FINIS
By Melissa Berkay, Swimming World College Intern
Simone Manuel's second place finish in both the 100 freestyle and in the 50 freestyle at the 2016 US Olympic Trials secured her a spot on the 2016 United States Olympic swim team. The 19-year-old from Houston, Texas will compete in these individual events, as well as in the 4×100 freestyle relay in Rio.
Here are a few reasons to cheer for this sensational sprinter…
1. She's making history.
Manuel made history with two other swimmers at the 2015 NCAA Championships in the 100 freestyle by being one the first of three African-American swimmers to claim the top three spots in the event. She won the 100 freestyle at 2015 NCAAs while setting a U.S. Open Record, an NCAA Record, and an American Record. Manuel also helped Stanford set an American record in the 400 free relay with a sizzling relay split.
Along with Lia Neal, Manuel is making Olympic history. This will be the first time two African-American women will represent the United States Olympic swim team simultaneously. Both athletes train at Stanford University.
2. She has an unbeatable support system.
Her faith, family, friends, teammates, and coaches are core components to her success. Manuel credits her two older brothers, Chris Manuel and Ryan Manuel, for motivating her to be fearless and competitive. They would drive her to morning practice when she was still living at home, and have always been the individuals she has turned to for support. Her admiration for their athleticism inspired her to attend swim lessons when she was 5 years old. At age 11, Manuel trained with her local team, the First Colony Swim Team. After graduating from Austin High School, she chose to attend Stanford University, where she competes for the Stanford Cardinal women's swim team.
3. She has a desire to inspire.
Manuel wants to use the sport of swimming to inspire others. She would like to prove by example that competitive swimming is an option for African-American individuals, and hopes that her performance and exposure will inspire other African-Americans to dive into the sport. Manuel would also like to see more water safety resources become accessible to children, and hopes that she can serve as a role model to younger generations. Maritza (Correia-McClendon) and Cullen Jones are two athletes who have inspired her.
4. She's well-rounded.
Manuel enjoys making music videos, singing, listening to music, watching romantic comedies, and cooking in her downtime.
"She's a lot of fun to be around and has great energy in the weight room. Simone always has the best new music playing in the locker room, and can cook really well- which she documents on her snapchat," says Manuel's Stanford teammate KC Moss.
Keep up with Simone's out-of-water activities and her lead-up to the Olympics by following her on Twitter.
Go get 'em in Rio, Simone!