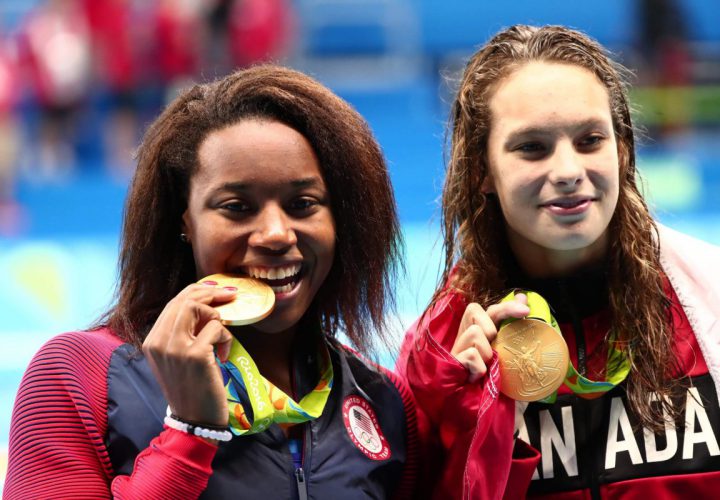 Photo Courtesy: Rob Schumacher-USA TODAY Sports
Editorial content for the 2017 Arena Pro Swim Series Atlanta is sponsored by Arena. Visit ArenaUSA.com for more information on our sponsor. For full Swimming World coverage, check out our event coverage page. CLICK HERE FOR LIVE RESULTS
By David Rieder.
For those swimmers who have frequented the various stops on the Arena Pro Swim Series this season, the sunburns from the last stop in Mesa, Ariz., might still be lingering. After just a three-week hiatus, the circuit moves to the McAuley Aquatic Center in Atlanta this weekend for the fourth of fifth stops.
Yes, Atlanta, and the typically-heavy traffic in the city has only worsened since an overpass on I-85 collapsed last month. (For those of you headed to the meet this weekend, the road will not re-open for another three weeks. Sorry.)
But when it comes to what's happening in the pool, Georgia Tech has been home to some really quick times as of late. Take a look up at the short course yards pool records, all but one of which were set at either last year's NCAA championships or this year's ACC championships.
With who's in town for this long course meet there's reason to expect more in the fast-times-and-really-good-races department. Here's what to watch for.
1. Re-matches. Really good re-matches.
Okay, so this one was a little too easy. Simone Manuel and Penny Oleksiak, the co-Olympic gold medalists in the women's 100 free, will be back together in the same pool for the first time since Rio. They are seeded a full second ahead of anyone else in their shared signature event.
In recent months, Manuel has been swimming lights-out. She dropped a stunning American record of 45.56 in the 100-yard free on her way to an NCAA championship in March, and then in her first long course meet of the year in Mesa, she recorded a time of 53.66, good for eighth in the world this year.
Oleksiak, on the other hand, has not posted any crazy-fast times yet this year. That includes at the Canadian Swimming Trials last month, when her 100 free winning time of 53.84 was more than a second slower than her 52.70 from the Rio final.
Of course, none of those results actually matter until they get to the World Championships this summer (where Sarah Sjostrom will await them), but it's not often that there are ties for Olympic golds, so take the re-match when you can get it.
Speaking of re-matches, there are plenty of other races where the principles have become exceptionally familiar with one another. Such as…
Men's 100 fly: Coming down the stretch of the men's 100 fly final at Olympic Trials, six swimmers had a chance at booking spots in Rio. Michael Phelps ended up winning his final race on U.S. soil, while Tom Shields claimed the second Olympic spot, followed by Seth Stubblefield, Jack Conger, Tim Phillips and Matthew Josa. Phelps is retired, but the other five are all entered in the event this weekend.
Women's 100 breast: Lilly King is back (more on that below), but seeded second and third, respectively, are Katie Meili and Molly Hannis. Meili edged out Hannis for the second spot on the Olympic team last summer, and so far this year, Hannis edged out Meili to win this race at the Pro Swim Series meet in Indianapolis, and Meili took down Hannis in Mesa. Time for round… whoops, lost count.
Men's 100 breast: Kevin Cordes beat Cody Miller to win the 100 breast at Olympic Trials, and then Miller took down Cordes' American record in winning the bronze medal in the event in Rio. Like Hannis and Meili, Cordes and Miller see a lot of each other.
2. Welcome back to long course.
Mesa was only three weeks after the men's NCAA championships and four weeks after the women's meet, so it was understandable if some NCAA swimmers waited a little longer to make their 2017 debuts in the Olympic-size pool. Indeed, 10 Olympic medalists from Rio will compete long course for the first time since August this weekend in Atlanta.
Gold medalists King, Ryan Murphy and Joseph Schooling are on that list, as are five U.S. relay gold medalists—including Conger and Gunnar Bentz, both of whom swam on the 800 free relay in Rio and were then suspended four months at the end of last year from USA Swimming for their role in the infamous Rio gas station incident.
Both swam well at NCAAs—Conger won his first career individual NCAA title in the 200 fly, while Bentz was an A-finalist in three events—and both could take on larger roles with the U.S. National Team this year. Conger has plenty of butterfly and even sprint free potential, and Bentz will be a threat in the IMs at U.S. Nationals in late June.
Also back in the water for the first time since NCAAs are Clark Smith, Cierra Runge and Olivia Smoliga. Smith, who like Bentz and Conger swam on the U.S. 800 free relay in prelims in Rio, and like Bentz and Conger, somehow was not fully satisfied with breaking two American records (one with a pulled groin) at NCAAs. He, too, could branch out into some individual swims this summer.
Runge, a member of the women's 800 free relay at the Olympics, will compete in Atlanta after a very disappointing NCAA championships debut with Wisconsin where she failed to score individually, while Smoliga will race as a professional for the first time. The Georgia senior was actually entered in the Mesa meet and even flew to Arizona but got sick on the first day of the meet and withdrew.
Conor Dwyer actually has competed in long course since the Olympics—once. As in, one race. He swam the 100 free prelims in Mesa and qualified for the consolation final but did not show up for his race at night, leaving him ineligible to compete for the remainder of the meet. The bronze medalist in the 200 free in Rio, Dwyer will get his chance at that event plus the 200 IM this time around.
3. What's going on with Park Tae Hwan?
Park Tae Hwan finished off 2016 on the right note but only after a difficult year in which he almost was not allowed to compete at the Olympics, and then he ended up swimming through a miserable Games.
After completing an 18-month doping suspension, South Korea banned Park from competing in Rio, but the Court of Arbitration for Sport overturned that ruling just one month before the Games. But once he finally got to Brazil, Park finished 10th in the 400 free, 29th in the 200 free and 32nd in the 100 free before scratching out of the 1500 free.
But four months later, Park showed up in Windsor, Canada for the Short Course World Championships and promptly won gold in the 200, 400 and 1500 free while also making the final of the 100 free.
So far in 2017, he has posted no impressive times of record, but he will have to be on his game in Atlanta to deal some pretty impressive fields in his events. Dwyer and Conger figure to be Park's closest competition in the 200 free, and then Smith, Zane Grothe and NCAA runner-up Felix Auboeck will be in the mix in the 400 and 1500.
After the Olympics, it was easy to think that Park was past his prime, but his efforts in Windsor did plenty to disprove that notion and hint that Rio was just a fluke. How he does in Atlanta this weekend could be an indicator of what's to come from the 27-year-old down the line.
All commentaries are the opinion of the author and do not necessarily reflect the views of Swimming World Magazine nor its staff.