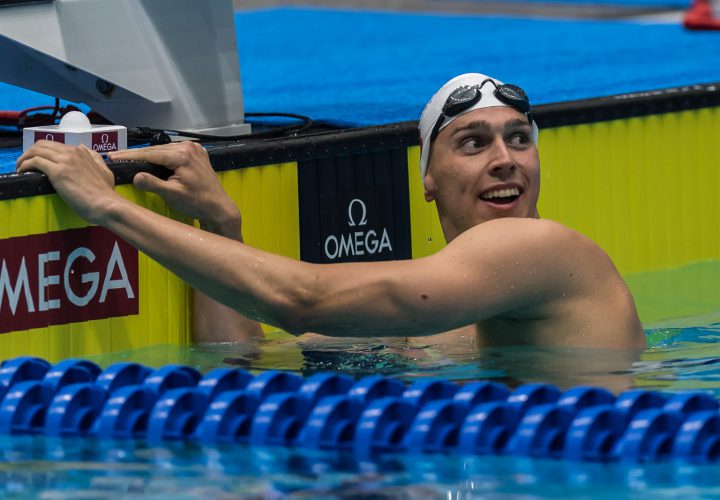 Photo Courtesy: Peter H. Bick
NCAA DI editorial coverage is proudly sponsored by Adidas. Visit adidasswimming.com for more information on our sponsor. For all the latest coverage, check out our event coverage page.
CLICK HERE FOR LIVE RESULTS
Texas senior Clark Smith was going for his second NCAA title of the meet in the 1650 free, and he knew before the race that he would have to gut it out. He did just that.
Smith won the 500 free two days earlier, setting a new American record with his time of 4:08.42, but he strained his groin during that race, according to a source, and did not compete in the 200 free the next day. The mile was his first race since the 500 free final.
Smith took the race out hard and held the lead for much of the first 500, swimming in a battle with Michigan's Felix Auboeck, Northwestern's Jordan Wilimovsky and Louisville's Marcelo Acosta in the middle of the pool.
On the second 500, Michigan's PJ Ransford made his move from lane one, establishing a lead of more than a bodylength over the men in the middle of the pool. But he faded badly down the final stretch and ended up sixth.
Out in lane eight, South Carolina's Akaram Mahmoud was in last place at times during the beginning of the race but made his way back into contention and challenged for the swimmers in the middle over the last 500. Wilimovsky took over the lead before Smith, Auboeck and Mahmoud made their final runs.
Smith flipped four one-hundredths ahead of Mahmoud with 50 yards to go and then took off. He came into the wall in 14:22.41. Smith, obviously in pain, could not stand as he got out of the pool, and Texas coach Eddie Reese had to help him walk towards the awards ceremony. But Smith had pulled off the greatest short course mile of all time.
That time crushed the American and U.S. Open records of 14:23.52 set by Connor Jaeger back in 2014. It also broke Martin Grodski's NCAA and meet record of 14:24.08.
Auboeck finished a half-second behind in second in 14:22.88, and Mahmoud took third in 14:22.99. Wilmovsky settled for fourth in 14:23.45, but the four times ranked as the four fastest times in history in the event.
Wisconsin's Matt Hutchins finished fifth out of the early heats in 14:31.19, and Ransford came in sixth at 14:32.35. NC State's Anton Ipsen was seventh in 14:34.85, and Stanford's Grant Shoults rounded out the top eight in 14:35.82.
Akram Mahmoud and Clark Smith talked to the media after the race and you can see the interviews below
Event 15  Men 1650 Yard Freestyle
=========================================================================
         NCAA: N 14:24.08  3/24/2012 Martin Grodzki, Georgia
 Championship: C 14:24.08  3/24/2012 Martin Grodzki, Georgia
     American: A 14:23.52  12/6/2014 Connor Jaeger, Club Wolverine
   U. S. Open: O 14:23.52  12/6/2014 Connor Jaeger, Club Wolverine
         Pool: P 14:27.18            Connor Jaeger, Michigan
    Name                 Year School               Seed     Finals Points 
=========================================================================
  1 Clark Smith            SR Texas            14:32.77   14:22.41A  20  
    r:+0.68  23.94        49.78 (25.84)
        1:15.76 (25.98)     1:42.08 (26.32)
        2:08.51 (26.43)     2:34.96 (26.45)
        3:01.28 (26.32)     3:27.78 (26.50)
        3:54.27 (26.49)     4:20.79 (26.52)
        4:47.29 (26.50)     5:13.86 (26.57)
        5:40.19 (26.33)     6:06.56 (26.37)
        6:32.92 (26.36)     6:59.42 (26.50)
        7:25.91 (26.49)     7:52.34 (26.43)
        8:18.76 (26.42)     8:45.05 (26.29)
        9:11.19 (26.14)     9:37.68 (26.49)
       10:04.12 (26.44)    10:30.39 (26.27)
       10:56.73 (26.34)    11:23.39 (26.66)
       11:49.91 (26.52)    12:15.93 (26.02)
       12:41.76 (25.83)    13:07.58 (25.82)
       13:33.21 (25.63)    13:58.66 (25.45)    14:22.41 (23.75)
  2 Felix Auboeck          FR Michigan         14:29.25   14:22.88O  17  
    r:+0.84  24.11        50.47 (26.36)
        1:17.08 (26.61)     1:43.77 (26.69)
        2:09.99 (26.22)     2:36.29 (26.30)
        3:02.48 (26.19)     3:28.74 (26.26)
        3:55.20 (26.46)     4:21.50 (26.30)
        4:47.77 (26.27)     5:14.25 (26.48)
        5:40.52 (26.27)     6:06.81 (26.29)
        6:33.07 (26.26)     6:59.36 (26.29)
        7:25.91 (26.55)     7:52.34 (26.43)
        8:18.77 (26.43)     8:45.07 (26.30)
        9:11.33 (26.26)     9:37.80 (26.47)
       10:04.10 (26.30)    10:30.29 (26.19)
       10:56.54 (26.25)    11:22.83 (26.29)
       11:49.13 (26.30)    12:15.52 (26.39)
       12:41.89 (26.37)    13:08.20 (26.31)
       13:34.26 (26.06)    13:59.59 (25.33)    14:22.88 (23.29)
  3 Akaram Mahmoud         JR South Carolina   14:38.91   14:22.99O  16  
    r:+0.72  24.38        51.20 (26.82)
        1:17.78 (26.58)     1:44.52 (26.74)
        2:11.19 (26.67)     2:37.90 (26.71)
        3:04.42 (26.52)     3:31.00 (26.58)
        3:57.69 (26.69)     4:24.14 (26.45)
        4:50.52 (26.38)     5:16.88 (26.36)
        5:43.18 (26.30)     6:09.57 (26.39)
        6:35.91 (26.34)     7:02.16 (26.25)
        7:28.34 (26.18)     7:54.47 (26.13)
        8:20.66 (26.19)     8:46.97 (26.31)
        9:13.04 (26.07)     9:39.30 (26.26)
       10:05.41 (26.11)    10:31.60 (26.19)
       10:57.72 (26.12)    11:23.66 (25.94)
       11:49.73 (26.07)    12:15.68 (25.95)
       12:41.62 (25.94)    13:07.53 (25.91)
       13:33.19 (25.66)    13:58.70 (25.51)    14:22.99 (24.29)
  4 Jordan Wilimovsky      SR Northwestern     14:34.51   14:23.45A  15  
    r:+0.66  24.18        50.25 (26.07)
        1:16.18 (25.93)     1:42.36 (26.18)
        2:08.61 (26.25)     2:35.10 (26.49)
        3:01.62 (26.52)     3:28.05 (26.43)
        3:54.55 (26.50)     4:21.09 (26.54)
        4:47.65 (26.56)     5:14.24 (26.59)
        5:40.71 (26.47)     6:07.13 (26.42)
        6:33.46 (26.33)     6:59.82 (26.36)
        7:26.29 (26.47)     7:52.80 (26.51)
        8:19.18 (26.38)     8:45.53 (26.35)
        9:11.58 (26.05)     9:37.80 (26.22)
       10:04.19 (26.39)    10:30.16 (25.97)
       10:56.14 (25.98)    11:22.13 (25.99)
       11:48.58 (26.45)    12:15.08 (26.50)
       12:41.45 (26.37)    13:07.82 (26.37)
       13:33.72 (25.90)    13:59.29 (25.57)    14:23.45 (24.16)
  5 Matt Hutchins          SR Wisconsin        14:47.62   14:31.19   14  
    r:+0.73  24.38        50.75 (26.37)
        1:17.53 (26.78)     1:44.24 (26.71)
        2:11.04 (26.80)     2:37.72 (26.68)
        3:04.42 (26.70)     3:31.29 (26.87)
        3:57.95 (26.66)     4:24.62 (26.67)
        4:51.13 (26.51)     5:17.72 (26.59)
        5:44.21 (26.49)     6:10.74 (26.53)
        6:37.33 (26.59)     7:03.70 (26.37)
        7:30.18 (26.48)     7:56.84 (26.66)
        8:23.42 (26.58)     8:49.86 (26.44)
        9:16.36 (26.50)     9:42.76 (26.40)
       10:09.01 (26.25)    10:35.28 (26.27)
       11:01.67 (26.39)    11:27.99 (26.32)
       11:54.56 (26.57)    12:20.98 (26.42)
       12:47.32 (26.34)    13:13.72 (26.40)
       13:40.04 (26.32)    14:06.07 (26.03)    14:31.19 (25.12)
  6 PJ Ransford            JR Michigan         14:38.72   14:32.35   13  
    r:+0.76  24.97        51.34 (26.37)
        1:17.87 (26.53)     1:44.43 (26.56)
        2:10.95 (26.52)     2:37.51 (26.56)
        3:03.58 (26.07)     3:29.72 (26.14)
        3:55.99 (26.27)     4:22.13 (26.14)
        4:48.28 (26.15)     5:14.39 (26.11)
        5:40.40 (26.01)     6:06.38 (25.98)
        6:32.31 (25.93)     6:58.29 (25.98)
        7:24.35 (26.06)     7:50.63 (26.28)
        8:16.93 (26.30)     8:43.37 (26.44)
        9:09.83 (26.46)     9:36.25 (26.42)
       10:02.77 (26.52)    10:29.26 (26.49)
       10:55.84 (26.58)    11:22.39 (26.55)
       11:49.12 (26.73)    12:16.15 (27.03)
       12:43.54 (27.39)    13:11.16 (27.62)
       13:38.93 (27.77)    14:05.98 (27.05)    14:32.35 (26.37)
  7 Anton Oerskov Ipsen    JR NC State         14:35.89   14:34.85   12  
    r:+0.71  24.49        51.26 (26.77)
        1:17.92 (26.66)     1:44.60 (26.68)
        2:11.28 (26.68)     2:37.87 (26.59)
        3:04.68 (26.81)     3:31.36 (26.68)
        3:57.94 (26.58)     4:24.46 (26.52)
        4:50.92 (26.46)     5:17.42 (26.50)
        5:43.92 (26.50)     6:10.45 (26.53)
        6:37.01 (26.56)     7:03.38 (26.37)
        7:30.10 (26.72)     7:56.48 (26.38)
        8:23.00 (26.52)     8:49.63 (26.63)
        9:16.23 (26.60)     9:42.97 (26.74)
       10:09.48 (26.51)    10:36.00 (26.52)
       11:02.56 (26.56)    11:29.13 (26.57)
       11:55.72 (26.59)    12:22.50 (26.78)
       12:49.18 (26.68)    13:15.77 (26.59)
       13:42.42 (26.65)    14:08.99 (26.57)    14:34.85 (25.86)
  8 Grant Shoults          FR Stanford         14:50.06   14:35.82   11  
    r:+0.64  23.82        50.01 (26.19)
        1:16.58 (26.57)     1:43.39 (26.81)
        2:10.26 (26.87)     2:37.22 (26.96)
        3:04.41 (27.19)     3:31.54 (27.13)
        3:58.79 (27.25)     4:25.96 (27.17)
        4:53.08 (27.12)     5:20.15 (27.07)
        5:47.17 (27.02)     6:14.10 (26.93)
        6:41.06 (26.96)     7:07.77 (26.71)
        7:34.43 (26.66)     8:01.16 (26.73)
        8:27.55 (26.39)     8:54.02 (26.47)
        9:20.19 (26.17)     9:46.18 (25.99)
       10:12.32 (26.14)    10:38.58 (26.26)
       11:05.00 (26.42)    11:31.62 (26.62)
       11:58.10 (26.48)    12:24.63 (26.53)
       12:51.26 (26.63)    13:17.97 (26.71)
       13:44.71 (26.74)    14:10.92 (26.21)    14:35.82 (24.90)