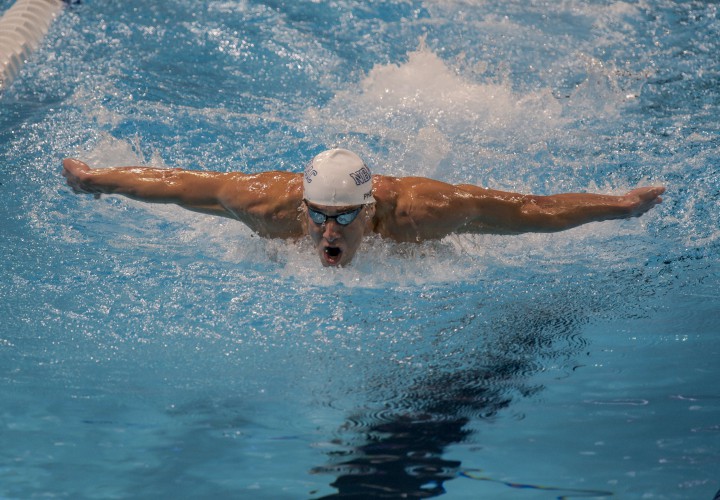 Photo Courtesy: Peter H. Bick
Editorial Coverage provided by

By David Rieder
By day four of the Olympic Trials, you should probably have your routine figured out. You should be comfortable by now pretending to be productive at work while really watching the live stream of prelims. You should know by now how early you need to skip out from afternoon practice in order to make it home and be in proper viewing position when the 7 p.m. CDT finals begin.
Whether you are at home watching or in Omaha cheering on your favorite swimmers, you will probably at this point be in disbelief that the meet is halfway over. But none of the athletes will be slowing down just yet. Here are our three bold predictions for day four.
1. Five women swim under 1:56 in the 200 free.
Only nine women total have swum under that mark this year, and one is an American. But the U.S. sure looks like it could flex some muscles in this event at Trials with the reigning Olympic gold medalist and the past two World Champions all in the field.
Four of the candidates to go under 1:56 seem fairly straightforward: Allison Schmitt (she of the Olympic gold medal), Missy Franklin and Katie Ledecky (they of the two World titles) and Leah Smith, who swum a lifetime-best time of 1:56.64 earlier this month. That's a pretty good place to start when putting together an 800 free relay—which, by the way, the Americans won by three seconds at Worlds last year with Franklin, Smith, Katie McLaughlin and Ledecky.
Who will be the fifth? There are the logical candidates such as Shannon Vreeland, McLaughlin (though she is still on the comeback trail from a neck injury) and Simone Manuel. But don't be surprised if it's someone not typically thought of as a 200 freestyler—maybe someone like Hali Flickinger, Maya DiRado, Elizabeth Beisel or Melanie Margalis. It's not at all unusual for versatile swimmers to make a big impact in relay events like the 200 free at Trials.
2. Michael Phelps has an extremely productive day.
At this point in the meet, Phelps may not even be on the Olympic Team yet—in contrast to the past three Trials, where he qualified in the very first event of the meet, the 400 IM. But he might not even swim the final of the 200 free, and even if he does, it won't be easy for him to secure a top-four guaranteed spot on the team, let alone an individual slot in the 200 free.
The 200 fly, 200 IM and 100 fly are the three individual events most believe Phelps wants to swim in Rio, and the 200 fly final is indeed on day four. But before he gets there, there's the 100 free to deal with. Phelps likely won't swim the 100 free past prelims—the semifinal comes right before the 200 fly final—but he needs to put down a time to prove he belongs on the 400 free relay in Rio. I predict that he does that with something in the low-48-range in the morning before scratching the semifinal.
And then in the evening, Phelps will seek an Olympic berth in the 200 fly for a whooping fifth straight Olympics. It's not exactly a radical prediction for him to win the event at Trials (which would be the fourth consecutive time he has done that), but I will say he clocks the fastest time in the world this year in doing so.
Longtime rival Laszlo Cseh swam a nice 1:52.91 in winning the European title last month, throwing down the gauntlet to Phelps that he won't be an easy foe to deal with come London. But in Omaha, Phelps is due to send a return shot, clocking a time under 1:52.5 that sets him up as the favorite for a third Olympic gold in the 200 fly in five tries.
3. A less-successful day for Ryan Lochte.
Lochte will probably be in between his focus events today, as the 200 free wraps up on day three, and both the 200 back and 200 IM—whether he contests only one of these or both—begin on day five. So on day four, Lochte will turn his attention to the 100 free in hopes of getting a spot on the 400 free relay—and perhaps a chance at redemption for his disastrous anchor leg four years ago when he surrendered the lead to France's Yannick Agnel.
Lochte should swim the first two rounds of the 100 free and then scratch the final—exactly as he has the past two Trials. It seems likely that Lochte will do enough to qualify for the final, but he would have to be well under 48.5—perhaps faster—to guarantee himself a spot on finals squad of the 400 free relay in Rio, especially with six men likely to be selected and the new FINA rule mandating all six to actually compete.
Under the most likely scenario, Lochte will then scratch the final, opening a door for one lucky swimmer to have his shot at Rio. In 2008, Lochte scratched the 100 free final and left the two men tied for ninth to swim off. The winner of that swim-off proceeded to punch his ticket to Beijing with a fourth-place finish. That, of course, was Nathan Adrian.
Race Picks:
Women's 200 Free
1. Katie Ledecky
2. Missy Franklin
3. Allison Schmitt
4. Leah Smith
5. Simone Manuel
6. Katie McLaughlin
Men's 200 Fly
1. Michael Phelps
2. Jack Conger
Women's 200 IM
1. Maya DiRado
2. Ella Eastin
Check out our 3 Bold Predictions for each day of U.S. Olympic Trials:
Day One
Day Two
Day Three