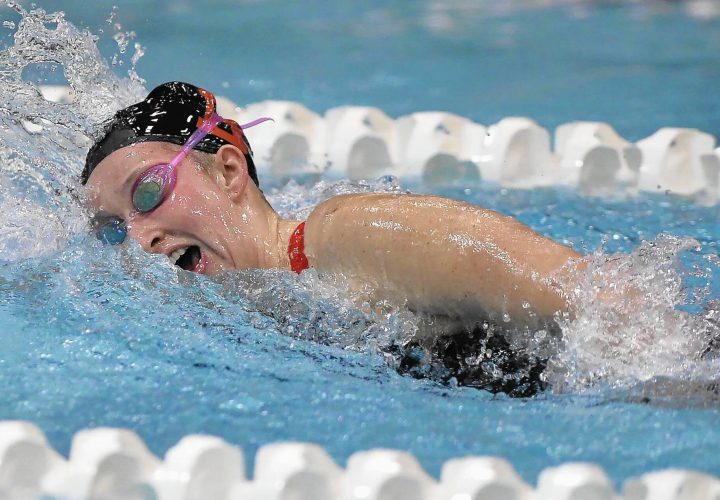 Photo Courtesy: Chicago Tribune
Speedo Sectional Series is proudly sponsored by Speedo. Visit SpeedoUsa.com for more information on our sponsor.
The 2018 USA Spring Speedo Sectionals series kicked off in Pleasant Prairie, Wisconsin this evening for timed finals of the men's and women's 800-meter freestyle and 800-meter freestyle relay. Barrington Swim Club women and Colorado Stars men lead in team point totals after the first night of finals.
Women's 800-Meter Freestyle
15-year-old Emily Ecker of Portland Porpoise Swim Club unseated top seed Magdalena Emary of Barrington Swim Club in the women's 800 freestyle, with both women dipping under the 9-minute mark. Ecker touched in 8:58.39, just 0.06 ahead of Emary's time of 8:58.45. Ecker was about two seconds ahead at the 400 mark, and managed to hold on to the lead above Emary's strong back half. Emary's teammate Bridget O'Leary put up a time of 9:08.28 was good for third place.
Carol-lena Breiter of Phoenix Swimming touched in 9:16.15 for fourth place, while Margaret Menso of Palatine Park District Swim Team grabbed fifth in 9:20.51. Emily Clements of Phoenix was close behind in 9:22.73 for sixth place.
Phoenix's Allegra Walker touched in 9:23.23 for seventh place, and Barrington Swim Club's Rebecca Galovich rounded out the top eight women in the event with a 9:27.39.
Men's 800-Meter Freestyle
Black Hawk Area Swim Team's Dylan Moffatt, entered with the top seed time by 12 seconds, was challenged in the men's 800-meter freestyle by Fond Du Lac Swim Team's Christian Hedeen for the title. Moffatt held him off to touch first in 8:36.69, while Hedeen was close behind in 8:37.59. Third place went to Gavin Wicklander of Blackline Aquatics in 8:48.91. Portland Porpoise Swim Club's Brimwin Peabody finished close behind in 8:49.75 for fourth place.
Brendan Wagner of Elmhurst Swim Team's 8:50.22 was good for fifth place, while Damon Venner of Sioux Falls Swim Team finished in 8:50.91 for sixth.
Patriot Aquatic Club's Nathan Gates (8:54.25) and Piranhas Swim Club's Colin Kilcoin (8:57.20) completed the top eight men in the event.
Women's 800-Meter Freestyle Relay
Lots of familiar faces appeared in the second timed finals event of the evening. Barrington Swim Club's A-team of Emary, Galovich, Grace Roper, and O'Leary put up a winning mark of 8:40.44 for first place in the women's 800-meter freestyle relay, showing off their versatile distance chops. Second place went to Phoenix Swimming's team of Walker, Clements, Natalie Young, and Breiter in 8:45.64. Carly Palmer, Alexis Duchsherer, Vanessa Herrmann, and Briana Rittenbach of AquaStorm combined for a third-place time of 8:53.77, catapulting up from 17th seed with the swim.
High Tides' A-team finished fourth in 8:57.12, while Barrington Swim Club's B-squad was also under 9:00.00 for fifth in 8:58.59. Sixth place went to Aberdeen Swim Club's A-team in 9:00.11, and seventh to Colorado Stars in 9:01.46. Portland Porpoise Swim Club's 9:02.82 was good for eighth place in the relay event.
Men's 800-Meter Freestyle Relay
The AquaStorm men absolutely dominated the men's 800-meter freestyle relay, moving up from 11th seed to first place and finishing over 13 seconds ahead of the second-place Colorado Stars' A-team. Christopher Birnbaum, Eric Krug, Jayden Porter, and Matheus Pimenta's combined time of 8:21.65 won the event easily. Second place went to the Colorado Stars' B-squad of Matthew Tomkowicz, Jake Russell, Jason McMechan, and Kadin Denner in 8:35.27, upsetting their teammates on the A-team. Hyunsoo Jang, Tylen Phillips, Jordan Scott, and Blake Wilton of Colorado Stars' A-team finished in 8:40.44 for third place.
Des Moines Swimming Federation touched in 8:45.64 for fourth, ahead of Northern Lights Swimming Association's B-team and their time of 8:48.71, good for fifth.
Hurricanes Swim Team (8:54.99), Phoenix Swimming B (8:57.12), and Phoenix Swimming A (8:58.59) finished in sixth, seventh, and eighth in the event, respectively.
At the end of the first evening of competition, Barrington Swim Club women lead with 173.5 points over second-place Phoenix Swim Club's 112, and the Colorado Stars men lead over Phoenix with 91 to 68. Northern Lights is close behind with 65. Tomorrow's competition will begin at 9am CST for prelims, and finals will commence at 5pm CST.
All results are available on Meet Mobile.