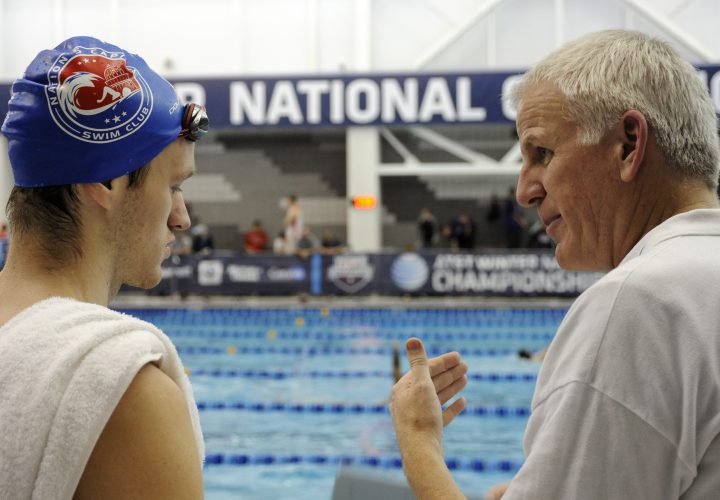 Photo Courtesy: Mike Comer/ProSwimVisuals.com
USA Swimming today named Bruce Gemmell (Potomac, Md.) of Nation's Capital Swim Club as the United States' men's head coach for next month's 2017 FINA World Junior Championships, presented by Sigma Gamma Rho Sorority, Inc., in Indianapolis.
An assistant women's coach for the 2016 United States Olympic Team, Gemmell has worked with Nation's Capital Swim Club since 2012. There, he guided Katie Ledecky to five medals – four gold – in Rio, as well as nine gold medals across the 2013 and 2015 FINA World Championships. He also coached Olympian Andrew Gemmell to success in pool and open water competitions.
Gemmell is a three-time American Swimming Coaches Association Coach of the Year honoree (2013, 2014, 2015) and three-time Golden Goggle Awards winner for Coach of the Year (2013, 2014, 2015).
Gemmell replaces Dynamo Swim Club's Jason Turcotte, who unexpectedly passed away in May. Kate Lundsten (Victoria, Minn.) of Aquajets Swim Team was named the U.S. women's head coach in November 2016.
The remaining staff members and athlete roster will be announced in the near future.
This summer marks the sixth edition of the FINA World Junior Championships competition which was first held in 2006 in Rio de Janeiro and hosted in 2015 in Singapore. Nearly 1,000 athletes from nearly 100 countries are expected to compete in the six-day meet that will feature an early look at young athletes who will vie for positions on their respective nations' Tokyo 2020 Olympic Games rosters.
Seven members of the 2016 U.S. Olympic Swimming Team, including six medalists, competed at the 2013 FINA World Junior Championships for Team USA. Among this group was 100-meter backstroke silver medalist Kathleen Baker.
About USA Swimming
As the National Governing Body for the sport of swimming in the United States, USA Swimming is a 400,000-member service organization that promotes the culture of swimming by creating opportunities for swimmers and coaches of all backgrounds to participate and advance in the sport through clubs, events and education. Our membership is comprised of swimmers from the age group level to the Olympic Team, as well as coaches and volunteers. USA Swimming is responsible for selecting and training teams for international competition including the Olympic Games, and strives to serve the sport through its core objectives: Build the base, Promote the sport, Achieve competitive success. For more information, visit www.usaswimming.org.
Press release courtesy of USA Swimming.