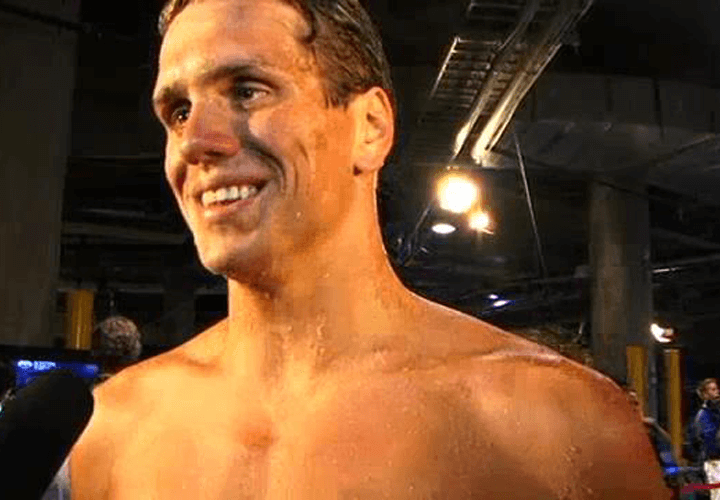 Editorial Coverage provided by

In this Morning Swim Show episode, we talk with Tom Shields after the conclusion of the 100M butterfly final at the 2012 U.S. Olympic Trials. We discuss his race and overall performance at trial.
Tom starts off by mentioning that swimming in an Olympic Trials final is awesome experience, but that he didn't handled the nerves well. When asked about the one thing he can work on to improve his 100M butterfly, Shields states "well obviously the start…". But then went on to say that he feels confidence is the thing he is lacking most, comparing himself to a 12-year-old when he races, when he needs to race like the 20-year-old he is. Shields concluded this thought by saying becoming more mature is the next logical step in the progression of his swimming.
When asked if Shields believed that this was a breakout meet, he alluded to the fact that although some people will see it like that, for him it was just building on the belief in his own abilities. Stating, "seeing that number up on the board (talking about his 51 in the 100M butterfly), and being able to say, I did that!" He concluded by saying that he is looking forward to coming back in 4-years and doing in again, with more confidence and experience.
Revisit this 2012 Olympic Trial interview from the SwimmingWorld.TV video Vault.

Tom did not qualify for the 2012 London Olympic Games, but will be competing for a place on this year's U.S. team heading to RIO.
The Morning Swim Show went into the SwimmingWorld.TV vault to relive some of the great interviews from the 2012 USA Olympic Swimming Trials. You can watch all 223 athlete interviews by visiting our 2016 Olympic Trial landing page.
Click Here To Learn More About Tom Shields
Special thanks to FINIS for sponsoring the Morning Swim Show's interview segments. Visit FINIS to learn more about their innovative products for aquatic athletes.