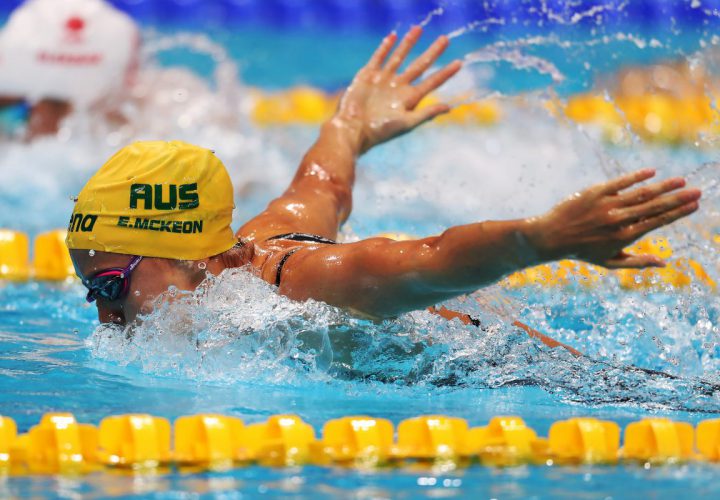 Photo Courtesy: lan MacNicol
Some of the biggest names in Australian swimming are competing at the 2018 Australian Trials for a chance on the Commonwealth Games team. Here is the psych sheet for the 2018 Australian Trials, and you can see live results of the meet here. Check out the results from the first prelims session of the meet below.
Events:
Men 50 Free S7 Para Prelims
Women 50 Free S8 Para Prelims
Women 200 IM SM10 Para Prelims
Women 200 Free Prelims
Men 100 Back Prelims
Women 200 Breast Prelims
Men 200 Breast Prelims
Men 100 Free S9 Para Prelims
Men 200 Butterfly Prelims
Women 100 Back Prelims
Women 200 Butterfly Prelims
Men 200 Free Prelims
Men 50 Free S7 Para Prelims
Matthew Levy led all qualifiers through the S7 50 free prelims, posting the only time under 30 seconds (28.98). That is less than a second off of his own Australian record (28.17) from 2014.
Women 50 Free S8 Para Prelims
Lake Patterson was the top qualifier out of this morning in the S8 50 free heats, swimming a 31.34 to finish a second off of her seed time of 30.34.
Women 200 IM SM10 Para Prelims
17-year old Paige Leonhardt will lead all swimmers into finals with a time of 2:35.08. Just behind her this morning was Australian record holder Katherine Downie in 2:35.78, while 13-year old youngster Jasmine Greenwood qualified third in 2:37.36.
Women 200 Free Prelims
Ariane Titmus led all qualifiers this morning with a swift 1:56.58, just two-tenths of a second off of her seed time of 1:56.34. Top seed and Australian record holder Emma McKeon will move forward in second with her 1:57.90, while Mikka Sheridan was just behind in third with a 1:58.08. Notably, Olympian and sprint star Cate Campbell finished just outside of the top 8 in the event with a 1:59.53 after saying earlier this year that she wouldn't appear in the event at these trials.
Men 100 Back Prelims
Australian and Commonwealth record holder Mitch Larkin was the top seed out of the men's 100 backstroke heats this morning, posting a time of 53.90 to lead by more than a half second into finals. Larkin was the only 53-second swim this morning, with a trio of 54's from Bradley Woodward (54.59), Benjamin Treffers (54.76), and Tristan Hollard (54.80) the closest to him heading into finals.
Women 200 Breast Prelims
Taylor McKeown led all qualifiers through the morning heats, finishing more than a second ahead of the next closest qualifier in 2:25.80. Georgia Bohl is just behind her with a 2:27.17 for second, while Tessa Wallace took the third seed with a 2:29.30.

Men 200 Breast Prelims
19-year old Matthew Wilson will be the top seed heading into finals in the 200 breast by more than 1.5 seconds, finishing in 2:10.57. Wilson is the only entry in the event to have a seed time under 2:10 (2:08.64). Notably, the top six qualifiers in this event are all 20 years old or younger, showing how young this event has become for the Australian team.
Men 100 Free S9 Para Prelims
Simone Barlaam will be the top seed out of this morning S9 100 Free by nearly a second, entering finals as the top seed in 56.23. In second will be Timothy Disken (57.02), while Timothy Hodge (58.36) and Brendan Hall (58.59) were also under a minute in prelims.
Men 200 Butterfly Prelims
Theodoros Benehoutsos was just a tenth off of his seed time with a 1:57.94 to claim the top spot heading into tonight's final. On either side of him tonight will be Nicholas Brown (1:58.54) and Bowen Gough (1:58.74), while top seed David Morgan qualified in fifth more than 3 seconds over his seed of 1:55.70 with a 1:59.07.
Women 100 Back Prelims
Emily Seebohm, the defending Commonwealth Games gold medalist in this event from 2010 and 2014, claimed the top seed heading into finals with a very quick 58.90 this morning. Seebohm was the only woman to break the 1:00 barrier in the heats, with Hayley Baker the closest to her (and only .01 off her seed time) with a 1:00.26 to take second. 16-year old Kaylee McKeown and 30-year old Holly Barratt were the only other two swimmers with seed times under 1:00, and they will enter tonights final as the third (1:00.70) and seventh (1:02.40) seeds respectively.
Women 200 Butterfly Prelims
Emma McKeon secured her second top seed of the morning in the 200 butterfly, finishing just over a second off of her seed time with a 2:08.50 to lead all qualifiers through the morning. Just behind McKeon is Korean Sehyeon An, who entered the meet as the top seed. The next closest Australian to McKeon is Laura Taylor, who finished third out of the heats in 2:09.41. Notably, Olympic silver medalist Madeline Groves qualified fifth out of prelims with a 2:11.09.
Men 200 Free Prelims
Out of a stacked field featuring Olympic gold medalists Mack Horton and Kyle Chalmers as well as two-time Olympic bronze medalist Cameron McEvoy, the top seed from this morning went to 2017 World Championship competitor Alexander Graham. Dropping about half a second from his seed, Graham finished in 1:46.72 to move to finals as the only man under 1:47. On either side of him in the finals will be Horton and Chalmers, who qualified through in 1:47.06 and 1:47.41, respectively. In the fourth position was McEvoy in 1:47.48.