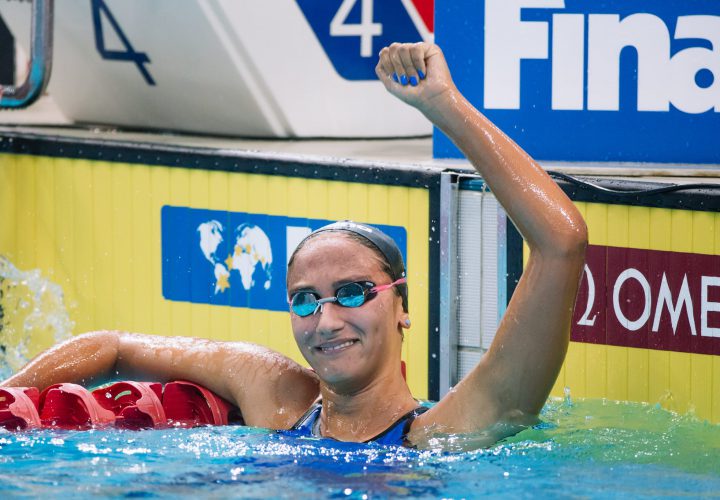 Photo Courtesy: Singapore Swimming Federation
The fourth night of the World University Games in Taipei will feature seven finals and three semifinals.
Italy's Simona Quadarella matched the performance of countryman Gregoria Paltrinieri in the women's 1500 to open up the night. Germany's Sarah Koehler and USA's Hannah Moore were her biggest challengers. Teammate Elena Di Liddo took the top seed in the 100 butterfly about ten minutes later and was most challenged by American challenger of her own in Hellen Moffitt.
Ryan Held led the American contingent in the 100 free semifinals and will be followed by Andrew Wilson in the 200 breast final. Wilson set the Universiade Record in the prelims, then cruised to the sixth seed in the semis. Just off his prelims time, he dominated the heat for the gold. Sian Whittaker of Australia doubled up her backstroke golds by winning the 100 distance, holding off Hannah Stevens of the USA. To top off the men's events, Justin Ress and Ireland's Shane Ryan battled it out for gold in the 50 back, with the race ultimately going to Ireland.
Russia and the United States then battled it out for gold in a back-and-forth race that ended in Russia taking the win.
Schedule of Events:
Women's 1500 Freestyle (Final)
Women's 200 IM (Final)
Men's 100 Freestyle (Semifinal)
Women's 100 Butterfly (Semifinal)
Men's 200 Breaststroke (Final)
Women's 100 Backstroke (Final)
Men's 200 Butterfly (Final)
Women's 200 Breaststroke (Semifinal)
Men's 50 Backstroke (Final)
Women's 800 Freestyle Relay (Final)
Women's 1500 Freestyle
The World University Games women started off the night with an intense matchup in the 1500. Germany's Sarah Koehler took a commanding lead through the 400 meter mark, but was run down by Italy's Quadarella. The two went back and forth in the middle of the race but Quadarella took over with a big kick in the end. Her winning time of 15:57.90 broke the previous meet record by over six seconds. Koehler also finished under the previous record and now stands at fourth in the world in this event, a race where she was not ranked before today.
USA's Hannah Moore swam in the third position for the entirety of the race, earning the bronze in 16:11.68. She was about three seconds off her eighth-ranked time from June. Australia's Kiah Melverton was not far behind for fourth in 16:15.83, putting her fourteenth in the world rankings.
Liechtenstein's Julia Hassler (16:22.12), Brazil's Jun Eichelbergeer (16:22.48), Japan's Yukimi Moriyama (16:23.18) and Italy's Giulia Gabrielleschi (16:27.92) rounded out the heat.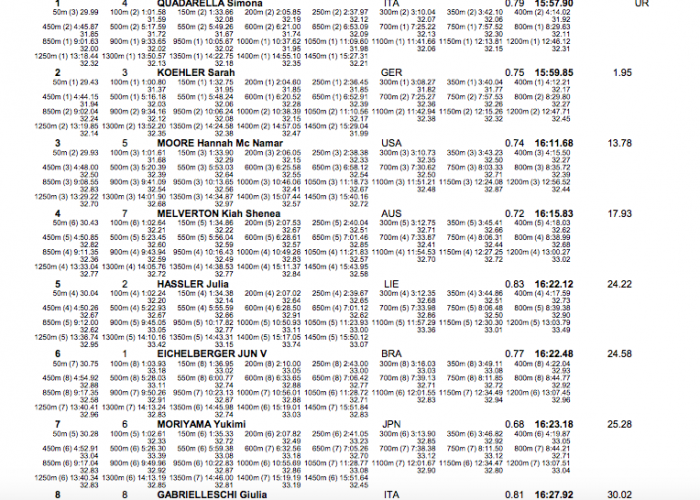 Women's 200 IM
All three medalists were in the mix at the 100 mark, but it was Yui Ohashi of Japan who dominated the breaststroke leg and pulled away with the win in the 200 IM. Her time of 2:10.03 was not only enough for the win, but also the meet record. USA's Ella Eastin was second in 2:11.12, also with a great back half, and was followed by Korea's Seoyeong Kim in 2:11.62. Japan's Miho Teramura, the fourth place finisher in 2:11.85, was also under the previous meet record of 2:12.07 set in 2009.
Canada's Sarah Darcel then led a trio of swimmers to a 2:13, placing fifth in 2:13.18. Hungary's Evelin Verraszto finished next in 2:13.31 and was followed by USA's Brooke Forde in 2:13.43. Czech Republic's Barbora Zavadova rounded out the final in 2:16.34.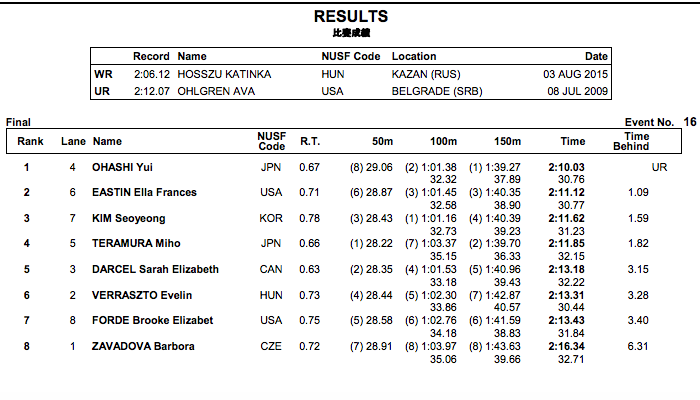 Men's 100 Freestyle
Ryan Held led the way in the men's 100 free semifinals, as the three top qualifiers all came out of his heat. Gabriel Da Silva Santos as Brazil was the leader at the 50, but finished third in 48.71. Poland's Kacper Majchrzak split the men at 48.68. Also of Brazil, Spajari Silva took fifth out of the second heat in 49.09 and was followed by the USA's Maxime Rooney in 49.16. Held swam a different race than he did in the prelims, going out much harder and staying in it right from the start. He will be the favorite headed into the finals.
Japan's Katsumi Nakamura won the first semifinal in 48.84, and will be joined in the finals by Ukraine's Serhii Shevtsov (49.12) and Russia's Nikita Korolev (49.28).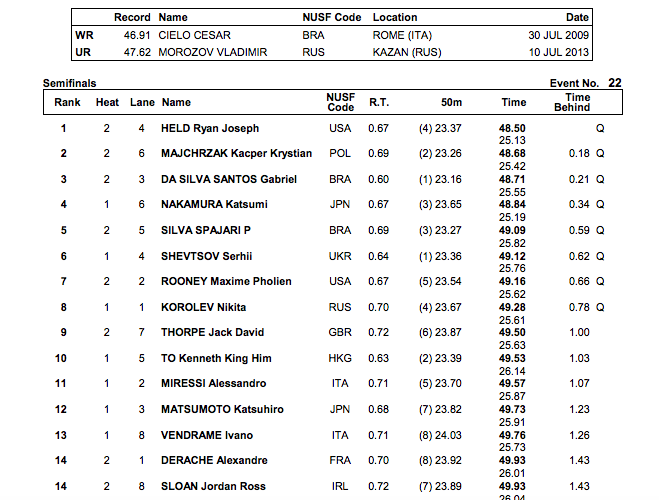 Women's 100 Butterfly
Italy's Elena Di Liddo was the lone swimmer to break 58 seconds in the semifinals of the 100 fly. Her dominating performance out of heat two left her as the top seed at 57.94. USA's Hellen Moffitt also handedly won her heat coming in as the second seed in 58.32. Had the women swam in the same heat, they would have been even at the 50, both coming in at 27.4. Rachel Kelly of Great Britain came in behind Di Liddo (58.93) while Brazil's Daiene Marcal Dias followed behind Moffitt (59.04.)
Katie McLaughlin (USA-59.12), Kinge Zandringa (NED-59.19), Yukina Hirayama (JPN-59.31) and Aliena Schmidtke (GER-59.59) will also compete in tomorrow night's final.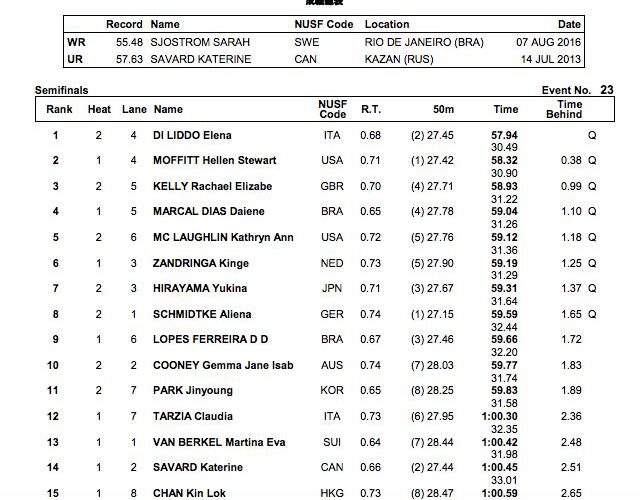 Men's 200 Breaststroke
Right from the start, Andrew Wilson made it clear that this would be his 200 breaststroke. Out 29.0 and 1:01.4, it was clear that Wilson was going to take this one. Despite slightly falling off his pace on the last 50, he was able to take the win in 2:08.45, just off his meet record and ninth-ranked swim from the prelims. Reigning Olympic Champion in this event, Dmitriy Balandin of Kazakhstan, took the silver in 2:09.70. His late charge was not quite enough to run down Wilson. Russia then placed both of their swimmers as Rustam Gadirov took bronze in 2:09.72 and Mikhail Dorinov was fourth in 2:09.92.
Switzerland's Yannick Kaser (2:10.37), Japan's Rintaro Okubo (2:10.72), USA's Will Licon (2:10.75) and Japan's Mamoru Mori (2:12.93) finished fifth through eighth.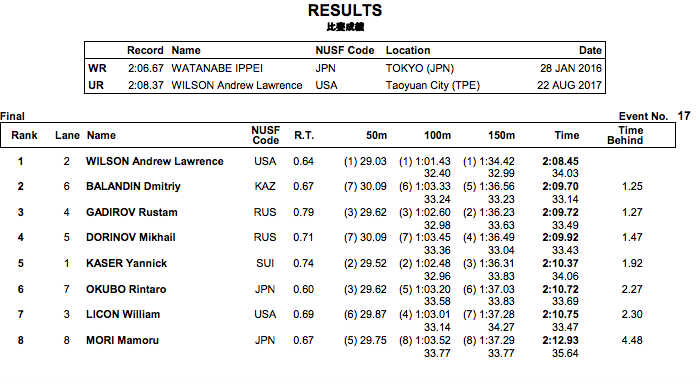 Women's 100 Backstroke
The Americans DeLoof and Hannah Stevens were int he first and second positions at the 50, but it was Australian 200 Backstroke Champion Sian Whittaker who snuck in for gold in the end. Despite being sixth at the 50, she finished in 1:00.14 for the gold over Stevens who took the silver in 1:00.23. Japan's Anna Konishi earned the bronze in 1:00.33.
Canada's Alexia Zevnik settled for fourth in 1:00.78 while DeLoof faded to fifth in 1:01.22. Netherlands' Kira Toussaint (1:01.30), Russia's Polina Lapshina (1:01.37) and Italy's Carlotta Zofkova (1:01.57) rounded out the heat.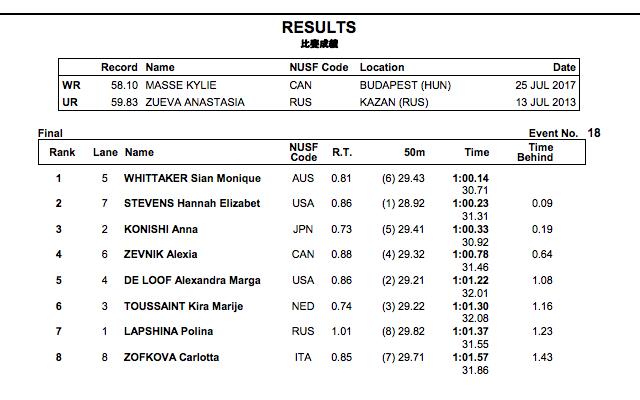 Men's 200 Butterfly
Following typical Team Japan fashion at these World University Games, Nao Horomura and Daiya Seto claimed the top two spots in this event in the final. Horomura swam a fearless race, leading for the final 150 meters. His ultimate time of 1:53.90 was enough to break the Universiade Record previously set in 2009. It also puts him fifth in the World rankings. Seto's silver-medal time was 1:55.09; he was followed by Hungary's Bence Biczo in 1:56.16.
Brazil's Leonardo Gomes De Deus was fourth in 1:56.29 and was followed by Russia's Aleksandr Kudashev (1:56.48), USA's Conner Wright (1:57.06), Aleksandr Pribytok of Russia (1:57.15) and Italy's Giacomo Carini (1:58.32).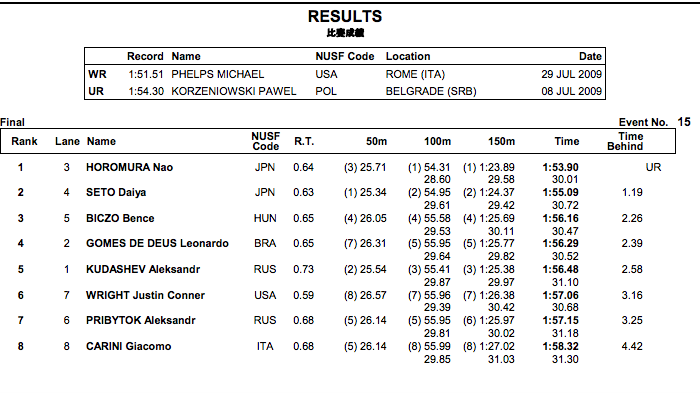 Women's 200 Breaststroke
Japan's Watanabe took back command of the breaststroke events this evening by claiming the top seed in the 200 at 2:26.15 out of heat two. The only swimmer out under 1:10, she was able to hold off a charging Jiwon Yang (KOR-2:26.82) and Mariia Temnikova (RUS-2:26.95). The latter blasted the final 50 to earn her spot in the finals with a 35.92 split.
Tatjana Schoenmaker of South Africa cruised to victory in the first heat (2:26.50) and was followed by Jessica Steiger (GER-2:27.81) and Sofia Andreeva (RUS-2:28.33). Japan's Aoki (2:26.96) and USA's Kayla Brumbaum (2:27.65) also earned spots in the final.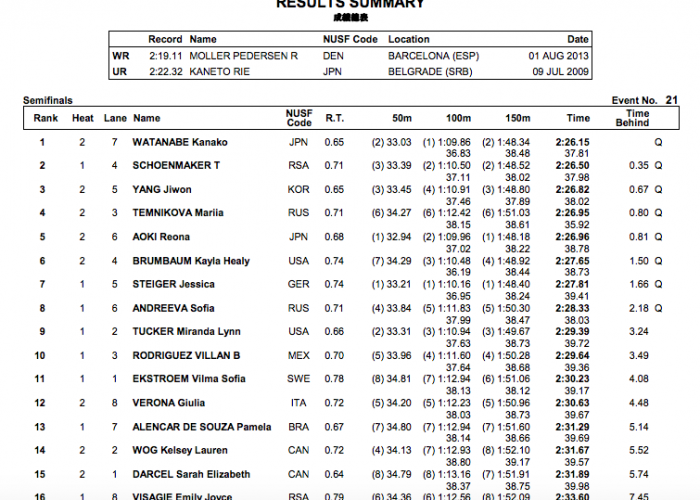 Men's 50 Backstroke
By the smallest of margins, Ireland's Shane Ryan stole the gold medal from USA's Justin Ress 24.72 to 24.73. Korea's Youngjin Won took the bronze in 25.06. American Taylor Dale was fourth in 25.15, followed by Poland's Tomasz Polewks (25.18), Russia's Nikita Ulyanov (25.20), Australia's Benjamin Treffers (25.21) and Greece's Apostolos Christou (25.27).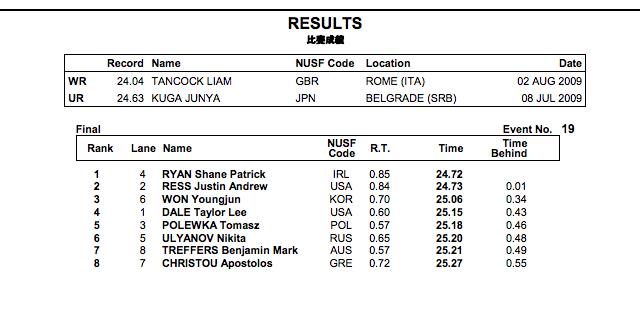 Women's 800 Freestyle Relay
Night four was capped off with an entertaining 800 free relay as Russia and USA went back and forth throughout the entire race. Anastasia Guzhenkova led off the Russians one one hundredth ahead of American Claire Rasmus, but Katie Drabot put USA back in the lead by about two tenths at the halfway point. Despite a quick first 100, Katie McLaughlin was able to run down Mariia Baklakova on the third leg, out-splitting her by about six tenths of a second. On the final leg, Arina Openysheva was able to blast a 1:57.72 split to give Russia the win in 7:55.28. A 1:58.61 split from Eastin of the USA was just not enough to hold off Openysheva.
The Japanese team of Chihiro Igarashi, Rika Omoto, Wakaba Tsuyuuchi and Yui Ohashi were able to fight off Great Britain and Canada for the bronze.