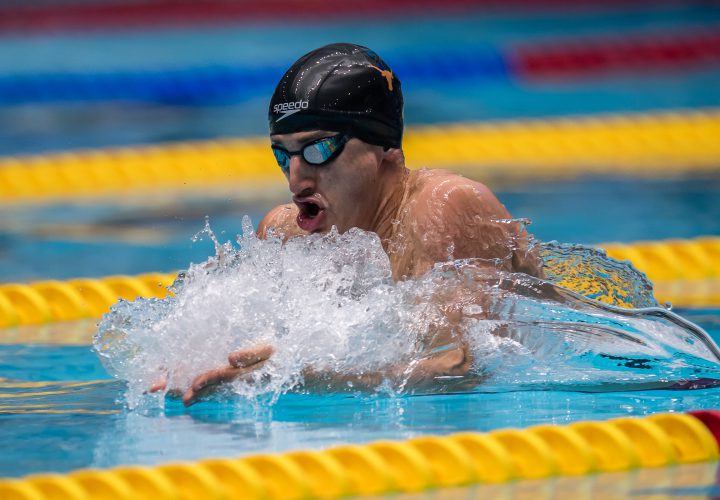 Photo Courtesy: Peter H. Bick
Day 3 of the 2017 World University Games featured three events for each gender in Taipei.
Japan's Daiya Seto swam once again after claiming the top seed for tonight's 200 IM final. He will swam the 200 fly this morning and is entered two one hundredths under the meet record.
After an intense 100 breaststroke final last night, bronze medalist Dmitriy Balandin came into prelims with the top entry time in the 200 distance but gold medalist Andrew Wilson broke the meet record with ninth fastest time in the world so far this year. The USA's Justin Ress also came in under the meet record in the 50 back, and will look to win yet another backstroke event.
In women's action, Japan's Yui Ohashi and USA's Ella Eastin led the way in the 200 IM as they are two of five women entered under the current meet record. Likewise, Hannah Stevens and Ali Deloof of the USA are the only two entrants in the 100 back with times under the 1:00 mark. Germany's Sarah Koehler closed out the night after being the top seed in the 1500 freestyle.
Schedule of Events:
Men's 200 Butterfly
Women's 200 IM
Men's 200 Breaststroke
Women's 100 Backstroke
Men's 50 Backstroke
Women's 1500 Freestyle
Men's 200 Butterfly
In typical fashion, top-seeded Seto cruised in his prelims swim to take the fifth seed out of heat six (1:58.08). Teammate Nao Horomura was fourth out of heat four in 1:58.02. USA also had two swimmers make it to the semifinals as Zachary Harting (1:57.92) and Justin Wright (1:58.75) finished third and sixth, respectively.
Russia's Aleksandr Kudashev claimed the second seed at 1:57.91, just one one hundredth ahead of Harting in heat five. Teammate Aleksandr Pribytok finished in 2:00.16 for fifteenth. Hungary's Bence Biczo dominated the third 50 to take the top seed headed into the semifinals. He was victorious in heat four and overall in 1:57.73.
Germany and Brazil also had two qualifiers. Alexander Kunert (1:58.91-seventh) and Fynn Minuth (1:59.25-ninth) will compete for Germany, while Leonardo Gomes de Deus (1:58.94-eighth) and Vinicius Moreira Lanza (1:59.71-fourteenth) will race for the latter. Australia's Nicholas Brown claimed the sixteenth position in 2:00.39.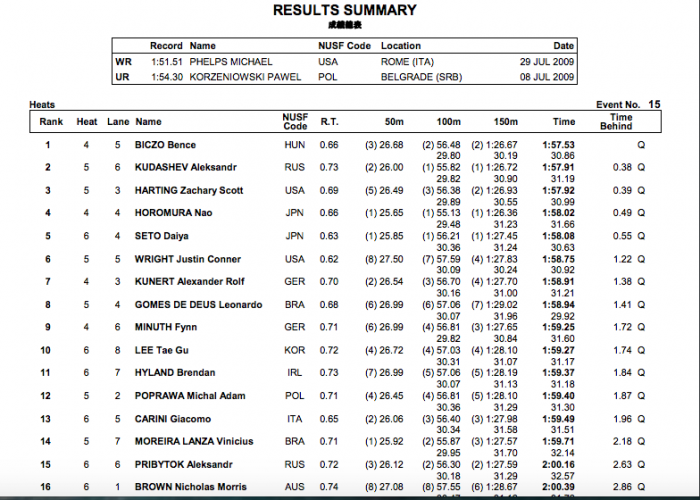 Women's 200 IM
Canada's Sarah Darcel took the top spot in the 200 IM with a strong breaststroke leg of 38.94. Teammate Bailey Andison took the eighth spot in 2:15.60. USA's Eastin had the fastest freestyle split of 31.47 for the second seed while teammate Brooke Forde swam a steady 2:14.88 for the fourth spot. She split Japan's Ohashi (2:14.45-third) and Miho Teramura (2:15.13-fifth).
Russia's Kristina Vershinina (2:15.16) and Hungary's Evelin Verraszto (2:15.29) rounded out the top eight finishers. Hungarian teammate Reka Gyorgy rounded out the qualifiers for the semifinals with a time of 2:17.99.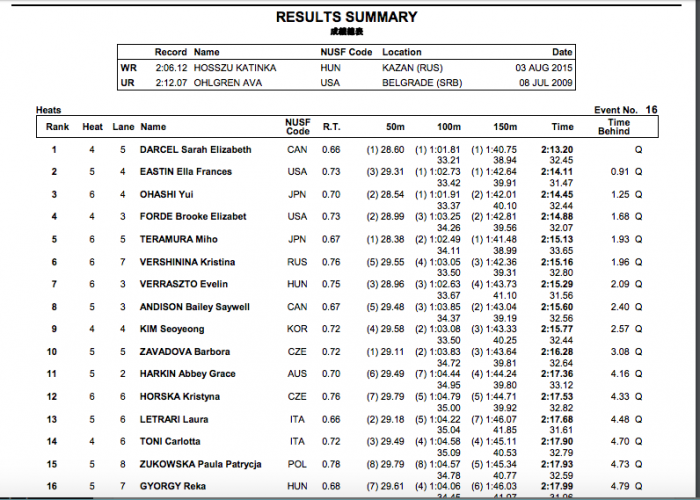 Men's 200 Breaststroke
USA's Andrew Wilson lit up the 200 breast prelims setting a new Meet Record and posting the ninth fastest time in the world this year at 2:08.37. He went out nearly one and a half full seconds ahead of the field at the 100 and hung on for a dominant victory over Japan's Rintaro Okubo (2:11.82) in heat six of seven.
Russia's Mikhail Dorinov took the second spot in 2:10.93, while Kazakhstan's Balandin was third in 2:11.73. Russia and the USA each placed a second swimmer into the semifinals in Rustam Gadirov (2:11.86-fifth) and Will Licon (2:13.10-seventh). Switzerland's Yannick Kaser (2:12.69) and Japan's Mamoru Mori (2:13.16) rounded out the top eight finishers while Taipei's Hsuan Lee took the sixteenth spot in 2:15.20.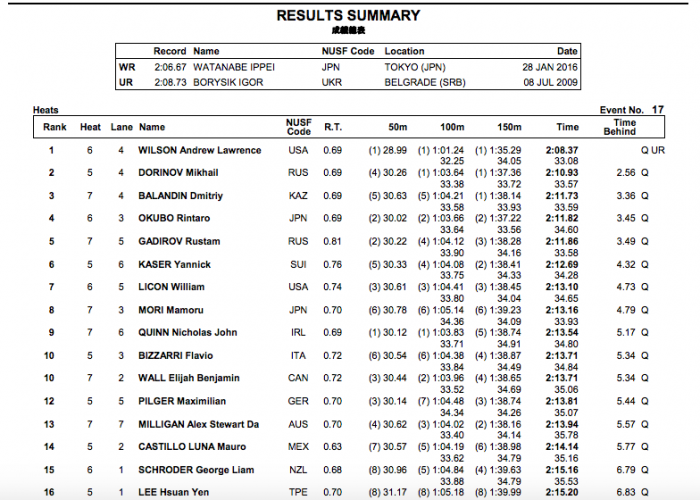 Women's 100 Backstroke
200 Backstroke silver-medalist Alexia Zevnik of Canada did not waste any time this morning, posting a 1:00.49 100 back for the top seed headed into the semifinals. 200 Champion Sian Whittaker of Australia took fifth in 1:00.91.
The United States place two women in the top six, with Hannah Stevens (1:00.82) taking third and Ali Deloof (1:01.01) taking sixth. Mariia Kameneva of Russia was second in 1:00.60 while Netherlands' Kira Toussaint was fourth in 1:00.86.
Poland' Alicja Tchorz (Poland-1:01.14) and Hayley Baker (Australia-1:01.33) took seventh and eighth while France's Claude Mahieu rounded out the qualifiers with a 1:02.03.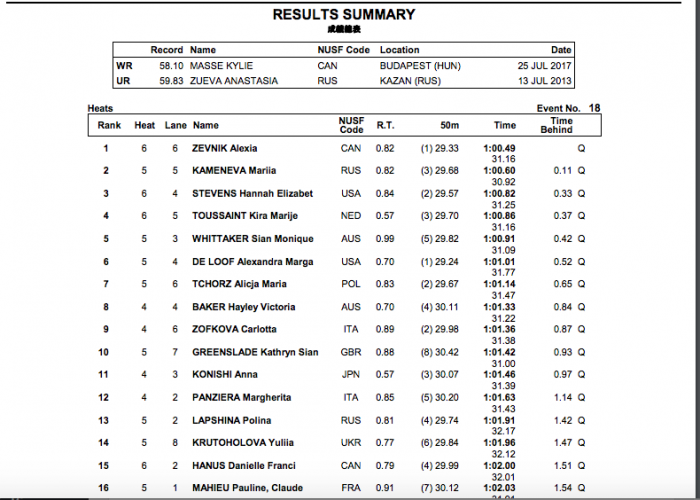 Men's 50 Backstroke
Justin Ress led a tight 50 backstroke preliminary round in 25.10. Ireland's Shane Ryan was close behind in 25.12 as were Mikita Tsmyh (Belarus) and Jonatan Kopelev (Israel) in 25.17. Tomasz Plewka (Poland-25.25), Apostolos Christou (Greece-25.27), Taylor Dale (USA-25.32) and Benjamin Treffers (Australia-25.38) rounded out the top eight finishers. Paraguay's Charles Hockin Brusquetti finished sixteenth in 25.73.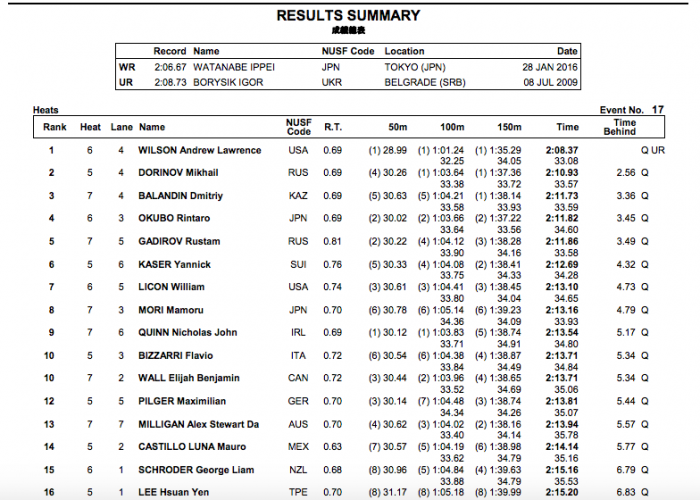 Women's 1500 Freestyle
Italy's Simona Quadarella (16:15.14) and USA's Hannah Moore (16:16.85) led the way in the women's mile out of heat two. Moore led for about one third of the race, but Quadarella took control and did not let up. Fourth-seeded Yukimi Moriyama of Japan was also out of the second preliminary heat finishing in 16:22.41.
Koehler cruised to a 16:21.49 and the third seed out of the first heat. Italy placed a second swimmer into the Championship final as Giulia Gabrielleschi took eighth in 16:32.36.