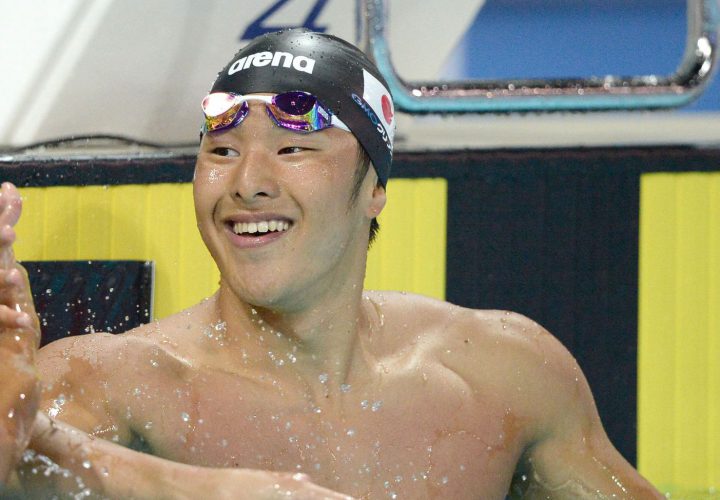 Photo Courtesy: Delly Carr
Night three in Taipei will feature five finals and five semifinals to continue the 2017 World University Games.
Gregorio Paltrinieri kicked things off with a win in the 1500 Freestyle after being the heavy favorite as he is the reigning Olympic and World Champion in this event. But Japan quickly took over, completing three one-two sweeps. Daiya Seto and Kosuke Hagino took silver and gold, respectively in the 200 IM, while Kanako Watanabe and Reona Aoki earned the top two spots in the 100 breaststroke. Additionally, Yui Ohashi and Miho Teramura have the top two seeds headed into tomorrow night's 200 IM final. Seto is also the top seed for tomorrow's 200 butterfly final.
Siobhan Haughey gave Hong Kong the gold in the 100 freestyle, while Danas Rapsys did likewise in the 200 freestyle for Lithuania.
Follow along below for event-by-event coverage:
Schedule of Events:
Men's 1500 Freestyle (Final)
Men's 200 Breaststroke (Semifinal)
Women's 200 IM (Semifinal)
Men's 200 Freestyle (Final)
Women's 100 Breaststroke (Final)
Men's 200 Butterfly (Semifinal)
Women's 100 Freestyle (Final)
Men's 200 IM (Final)
Women's 100 Backstroke (Semifinal)
Men's 50 Backstroke (Semifinal)
Men's 1500 Freestyle
As expected, Italy's Paltrinieri took control of the 1500 from very early on in the race. While a ways off his lifetime best, he was still able to win the race by nearly ten seconds and break a new meet record in the process. His time of 14:17.75 was enough to take the win. Teammate Acerenza stayed with the lead pack early on, but ultimately fell back to eighth. Budapest runner-up in this event, Ukraine's Mykhailo Romanchuk earned the same honors here in Taipei, coming in at 14:57.51.
Hungary's Gergely Gyurta swam a smart and controlled race, with a great closing 500 to pass Japan's Shingo Nakaya. The men finished in 15:01.11 and 15:03.06, respectively. Great Britain duo Jay Steven Jon Lelliott (15:06.51) and Tobias Robinson (15:11.46) took fifth and seventh. USA's PJ Ransford rounded out the heat in 15:11.42 for sixth.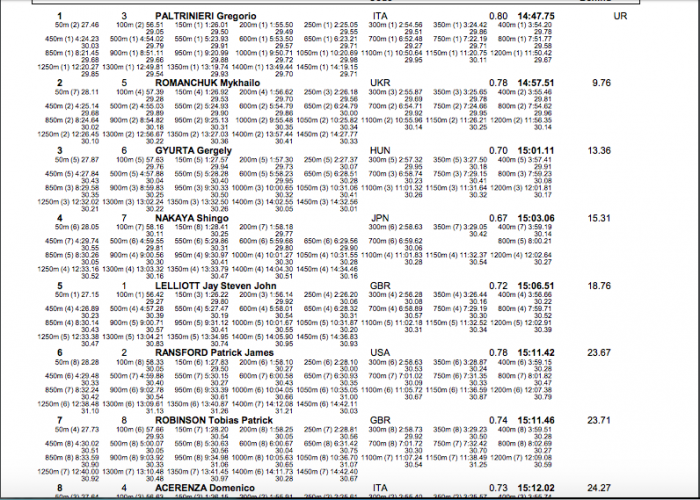 Men's 200 Breaststroke
The men's 200 breast is shaping up to be one of the most exciting races of the week. Tomorrow night's final will feature two athletes from Russia, the United States and Japan. Throw in reigning Olympic Champion Dmitriy Balandin of Kazakhstan and it will certainly be a race to watch.
Rustam Gadirov surpassed the field on the last fifty of semifinal two to take the top seed in 2:09.87. Russian teammate Mikhail Dorinov is second in 2:10.31. Balandin and USA's Will Licon came in third in 2:10.51, while meet record holder Andrew Wilson of the USA backed off on the last fifty to cruise into the fifth seed at 2:10.73.
Japanes athletes Rintaro Okubo (2:11.04) and Mamoru Mori (2:12.38) and Switzerland's Yannick Kaser (2:12.30) will round out the final.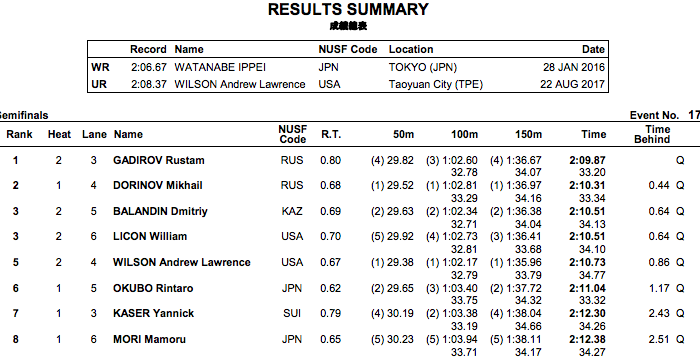 Women's 200 IM
The top three seeds came out of the second semifinal in this morning's 200 IM. Japan went one-two via Yui Ohashi (2:12.17) and Miho Teramura (2:12.41). Canada's Sarah Darcel was next in 2:12.66 while USA's Ella Eastin was close behind out of heat one in 2:12.70. You can expect Ohashi and Darcel to lead at the 100 mark, but Teramura and Eastin had the fastest breaststroke splits and it is unlikely for someone to beat the American on the free leg. There is no question that the meet record in this event will be broken in the final, but who will get to the wall first to claim it?
Hungary's Evelin Verraszto (2:13.14), Korea's Seoyeong Kim (2:14.19), Czech Republic's Barbora Zavadova (2:14.53) and USA's Brooke Forde (2:14.70) will round out the final.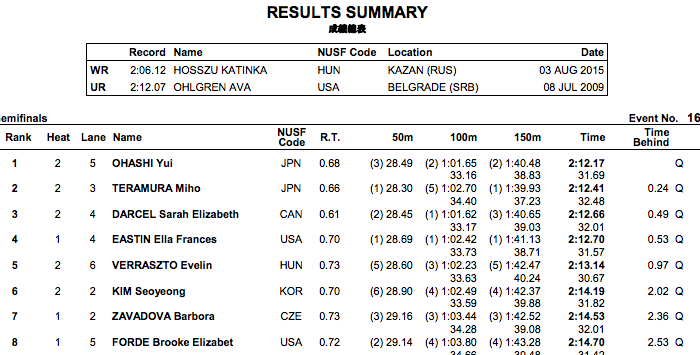 Men's 200 Freestyle
As predicted, the men's 200 free featured a number of leaders throughout the race, but ultimately went to Danas Rapsys of Lithuania in 1:45.75. Mikhail Vekovishchev of Russia, who led through the 150, finished third in 1:46.48. Poland's Kacper Majchrzak finsihed between them in 1:46.19.  Italy's Filippo Megli was close behind in 1:46.70. Russia's Devon Myles Brown was also right in the mix through the 150 mark, but fell off to fifth in 1:47.74.
Mitch D'Arrigo (USA-1:47.85), Kosuke Hagino (Japan-1:48.13) and Jonathan Atsu (France-1:48.41) rounded out the final.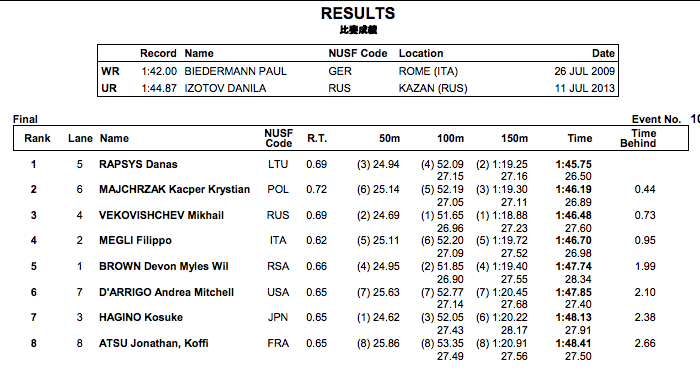 Women's 100 Breaststroke
The Japanese women continued their dominance this evening by taking another one-two finish in the 100 breast final. Kanako Watanabe won the event handedly in 1:06.85, followed by teammate Reona Aoki in 1:07.36. Just one one hundredth behind, USA's Andrea Cottrell took the bronze in 1:07.37. Despite leading at the 50, Cottrell could not quite hold on for the gold.
Tatjana Schoenmaker of Russia earned fourth place with a close 1:07.44, she had the second-fastest back fifty only to champion Watanabe. USA's Miranda Tucker also dipped under 1:08 to finish fifth in 1:07.90. Leiston Pickett (Australia-1:08.21), Mariia Temnikova (Russia-1:08.29) and Hyejin Kim (Korea-1:09.24) finished sixth through eighth.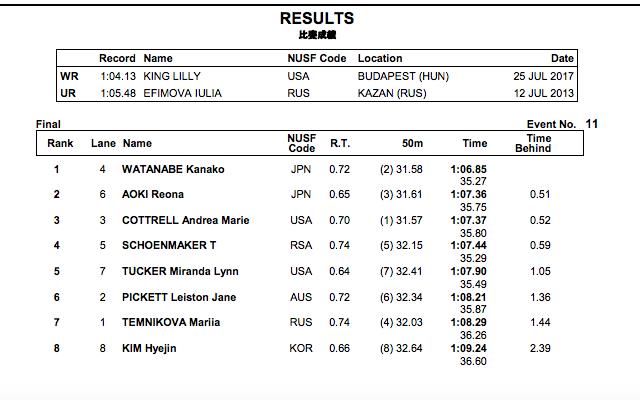 Men's 200 Butterfly
Japan took one more top spot in the men's 200 fly as Daiya Seto went 1:56.14 out of semifinal two. Teammate Nao Horomura won the first semi in 1:56.32. Bence Biczo of Hungary was the only other swimmer out of the second heat to make the final, as third through eighth place went to those in heat one.
Russia's Aleksandr Pribytok was fourth in 1:56.73 and was followed by Leonardo Gomes de Deus (Brazil-1:57.10), Justin Wright (USA-1:57.27), Aleksandr Kudashev (Russia-1:57.37) and Giacomo Carini (Italy-1:58.00).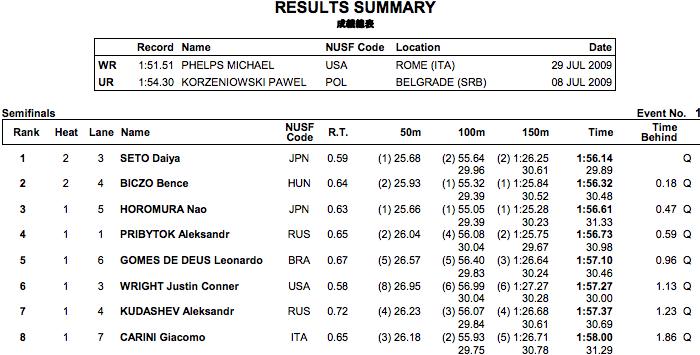 Women's 100 Freestyle
Siobhan Haughey won the gold medal for Hong Kong in the women's 100 free. Her time of 54.10 was enough to get the victory over Russian duo Mariia Kameneva (54.37) and Arina Openysheva (54.89). Canada's Katerine Savard was fourth in 54.98.
Larissa Martins de Oliveira of Brazil came in right at 55.00 for fifth while the USA's Veronica Burchill was third at the fifty in 26.14 but fell to sixth in 55.04. Teammate Caroline Baldwin tied Italy's Aglaia Pezzato for seventh in 55.35.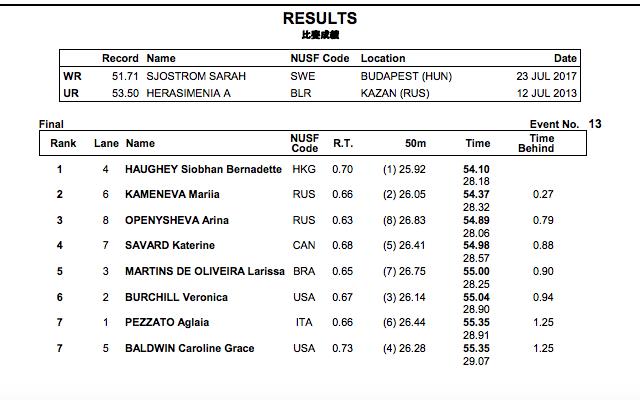 Men's 200 IM
For the third time this evening, Team Japan went one-two in an event. This time around, Kosuke Hagino, the silver medalist in Rio, claimed gold in 1:57.35. His time broke the previous meet record set in 2009. Teammate Seto held on for the silver in 1:58.73 as Great Britain's Joe Litchfield delivered a strong charge at the end to wind up third in 1:59.36.
Russia then had a pair of men come in via Andrey Zhilkin (2:00.26) and Aleksandr Osipenko (2:01.11). Poland's Michal Poprawa (2:01.17), Italy's Giovanni Sorriso (2:01.35) and Hong Kong's Kenneth To (2:01.64) also competed in the final.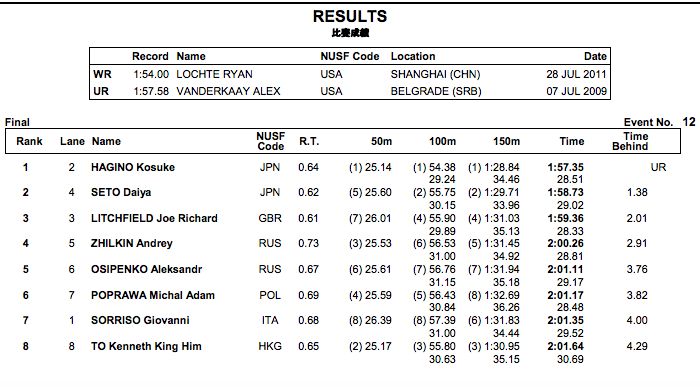 Women's 100 Backstroke
Ali Deloof led only two swimmers out of heat one into the finals in the 100 backstroke. Her top-seeded time of 1:00.52 was enough to just edge out Sian Whittaker of Australia (1:00.53). Kira Toussaint of the Netherlands was then third in 1:00.61 followed similarly by Canada's Alexia Zevnik in 1:00.62.
Japan's Anna Konishi then led a series of swimmers from the second semifinal in 1:00.69 for fifth place. She was followed by Hannah Stevens (USA-1:00.76), Polina Lapshina (Russia-1:01.04) and Carlotta Zofkova (Italy-1:01.05). As just .24 seconds separate first through sixth place in this event, it is really anyone's game in the final.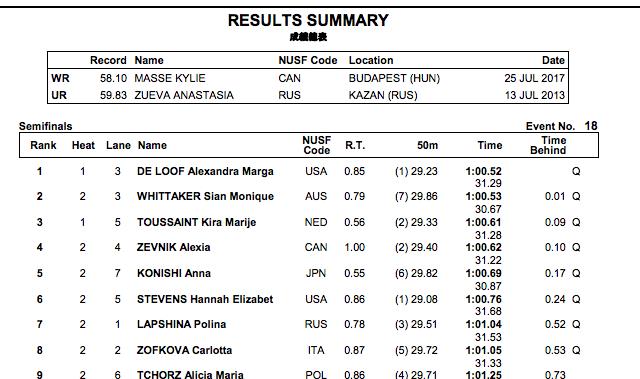 Men's 50 Backstroke
Similarly to the women's backstroke event, the men's 50 semifinals resulted in some very close races. Shane Ryan got the upper edge out of semi one as the only swimmer to dip under 25 seconds. Tomasz Polewka of Poland and Nikita Ulyanov of Russia then tied to win semi two in 25.11. Korea's Youngjun Won was not far behind in 25.12 as was USA's Justin Ress at 25.19.
Even more, Apostolos Christou of Greece was just .01 behind Ress in 25.20, and then USA's Taylor Dale was .02 behind him in 25.22. Australia's Benjamin Treffers took the eighth spot in 25.34. While this is not incredibly uncommon for a fifty, this race will certainly come down to the wire.