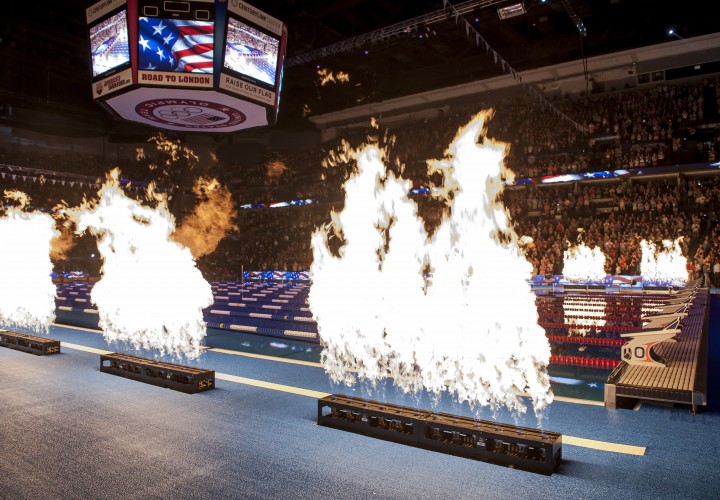 Editorial Coverage provided by

Photo by Peter H. Bick
JACKSONVILLE, Florida, September 17. THE wait is over, and now the work begins. USA Swimming released the qualifying times for the 2016 U.S. Olympic Swimming Trials today, making the announcement for the first time via live webcast from the United States Aquatic Sports Convention.
Olympic gold medalist and NBC color commentator Rowdy Gaines served as the host of the webcast. He was joined by USA Swimming Assistant Executive Director Mike Unger through the entire webcast and a series of guests as well. USA Swimming National Team Director Frank Busch, former USA Swimming President Jim Wood, Olympic medalist Elizabeth Beisel and SwimMAC Carolina head coach David Marsh helped announce the standards.
July 30 — the opening day of the junior nationals — was the first day that swimmers' times will be used to qualify them for Trials. All the qualifying times are faster than they were in 2012, marking the first time the cuts have made significant improvement across the board in more than a decade. Most times were just a few tenths faster, while 12 of the 26 events improved by a second or more.
Below are the Trials cuts in each event. The number in parentheses is the time difference between the 2016 Trials qualifying times and the 2012 qualifying times.
Following the list of the qualifying times are spreadsheets listing the swimmers who have qualified for the meet as of the July 30 start date.
2016 U.S. Olympic Swimming Trials Cuts
| Event | Men | Women |
| --- | --- | --- |
| 50 free | 23.29 (-0.2) | 26.19 (-0.2) |
| 100 free | 50.69 (-0.8) | 56.49 (-0.7) |
| 200 free | 1:51.89 (-1.0) | 2:02.39 (-0.8) |
| 400 free | 3:58.69 (-1.3) | 4:17.99 (-1.4) |
| 800 free | N/A | 8:49.99 (-0.5) |
| 1500 free | 15:49.99 (-3.6) | N/A |
| 100 back | 57.19 (-0.4) | 1:03.39 (-0.6) |
| 200 back | 2:03.79 (-1.2) | 2:16.59 (-1.4) |
| 100 breast | 1:03.69 (-1.0) | 1:11.49 (-0.7) |
| 200 breast | 2:18.39 (-2.4) | 2:34.99 (-1.0) |
| 100 fly | 54.79 (-0.5) | 1:01.19 (-0.8) |
| 200 fly | 2:01.99 (-2.0) | 2:14.99 (-1.5) |
| 200 IM | 2:05.09 (-1.5) | 2:18.69 (-0.8) |
| 400 IM | 4:27.49 (-3.0) | 4:54.99 (-0.9) |
Men
Women