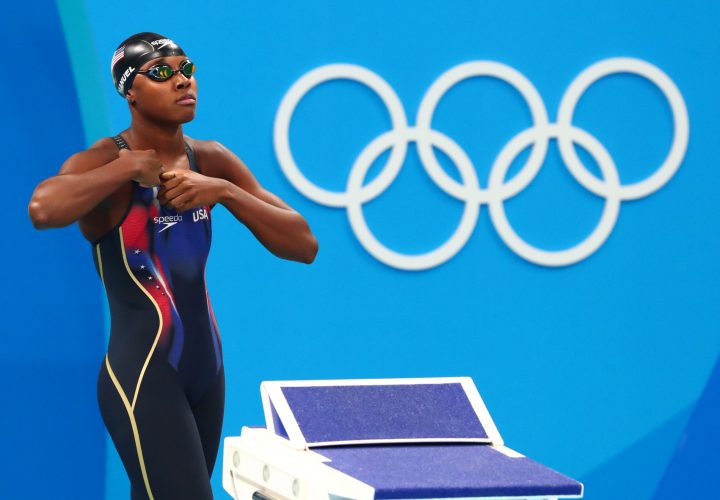 Photo Courtesy: Rob Schumacher-USA TODAY Sports

Editorial Coverage Sponsored By FINIS
Everything you need to follow along live with day seven prelims of the 2016 Rio Olympic Games. Competition begins at 1 p.m. local time (12 p.m. EST/9 a.m. PST) Hit refresh for all the latest coverage.
Heat sheets are available here.
Scheduled Events:
Women's 50 Freestyle
Men's 1500 Freestyle
Women's 4×100 Medley Relay
Men's 4×100 Medley Relay
Women's 50 Freestyle
Pernille Blume of Denmark put together the fastest 50 freestyle this morning in 24.23. Francesca Halsall qualified second for tonight's 50 freestyle semifinal in 24.26. Belarus' Aliksandra Herasimenia stopped the clock in 24.42 this morning.
After finishing fourth in the 100 freestyle last night Australian Bronte Campbell was the fourth fastest in prelims with a 24.45.
The Netherlands' Olympic record holder Ranomi Kromowindjojo raced next to fellow 100 freestyle finalist Abbey Weitzeil of the USA. Weitzeil had the upper hand this morning, finishing in 24.48. Denmark's Jeanette Ottesen posted the same time a heat later.
Simone Manuel of the USA blew by Australia's Cate Campbell in the final 25 meters of last night's 100. Swimming side by side in the second to last heat of this morning's 50 Campbell was faster, qualifying seventh with a 24.52.
Kromowindjojo tied Canada's Chantal Van Landegham with a 24.57 for the eighth seed in tonight's semifinals.
Last night's bronze medalist Sarah Sjostrom of Sweden was tenth this morning with a 24.66. Her teammate Therese Alshammar placed 12th in 24.73. Slipping between the two was Manuel in 24.71.
In heat nine, Inge Dekker of the Netherlands turned in a 24.77 to make semifinals. Arianna Vanderpool-Wallace of the Bahamas and Germany's Dorthea Brandt made it a three way tie with Dekker.
Brazil's Etiene Medeiros (24.82) completes tonight's semifinals.
After questions over if she would swim, China's Chen Xinyi did not race after news of her positive doping test.
Men's 1500 Freestyle
Gregorio Paltrinieri of Italy, the owner of the fastest time in the world this year ,was also the fastest in this morning's 1500 freestyle prelims. He touched in 14:44.51. The United States' Connor Jaeger separated himself from the field with Paltrinieri and finished second overall in 14:45.74.
Jordan Wilimovsky, the first US swimmer to qualify for pool and open water Olympic swimming, qualified third in 14:48.23.
Australia's current distance leader and the owner of the second fastest time in the world this year, Mack Horton, posted a 14:48.47 for fourth.
Gabriele Detti of Italy and France's Damien Joly swam times of 14:48.68 and 14:48.90 will be seeded fifth and sixth.
Ryan Cochrane of Canada will be seeded seventh and Henrik Christiansen of Norway is eighth in 14:55.50.
World record holder Sun Yang of China fell well behind the field, finishing 16th overall with a 15:01.97. Some reports on social media suggested he may be ill.
Women's 4×100 Medley Relay
The United States dominated the competition this morning and took the top seed for finals in the women's 4×100 medley relay. Olivia Smoliga posted a 59.57 on the backstroke leg. Katie Meili had a very safe start and registered a 1:04.93. Kelsi Worrell (56.47), and Abbey Weitzeil (53.70) brought the team home to a 3:54.67.
Kylie Massee led off the Canadian relay in a new 100 backstroke national record of 58.66. She was followed by Rachel Nicol (1:06.97), Noemie Thomas (57.66), and Taylor Ruck (53.51). The team posted a 3:56.80 to win the first heat and return to finals in second.
Denmark's team of Mie Nielsen (59.48), Rikke Moller Pedersen (1:06.88), Jeanette Ottsen (57.38), and Pernille Blume (53.24) touched in 3:56.98 for third overall.
The Russian team as fourth this morning in 3:57.44 ahead of the Australians in 3:57.80. The Chinese (3:58.23), Italians (3:59.09), and British (3:59.34) also earned lanes in the final.
Men's 4×100 Medley Relay
Chris Walker-Hebborn (53.68), Adam Peaty (57.49), James Guy (51.48), and Duncan Scott (47.82) led the way for Great Britain with a 3:30.47.
David Plummer (52.70), Kevin Cordes (59.51), Tom Shields (51.88), and Caeleb Dressel (47.74) touched in 3:31.83 for the Americans this morning.
The Japanese team of Ryosuke Irie (53.7), Yasuhiro Koseki (59.02), Takuro Fujii (51.73), and Katsumi Nakamura (48.01) finished third in 3:23.33.
Australia and China tied in 3:32.57.
Russia (3:32.95) and Brazil (3:32.96) followed. Germany (3:33.67) took the final lane in the final.
Full results are available here.