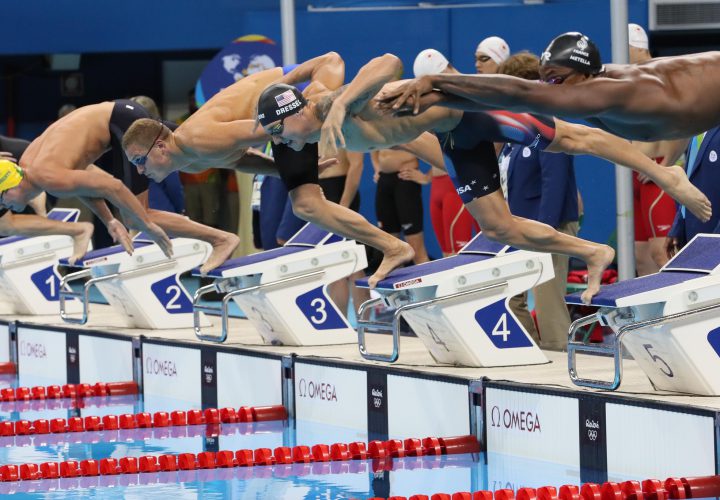 Photo Courtesy: David E. Klutho-USA TODAY Sports

Editorial Coverage Sponsored By FINIS
Everything you need to follow along live with day three prelims of the 2016 Rio Olympic Games. Competition begins at 1 p.m. local time (12 p.m. EST/9 a.m. PST) Hit refresh for all the latest coverage.
The full heat sheets can be viewed here.
Scheduled Events:
Women's 200 Freestyle
Men's 200 Butterfly
Women's 200 IM
Women's 200 Freestyle
Katie Ledecky cruised through the opening 50 meters, fresh off her 400 freestyle world record. She turned it on in the backhalf of the race and led the way through to semifinals with a 1:55.01.
Australia's Emma McKeon stayed close to Ledecky and will head to semifinals in second after posting a 1:55.80.
With a new world record and Olympic gold in tow, Sarah Sjostrom put herself into contention for another medal. The Swede recorded a 1:56.11 for the third spot tonight.
Charlotte Bonnet of France was just behind Sjostrom and snagged fourth in 1:56.26.
Italy's Federica Pellegrini, the two time World Champion in the 200 freestyle, swam a very reserved race and pounced at the end to secure the fifth spot in 1:56.37. China's Duo Shen will be sixth in 1:56.52.
Michelle Coleman of Sweden touched in 1:56.54 for seventh. Yanhan Ai of China got out to a very quick start in the opening circle seeded heat and wound up eighth overall in 1:56.77.
Hong Kong's Siobhan Haughey swam in a non-circle seeded heat but earned a semifinals swim with her 1:56.91. Australia's Bronte Barratt also secured a second swim with her 1:56.93.
Russia's Veronkia Popova (1:57.08), Missy Franklin of the United States (1:57.12), and Canada's Katerine Savard (1:57.15) finished 11th through 13th.
Manuella Lyrio of Brazil (1:57.28), Femke Heemskerk of the Netherlands (1:57.68), and Canad's Brittany Maclean (1:57.74) will complete the semifinals tonight.
Men's 200 Butterfly
Tamas Kenderesi of Hungary stopped the clock in 1:54.73 to take the top spot in prelims. Laszlo Cseh of Hungary leads the world rankings this year in 1:52.91. This morning he finished just behind his teammate in 1:55.14.
South Africa's Chad Le Clos won the opening circle seeded heat in 1:55.57. That time held up for the third spot. Grant Irvine of Australia will return to semifinals in fourth after posting a 1:55.64.
The United States' Michael Phelps did what he needed to do to earn a semifinal swim, touching in 1:55.73 for fifth.
Japanese teammates Masato Sakai and Daiya Seto swam 1:55.76 and 1:55.79, respectively for semifinals swims in sixth and eighth place. Denmark's Viktor Bromer snuck between the duo with a 1:55.77 for seventh.
Leonardo De Deus responded to the excited home crowd with a ninth seeded 1:55.98. Singapore's Zheng Wen Quah touched in 1:56.01 for tenth.
Russia's Evgeny Koptelov (1:56.13), Brazil's Kaio Marcio (1:56.45) and Sweden's Simon Sjodin (1:56.46) take the 11th through 13th spots.
Belgium's Louis Croenen (1:56.48), Colombia's Jonathan David Gomez Noriega (1:56.65), and China's Zhuhao Li (1:56.72) also earn semifinal swims.
Women's 200 IM
In this morning's 200 IM prelims world record holder Katinka Hosszu set herself up for another gold medal, posting the Olympic record with a 2:07.45 to lead prelims.
Siobhan-Marie O'Connor of Great Britain finished third at the World Championships. This morning she was impressive, shooting forward to a 2:08.44, her best time this year and good for second overall.
American Melanie Margalis worked to stay near O'Connor and touched in 2:09.62. Her teammate Maya DiRado had a fabulous backstroke leg. The 400 IM silver medalist finished in 2:10.24 for the fourth spot tonight.
Japan's Miho Teramura swam a 2:10.34 for fifth. Australia's Alicia Coutts tried to stick with DiRado over the back half and finished sixth overall with a 2:10.52.
Former Olympic record holder Ye Shiwen of China recovered from a poor 400 IM to qualify seventh in 2:10.56. Canada's Sydney Pickrem (2:11.06), and Hungary's Zsuzsanna Jakabos (2:11.69) followed.
Korea' Seoyeong Kim was fifth at the Asian Games. In 2:11.75 she will head to semifinals in tenth. Runa Imai of Japan (2:11.78), Hannah Miley of Great Britain (2:11.84), Alexandra Wenk of Germany (2:12.46) and Canad's Erika Seltenreich-Hodgson were 11th through 14th.
Mireia Belmonte Garcia of Spain (2:12.58) and Russia's Viktoriia Andreeva (2:13.01) secured the final two spots in semifinals.