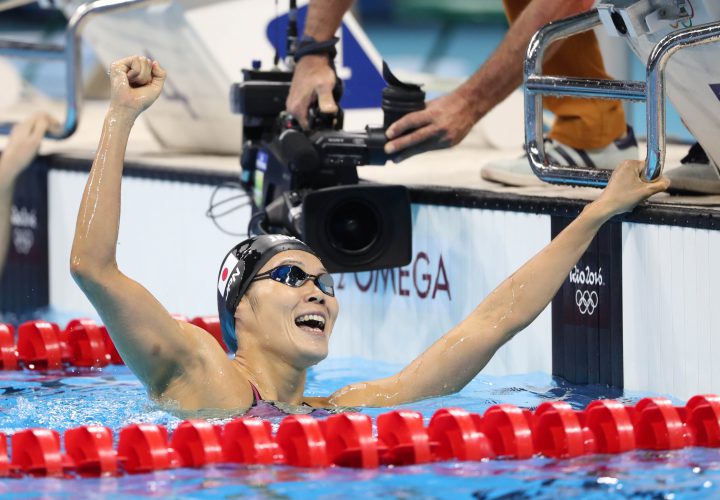 Photo Courtesy: Erich Schlegel-USA TODAY Sports
With a plethora of big name international swimmers announcing retirement, such as Olympic finalist Hilda Luthersdottir and 2015 World Champion Jennie Johansson, another name has been added to that list. 2016 Olympic champion in the 200 breast, Rie Kaneto of Japan announced her retirement via multiple Japanese newspapers.
Kaneto filed her papers to the Japanese swimming federation. She reportedly contemplated retirement after missing out on the World Championships this year, but wanted to fully evaluate her future.
After missing out on Worlds, regarding the Tokyo Olympics in 2020, she said, "Where will you put the end in swimming life, maybe Tokyo is going to be your final goal, age does not matter."
The quote was roughly translated from a report by Nikkan Sports in Japan.
Kaneto won the 200 breast at the Rio Olympics at 27 years of age for her first and only Olympic medal. Before Rio, Kaneto's best accomplishment in swimming was a gold in the 200 breast (2:22.32) at the 2009 World University Games in Belgrade. Kaneto also won silver in the same event at the 2007 World University Games in Bangkok.
Kaneto also won a pair of silver medals in the 200 breast in 2014, starting with the Pan Pacific Championships in the Gold Coast and backing it up in SCM fashion at the World Championships in Doha.
She did not actually compete at the 2012 Olympics as she missed qualification behind eventual silver medalist Satomi Suzuki and Kanako Watanabe. Kaneto was seventh in the 2008 Beijing final at 2:25.14.
Kaneto was the third Japanese woman to win the 200 breast Olympic gold after Kyoko Iwasaki won in 1992 and Hideko Maehata won in 1936, and is also one of five Japanese women to win an individual Olympic gold medal in swimming. She joined Ai Shibata (800 free, 2004) and Mayumi Aoki (100 fly, 1972) as individual gold medalists.
Kaneto still holds the Japanese and Asian records in the 200 breast at 2:19.65 from the 2016 Japanese Championships. This was faster than her Rio Olympic gold medal winning time of 2:20.30.