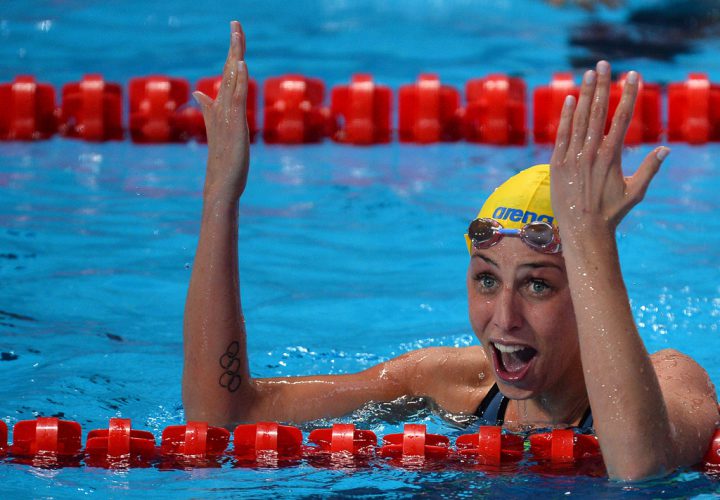 Photo Courtesy: R-Sport / MIA Rossiya Segodnya
In an Instagram post on Wednesday, two-time Olympian and 2015 World Champion Jennie Johansson of Sweden announced her retirement from competitive swimming. Johansson is 29-years-old and was World Champion in the 50 breast at the 2015 World Championships in Kazan. She also swam the breaststroke leg on Sweden's 4×100 medley relay team that won silver at the 2015 Worlds.
The quartet of Michelle Coleman, Johansson, Sarah Sjostrom and Louise Hansson set the European record en route to the silver medal at 3:55.24, which still stands as the Swedish record.
Johansson holds the Swedish LCM record in the 50 (30.05) and 100 breast (1:06.30). Her 50 time came from her gold medal winning swim at the 2015 Worlds and her 100 came from the Stockholm Open in April 2017.
Johansson competed in two Olympics as she was tenth in the 100 breast in 2012 with a 1:07.57. She returned in 2016 with a ninth place finish of 1:07.06.
She was also European Champion in 2016 where she won the 50 breast at 30.81 leading up to the Rio Olympics.
Overall, Johansson is one of the most successful breaststrokers Sweden has ever had as she has won seven total medals at the LC European Championships from 2010-2016, as well as four medals at the SC European Championships. Johansson's last international race was at the 2017 World Championships in Budapest where she was 16th in the 100 (1:07.93) and fifth in the 50 (30.31). She also split a 1:05.63 on Sweden's fifth place 4×100 medley relay team in Budapest.