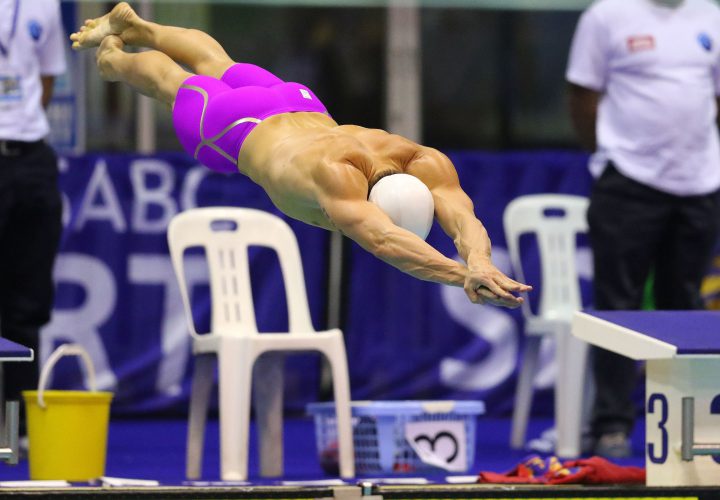 Photo Courtesy: Anesh Debiky/Swimming South Africa
Everything you need to follow along live with day six finals of the 2016 African Swimming Championships. Hit refresh for the latest details.
Events:
Women's 200 Fly
Men's 50 Free
Women's 200 Back
Men's 200 IM
Women's 1500 Free
Women's 200 Fly:
Sarah Hadj Abderrahmane of Algeria topped the competition in finals of the women's 200 fly, stopping the clock with a final time of 2:15.76.
The Egyptian duo of Mariam Sakr and Rowaida Hesham posted second and third place finishes of 2:18.88 and 2:20.00.
Rania Hamida Nefsi of Algeria took fourth with a 2:25.95, followed by the South African duo of Marli Jacobs (2:27.59) and Hanim Abrahams (2:32.72).
Angola's Ana Nobrega and Raquel Tremoco completed the heat with times of 2:34.97 and 2:43.68.
Men's 50 Free:
Algeria's Oussama Sahnoune turned in the top time in the men's 50 free final, posting a final 22.39.
Douglas Erasmus of South Africa finished close behind with a 22.55 to be the only other athlete under the 23-second mark.
Egypt's Mohamed Samy completed the podium with a time of 23.08.
Abdul Khadre Mbaya Niane of Senegal touched fourth with a time of 23.44, followed closely by Namibia's Alexander Skinner (23.58) and Egypt's Ihab Salem (23.59).
Alaric Basson of South Africa finished seventh with a 24.08, while Zambia's Ralph Goveia was eighth with a 24.86.
Women's 200 Back:
Marielle Venter of South Africa posted the top time in a smaller heat of the women's 200 back, delivering a 2:14.33 for first.
Teammate Nathania van Niekerk touched second with a 2:15.49, while Seychelles' Alexus Laird was third with a 2:22.67.
Ingy Abouzaid of Egypt took fourth with a 2:26.35, followed by Namibia's Antonia Roth and her time of 2:34.04.
Mozambique's Layla Suneira Taquidir was labeled as a no-show for the event.
Men's 200 IM:
South Africa delivered the top two times in finals of the men's 200 IM. Jarryd Baxter led the charge with a final time of 2:04.68, followed by teammate Neil Fair and his time of 2:05.37.
Mohamed Samy of Egypt finished third overall with a 2:08.22.
Algeria's Ramzi Chouchar posted a fourth place finish of 2:10.70, while Morocco's Said Saber was fifth with a 2:14.09.
Sudan's Rami Elias (2:23.42), Angola's Daniel Francisco (2:30.62), and Mauritius' Oliver Ah Ching (2:30.70) completed the heat.
Women's 1500 Free:
The women's 1500 free was the shortest heat of the day, featuring four swimmers in total. South Africa's Charlise Oberholzer turned in the top time of the evening with a 17:20.44.
Souad Nefissa Cherouati of Algeria took second with a 17:44.35, followed by South Africa's Michelle Weber and her time of 17:55.43.
Mauritius' Layne Lim Ah Tock was fourth overall with a 19:34.11.