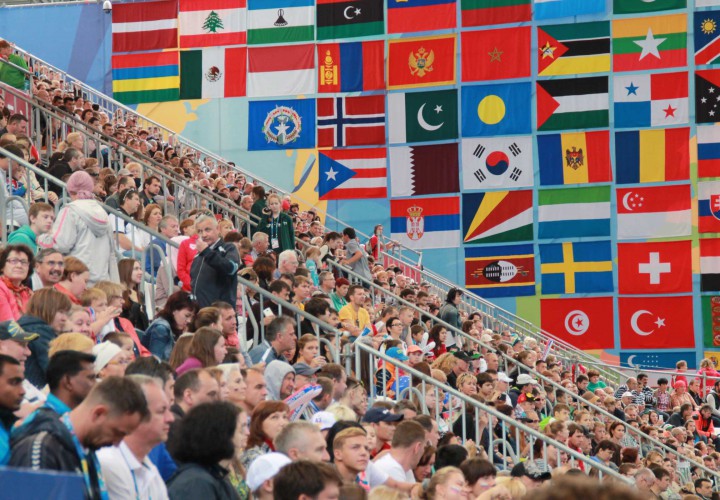 Photo Courtesy: Maria Dobysheva
Coverage of the 2015 FINA World Championships is sponsored by Wylas Timing. Visit our coverage page for more.
Everything you need to follow along with finals live during the 2015 FINA World Championships. Hit refresh for the latest coverage.
Men's 100 free semis
Australia's Cameron McEvoy put himself in a good spot heading into the men's 100-meter free with a world best at the 2015 FINA World Championships.
McEvoy put up the only sub-48 swim of the night with a swift time of 47.94.  That's a new world best, clearing the 47.98 shared by Vlad Morozov and Santo Condorelli.  McEvoy still has a full second to drop to challenge Eamon Sullivan's Australian record of 47.05 from 2008.
Morozov, meanwhile, drew a shocking false start disqualification as the hometown favorite will not get a chance to compete in the stacked finale.
China's Ning Zetao qualified second in 48.13 with Argentina's Federico Grabich posting a third-seeded 48.20.
Belgium's Pieter Timmers (48.22), USA's Nathan Adrian (48.36), Brazil's Marcelo Chierighini (48.37), Russia's Alexander Sukhorukov (48.40) and Canada's Condorelli (48.49) also made the championship heat.
Condorelli could be the wildcard depending on if he is able to summon the level of performance he had at the Pan American Games just a few weeks ago in Canada.
Women's 50 back semis
China's Fu Yuanhui lowered her own textile best in the women's 50-meter back semis at the 2015 FINA World Championships.
Fu clocked a sizzling time of 27.18, clearing the 27.22 she set back in April of 2013 as the top time done in a textile suit.
That's the second best time ever behind only Zhao Jing's world record of 27.06 from the 2009 World Championships. Incidentally, it also cleared Etiene Medeiros' 27.38 for the top time in the world this year.
All Time 50 Back
[table "" not found /]
Medeiros qualified second in 27.41 with Denmark's Mie Nielsen qualifying third in 27.63.
China's Liu Xiang (27.67), Australia's Emily Seebohm (27.70), Australia's Madison Wilson (27.83), Great Britain's Lauren Quigley (27.83) and Greece's Theodora Drakou (28.01) also made the championship heat.
USA's Rachel Bootsma, one of the best sprint backstrokers in the world, scratched prelims after battling an illness that has had her bed-ridden since she arrived in Kazan last week.
Men's 200 fly finals
Hungary's Laszlo Cseh upsets South Africa's Chad le Clos in men's 200-meter fly at the 2015 FINA World Championships for first world title since 2005.
Cseh overtook le Clos in the final 100 meters for the win, 1:53.48 to 1:53.68.  That's Cseh's second individual world title and first since winning the 400-meter IM back in 2005 a decade ago.
Cseh now has a total of 11 world championship titles, having claimed a truckload of medals behind Michael Phelps and Ryan Lochte in the IMs and flies throughout the past 10 years.  He now has two golds, four silvers and five bronzes to his credit.
Le Clos, the clear favorite coming into the meet, took too much time to turn on the jets down the stretch as he settles for his first silver ever in world championship competition.
Poland's Jan Switkowski put up a 1:54.10 to round out the podium with a bronze.
Japan's Masato Sakai (1:54.24), Denmark's Viktor Bromer (1:54.66), Japan's Daiya Seto (1:55.16), Belgium's Louis Croenen (1:55.39) and USA's Tom Shields (1:56.17) also competed in the finale.
Women's 200 free finals
USA's Katie Ledecky has already stamped her mark as the best distance freestyle swimmer ever, but now she's moving into legendary air with her third gold medal as she won the women's 200-meter free at the 2015 FINA World Championships.
Ledecky, who already won the 400 and 1500-meter freestyle this week, kept on pace to make history as the only person ever to win the 200-400-800-1500 gold medal quartet. Considering her 1500 free split is faster than anyone else has ever gone in the 800 free ever, the freestyle sweep is a foregone conclusion.
Ledecky won against a loaded field of seven world championship medalists with a top time of 1:55.16. That's not the fastest time this year, putting her only fourth in the world.  But it tied her personal best and demonstrated a ridiculous range this week.
That's Ledecky's seventh world title as she is quickly tracking down Missy Franklin and Libby Trickett's record of nine career golds.
Italy's Federica Pellegrini finished second with a time of 1:55.32 as she charged home hard to move from fourth to second.  That's world championship medal number eight with four golds, three silvers and a bronze.
Franklin, meanwhile, earned bronze in 1:55.49 in what proved to be a close finish.  That's Franklin's 13th career medal.  With one more medal this week, she will move into a fourth-place tie with Jenny Thompson and Leisel Jones for the most career world medals.
Most World Medals
[table "" not found /]
Russia's Veronika Popova placed fourth in 1:56.16, while Hungary's Katinka Hosszu faded to fifth in a time of 1:56.19.
China's Shen Duo (1:56.27), Australia's Emma McKeon (1:56.41) and The Netherlands' Femke Heemskerk (1:56.79) closed out the championship heat.
Men's 50 breast finals
In a heavyweight battle, Great Britain's Adam Peaty had the knockout blow ready for South Africa's Cameron van der Burgh in the men's 50-meter breast at the 2015 FINA World Championships.
Peaty, who already claimed an undisputed world record with a 26.42 during semis yesterday, powered his way to the finish to win in 26.51.  That's his second world title as he also topped the 100-meter breast earlier this week.  He kept hope alive for a breaststroke sweep as well.
Van der Burgh raced his way to silver in a time of 26.66, giving him his ninth career world medal.  He now has two golds, three silvers and four bronzes.
USA's Kevin Cordes, who set the American record with a 26.76 during semis, took bronze in 26.86.
Brazil's Felipe Silva (26.87), Slovenia's Damir Dugonjic (27.23), Lithuania's Giedrius Titenis (27.23), New Zealand's Glenn Snyders (27.36) and Serbia's Caba Siladi (27.45) comprised the rest of the championship heat.
Women's 200 fly semis
Japan's Natsumi Hoshi led the way through the women's 200-meter fly semis at the 2015 FINA World Championships.
Hoshi touched out Germany's Franziska Hentke in the second semifinal, 2:06.36 to 2:06.64, with the pair finishing 1-2 heading into finals.
Hentke has the world best time this year with a 2:05.26, her personal best effort that also stands as the German record.  Hoshi, meanwhile, has much more in the tank with a 2:04.69 lifetime best that is the Japanese record from 2012.
The pair could push each other to challenge Jessicah Schipper's meet record of 2:03.41 from the 2009 World Championships.
Hungary's Liliana Szilagyi turned in a third-seeded time of 2:07.05, while China's Zhang Yufei snared the fourth seed in 2:07.08.
USA's Katie McLaughlin (2:07.52), USA's Cammile Adams (2:07.57), Australia's Brianna Throssell (2:07.57) and China's Zhou Yilin (2:07.69) qualified fifth through eighth to make up the rest of the championship heat tomorrow.
In a bit of a stunner, Hungary's Katinka Hosszu fell to 13th with a 2:08.91 as she looks to be worse for wear after her historic world record in the women's 200-meter IM.
Men's 200 IM semis
USA's Ryan Lochte put himself in position to become just the second man behind Grant Hackett with a fourpeat by topping the men's 200-meter IM semis at the 2015 FINA World Championships.
Lochte, who topped the second semifinal in a time of 1:56.81 to move to second in the world behind Kosuke Hagino's 1:56.30 from April, is vying for his fourth straight victory in the event's history.
He previously won in 2009 (1:54.10), 2011 (1:54.00) and 2013 (1:54.98). Lochte could join Hackett, who won the 1500 free from 1998-2005, as the only other person to win an event four straight editions.
The likelihood rose with Hagino having to miss out on this meet due to injury.
China's Wang Shun qualified second in 1:57.07 with Brazil's Thiago Pereira earning third in 1:57.33.
Great Britain's Dan Wallace (1:57.77), Sweden's Simon Sjodin (1:58.10), Poland's Marcin Cieslak (1:58.20) and Brazil's Henrique Rodrigues (1:58.45) qualified fourth through seventh.
USA's Conor Dwyer and Great Britain's Roberto Pavoni set up a swimoff by posting matching 1:58.54s for eighth overall.
Dwyer won the swimoff, 1:58.18 to 1:58.26.
Men's 800 free finals
China's Sun Yang overtook the field to win the men's 800-meter free world title for the third straight time at the 2015 FINA World Championships.
Sun, who trailed Italy's Gregorio Paltrinieri until the 700-meter mark, turned on the jets to win in 7:39.96.  That's a world best by far, and stands sixth all time in the event's history.
That's Sun's third win to go with his victories in 2011 (7:38.57) and 2013 (7:41.36).
Paltrinieri clocked a European record with a silver-winning time of 7:40.81, crushing the previous record of 7:42.74 from 2014. That time is now the eighth-fastest time ever as he moved to sixth in the all-time performers list.
All Time 800 Free Performances
[table "" not found /]
Australia's Mack Horton put himself on the podium with a silver-winning time of 7:44.02.  That's his first world championship medal for the 19 year old as he smashed his personal best of 7:45.67.
USA's Connor Jaeger (7:44.51), Norway's Henrik Christiansen (7:45.66), Poland's Wojciech Wojdak (7:45.90), Great Britain's Stephen Milne (7:49.86) and USA's Michael McBroom (7:55.30) also swam in the finale.
Mixed 400 medley relay finals
Great Britain took down the world record in the mixed 400 medley relay at the 2015 FINA World Championships.
Great Britain's Chris Walker-Hebborn (52.94), Adam Peaty (57.98), Siobhan Marie O'Connor (57.02) and Fran Halsall (53.77) put together a time of 3:41.71 for the top time.  That swim broke the preliminary world record of 3:42.33 set by Team USA.
The Australians entered today with the world record at 3:46.52. Russia, USA and Great Britain then took turns dropping the world record.
Comparative Splits
[table "" not found /]
USA could not replicate its preliminary speed.  Ryan Murphy (53.31), Kevin Cordes (58.63), Katie McLaughlin (57.56) and Margo Geer (53.77) took second in 3:43.27.
Germany's Jan-Philip Glania (53.52), Hendrik Feldwehr (59.16), Alexandra Wenk (57.21) and Annika Bruhn (54.24) took bronze in 3:44.13.
China (3:44.65), Russia (3:44.83), Italy (3:45.59), Canada (3:46.23) and Hungary (3:50.06) also swam in the finale.
Vlad Morozov, swimming with some extra motivation after a stunning false start disqualification in the men's 100-meter free, anchored Russia with a 47.29.
2015 FINA World Championships, Swimming: Day 4 Finals – Results
SCHEDULED EVENTS
Men's 100 free semis
Women's 50 back semis
Men's 200 fly finals
Women's 200 free finals
Men's 50 breast finals
Women's 200 fly semis
Men's 200 IM semis
Men's 800 free finals
Mixed 400 medley relay finals