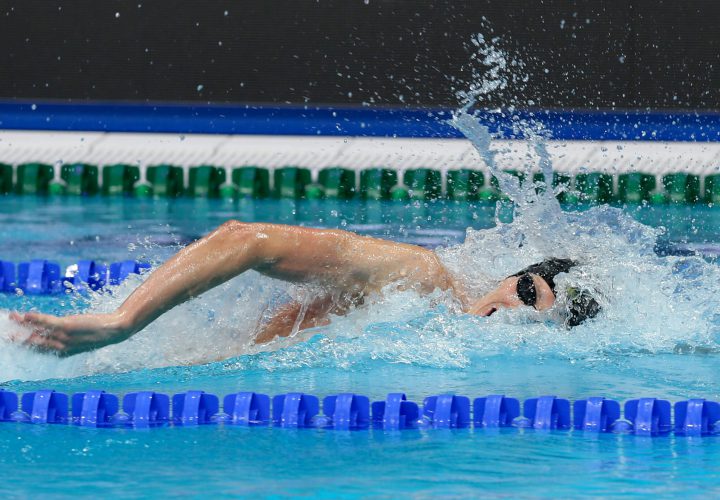 Editorial content for the 2018 TYR Pro Swim Series Austin is sponsored by SwimOutlet.com. Visit SwimOutlet.com for more information on our sponsor. For full Swimming World coverage, check out our event coverage page.
Zane Grothe got the session started with a win in the 400 free for his third win of the meet. Grothe touched first at 3:48.59 to be the only swimmer to break 3:50. Grothe finished ahead of Anton Ipsen (3:50.43) and Clark Smith (3:52.56) in the race as Smith had the fastest last 50 in the field.
Grothe has been a new man since joining the post grad group at Indiana. Grothe is the new American Record holder in the 500 and 1650 yard freestyle events and made his first major US team this past summer at the World Championships. Grothe is 25 years old but still improving as if he was an age grouper and is looking to be the new face of American distance swimming after the retirement of Connor Jaeger.
Grothe picked up points for Kaitlin Sandeno's swim squad while Smith picked up points for Jason Lezak.
Shogo Takeda (3:52.93), Jeremy Bagshaw (3:53.09), Marcelo Acosta (3:55.92), Trey Freeman (3:57.02) and Kohei Yamamoto (3:58.24) also swam in the championship final.
 Event 24  Men 400 LC Meter Freestyle
=========================================================================
        World: W 3:40.07  7/26/2009 Paul Biedermann
     American: A 3:42.78  8/10/2008 Larsen Jensen
         Meet: M 3:43.55  2016      Sun Yang
         Pool: P 3:45.21            Peter Vanderkaay
    Name            Age Team              Prelims     Finals       Points 
=========================================================================
                       === Championship Final ===                        
 
  1 Grothe, Zane     25 Una Mvn-CA        3:53.53    3:48.59        
             26.43        55.20 (28.77)
        1:24.36 (29.16)     1:53.42 (29.06)
        2:22.31 (28.89)     2:51.27 (28.96)
        3:20.49 (29.22)     3:48.59 (28.10)
  2 Ipsen, Anton Oe  23 NC State Univers  3:53.38    3:50.43        
             26.81        55.61 (28.80)
        1:24.88 (29.27)     1:54.48 (29.60)
        2:23.63 (29.15)     2:52.89 (29.26)
        3:21.99 (29.10)     3:50.43 (28.44)
  3 Smith, Clark     22 Longhorn Aquatic  3:54.50    3:52.56        
             26.28        54.96 (28.68)
        1:24.68 (29.72)     1:54.60 (29.92)
        2:24.85 (30.25)     2:54.77 (29.92)
        3:24.80 (30.03)     3:52.56 (27.76)
  4 Takeda, Shogo    22 JAPN-ZZ           3:53.22    3:52.93        
             27.34        56.58 (29.24)
        1:26.42 (29.84)     1:56.37 (29.95)
        2:26.56 (30.19)     2:55.32 (28.76)
        3:24.61 (29.29)     3:52.93 (28.32)
  5 Bagshaw, Jeremy  25 Island Swimming-  3:54.76    3:53.09        
             26.98        55.71 (28.73)
        1:25.18 (29.47)     1:54.60 (29.42)
        2:24.53 (29.93)     2:54.60 (30.07)
        3:24.48 (29.88)     3:53.09 (28.61)
  6 Acosta, Marcelo  21 Univ Louisville-  3:56.11    3:55.92        
             27.34        56.63 (29.29)
        1:26.75 (30.12)     1:57.45 (30.70)
        2:27.50 (30.05)     2:57.64 (30.14)
        3:27.26 (29.62)     3:55.92 (28.66)
  7 Freeman, Trey    17 Baylor Swim Club  3:57.25    3:57.02        
             26.63        55.92 (29.29)
        1:25.81 (29.89)     1:56.01 (30.20)
        2:26.36 (30.35)     2:56.92 (30.56)
        3:27.40 (30.48)     3:57.02 (29.62)
  8 Yamamoto, Kohei  26 JAPN-ZZ           3:57.37    3:58.24        
             27.56        56.96 (29.40)
        1:26.91 (29.95)     1:57.52 (30.61)
        2:27.61 (30.09)     2:57.99 (30.38)
        3:28.88 (30.89)     3:58.24 (29.36)