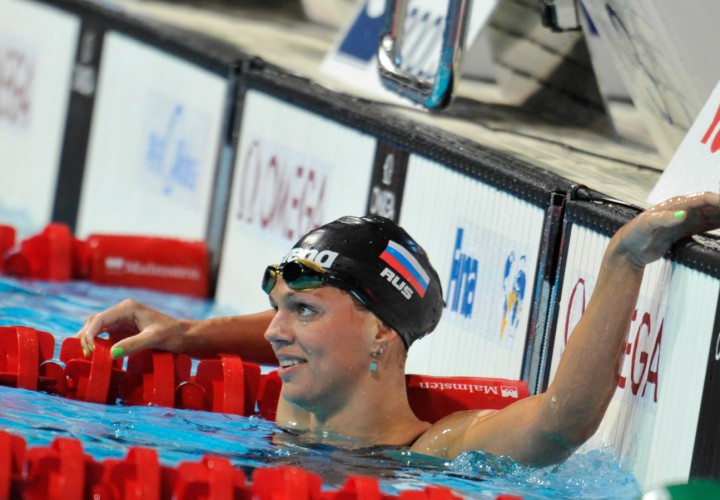 Photo Courtesy: Joao Marc Bosch
By Maria Dobysheva, Swimming World Russian contributor
The Russian National Championships provided some expected fast swims and updated world rankings, including a trio of world bests from Yuliya Efimova in the women's 50-meter breaststroke today.
Efimova is in her first national championship since returning from a doping ban.  She already let the world know she didn't lose anything during that ban in terms of speed with her swims at the Mission Viejo Invitational earlier this year.  But, today, she did it under the bright lights of a selection meet.
Women's 50 breaststroke
Yuliya Efimova started her meet with the world's best in 50 breast, which she set in the morning session – 30.70. She easily reset it in semifinals with a 30.41, she grabbed top seed with Natalia Ivaneeva a second behind her in 31.50 in the semis.
An hour later, Efimova showed that she's not going to slow down as she set her third World Best of the day: 30.39, shaved 0.02 from her semi result. Ukraine-born Victoria Gunes, who trains under former Efimova's coach Irina Vyatchanina and now represents Turkey, earned silver with 31.24 and Valentyna Artemyeva won bronze and the second ticket to Kazan – 31.32.
Women's 400 individual medley Finals
Qualification standard: 4.44.50
All-round swimmer Yana Martynova won the championship title with a time of 4.41.71. Victoria Malutina took silver with a time of 4.45.20, yet didn't reach the tough Russian qualifying standard to make it to the Worlds. Amanova Ranokhon from Uzbekistan earned bronze in 4.50.16.
Men's 400 freestyle Finals
Qualification standard: 3.50.87
This was the next event and next chance to book a ticket to Kazan. Winner of the race, 20-year-old Alexander Krasnykh, managed to post a time under the qualifying standard with a 3.50.41. Andrusenko Vyatcheslav finished second (3.51.25) but missed the team. So did the bronze medalist Ernest Maksumov (3.51.84)
Men's 50 butterfly
Qualification standard 23.53
Belarus' Evgeny Tsurkin, the regular name in the top rankings, won semifinals with a third-ranked time of 23.27. In the finals, Tsurkin renewed it by 0.01 and grabbed gold with 23.26. Vladimir Morozov, who surprisingly elected to swim this event, finished second with a 23.43 to enter the World's top 10. Its highly unlikely that Morozov is going to swim this event at Worlds, yet other swimmers who finished behind him, couldn't fit their times into the qualifying standard.
Vyacheslav Prudnikov, whose semifinal time was 23.41, couldn't repeat it in the finals and fell short with 23.58. Yet he won bronze medal which probably was kind of silverlining for him.
Women's 100 freestyle semifinals
Belarus' Alexandra Gerasimenya, two-time silver medallist of London Olympics, touched out Russian Olympian and London finalist Veronika Popova, 54.52 and 54.66 respectively. Even though these times didn't enter both ladies in the top rankings, they definitely have a lot left in tank for finals. Natalia Lovtsova took the third seed with a 54.84. Worth mentioning that Rozalia Nasretdinova, World Junior Champion, couldn't make finals in one of her best events and finished 14th (56.71)
Women's 200 backstroke semifinals
Qualification standard 2.12.14
Daria K Ustinova (2.09.21) cruised to victory in this race with a more-than-two second lead over her rival Alexandra Papusha (2.11.56). Not only she got a top seed, but also refreshed her world's eighth-fastest result and set a new Junior World Record. Ekaterina Tomashevskaya who won the second semifinal, and was the third qualifier – 2.11.66
There's a possibility to try a qualification standard again for those who couldn't make it at Worlds Trials. Other qualification meets are the Russian Cup – the final stop and Mare Nostrum circuit.
Other results:
Finals:
Women's 800 free
1. Ivanenko Anastasia 8.41.45
2. Salamatina Valeria 8.43.31
3. Gorshkova Elizaveta 8.46.58
Semifinals:
Men's 200 breaststroke
1. Khomenko Ilya 2.09.98
2. Falko Grigory 2.11.25
3. Chupkov Anton 2.11.35
4. Prigoda Anton 2.11.59
5. Amaltdinov Marat 2.11.88
6. Dorinov Mikhail 2.12.26
7. Palatov Alexander 2.12.28
8. Silin Sergey 2.12.63
Women's 200 butterfly
1. Shmakova Daria 2.15.59
2. Bragina Lada 2.15.69
3. Arsenyeva Maria 2.16.06
4. Budasova Daria 2.16.28
5. Balakhontseva Valentyna 2.16.85
6. Kartseva Natalia 2.17.06
7. Vataeva Natalia 2.17.23
8. Dolganina Anna 2.17.35
Men's 100 backstroke
1. Grigory Tarasevich 54.38
2. Ulyanov Nikita 54.50
3. Rylov Evgeny 54.64
4. Butymov Anton 55.09
5. Borisov Vitaly 55.35
6. Shabasov Andrey 55.45
7. Donets Stanislav 55.52
8. Kovalenko Denis 55.62
2015 Russian Swimming Championships, Day 1 (Russian) – Results