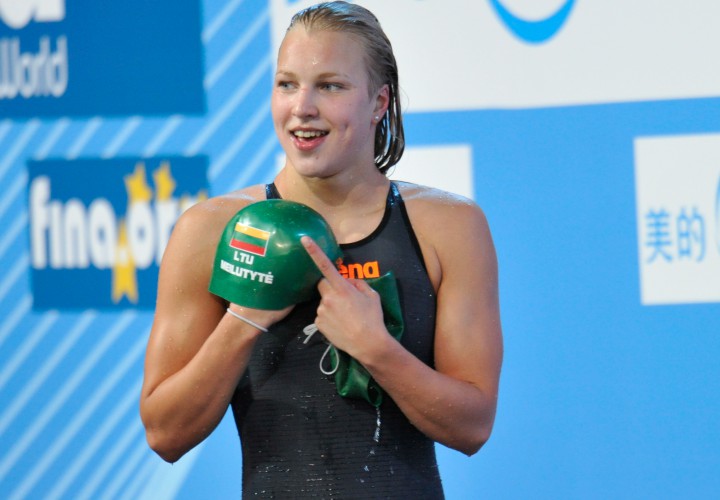 NANJING, China, August 16. THE Youth Olympic Games get underway this evening, and the United States will have a small but very talented contingent in attendance in China, while Lithuania's Ruta Meilutyte headlines the international field.
Eight American swimmers are scheduled to compete in Nanjing; Clara Smiddy, Hannah Moore, Courtney Mykkanen and Meghan Small will represent the United States on the women's side, while Patrick Conaton, Patrick Mulcare, Patrick Ransford and Justin Wright will wear the stars and stripes for the U.S. men.
In terms of individual events, Smiddy will compete in the 50 and 100 free and 50 and 100 back, Small will swim the 200 free, 100 fly and 200 IM, Moore will race the 400 and 800 free, 200 back and 200 IM and Mykkanen will hit the water in the 50, 100 and 200 backstrokes.
On the men's side, Mulcare leads the way with five individual entries in the 200 free, 50 back, 100 back, 200 back and 200 IM. Ransford will race the 400 and 800 freestyles, while Conaton will race the 100 free, 100 back and 200 back. Wright will swim the 100 and 200 fly in China.
As usual, the Australians will provide a great challenge to the Americans, as they'll have several strong swimmers in attendance. Ami Matsuo will present a threat in the shorter freestyle distances, with entry times of 25.61, 54.78 and 1:58.82. Ella Bond will swim all three breaststroke events (32.76, 1:09.79, 2:32.28), while Amy Forrester will compete in all three backstroke events (30.61, 1:02.28, 2:11.00) and Brianna Throssell will handle the three butterfly events (26.62, 59.20, 2:09.83).
The Australian men will look to Kyle Chalmers for a multi-medal performance, as he'll swim in the 50 free (22.68), 100 free (49.68), 200 free (1:52.50), 50 fly (24.03) and 100 fly (54.97). Grayson Bell looks to be a major contender in the men's breaststroke events as well, with seed times of 29.53, 1:02.90 and 2:17.86 in the three distances. Aussie Nicholas Brown has four events on his schedule – the 50 fly (25.49), 100 fly (54.23), 200 fly (2:00.02) and 200 IM (2:09.79).
The most recognizable swimmer at the meet will likely be Lithuania's Ruta Meilutyte, the 2012 Olympic champion in the women's 100 breast. Meilutyte recently established the top time of 2014 in the women's 100 breast at a meet in Great Britain, posting a 1:05.21. At this meet, Meilutyte will swim the 100 free (54.94), 50 breast (29.48), 100 breast (1:04.35) and 200 IM (2:12.32), and she could leave China with several gold medals.
Other swimmers to look out for include University of Southern California sophomore Dylan Carter, who will represent his native Trinidad & Tobago. Carter will be a factor in several events, with quick seed times of 23.01 in the 50 free, 49.93 in the 100 free, 25.99 in the 50 back and 23.87 in the 50 fly.