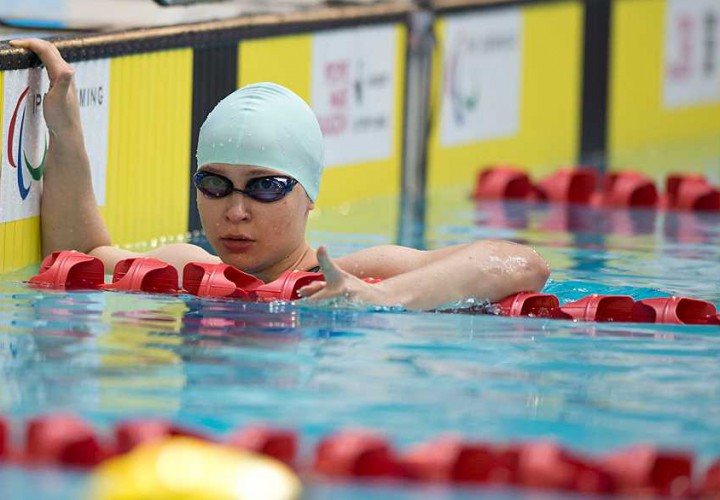 Photo Courtesy: Luc Percival
Six records fell on day six of the IPC European Championship. Five of these were world marks while one was a new European standard.
Record Setting Events
Anna Krivshina cleared her own world record mark in the S13 women's 100 backstroke, tonight. She touched in 1:07.05, faster than her 1:07.29 swum in August 2013.
In the S6 women's 400 freestyle, Yelyzaveta Mereshko stopped the clock in 5:14.69. That time beat Eleanor Simmonds' world record of 5:18.69 set just last week.
Pin Xiu Yip posted a 1:00.64 for the world record in the S2 women's 50 backstroke, while Ingrid Thunem set the S1 world record in the same final.
In the women's S4 200 freestyle Arjola Trimi finished in 3:10.61, a new world record, and 12 seconds ahead of second place.
Dmytro Vynohradets was under his own European Record in the S3 200 freestyle, touching in 3:21.30, faster than the old 3:21.96.
Other Events
Federico Morlacchi won the SB8 men's 100 breaststroke with a 1:12.96. Olesia Vladyinka posted a 1:18.98 to win the women's event.
Andrew Mullen won the S5 men's 100 freestyle in 1:12.11. In a remarkable outcome in the women's S5 100 freestyle, Teresa Perales and Sarah Louise Rung tied for the gold, both touching in 1:21.97.
Sergey Sukharev stopped the clock at 1:03.93 to win the men's S7 100 freestyle. Susannah Rodgers finished the women's 100 S7 freestyle in 1:13.42 to win her second gold in as many days.
Francesco Bocciardo took the men's S6 400 freestyle title with a 5:03.02.
In the men's SB9 100 breaststroke, Pavel Poltavtsev was victorious with a final time of 1:05.81. Chantalle Zijderveld grabbed the women's gold with her 1:17.96 in that event.
Ihar Boki earned another gold today, finishing the S13 men's 100 backstroke in 56.81.
Hennadi Bokio won the S1 men's 50 backstroke in 1:06.92. His Ukranian teammate Serhii Palamarchuk won the men's S2 50 backstroke in 58.52.
Oleksandr Mashchenko won the SB11 men's 100 breaststroke with a 1:15.22.
There was another tie in the S11 women's 100 breastroke as both Liesette Bruinsma and Maja Reichard both stopped the clock in 1:25.47.
Roman Zhdanov's 3:02.28 was good for gold in the men's S4 200 freestyle.
Sergii Klippert stopped the clock in 1:01.20 to take the title in the S12 men's 100 backstroke. Hannah Russell touched in 1:06.18 in the women's.
Russia claimed the men's 400 medley relay for 34 points in a 4:10.60.