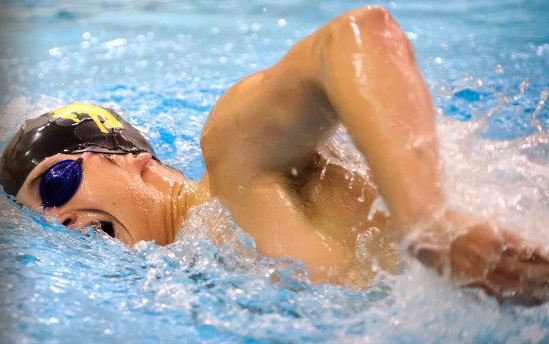 SAN ANTONIO, Texas, February 28. ANOTHER night of record-breaking swims is in the books in San Antonio, as the third night of action at the Western Athletic Conference Championships concluded this evening. Three conference records fell tonight as the UNLV men took over the lead and Northern Arizona women maintained first place in the team standings.
After just missing the WAC conference record in prelims of the men's 400 IM, Wyoming's Ryan Nelson made the most of his second opportunity in finals. Nelson led the race from start to finish and held off a hard-charging Iegor Lytvenok of Grand Canyon to win in a new WAC record of 3:45.20. Lytvenok swam a 25.31 final split to give Nelson a serious run with a second-place time of 3:45.59. Both times cleared the previous conference record of 3:47.81, set by UNLV's Giacomo Gremizzi in November. UNLV's Jake Priest took third in 3:52.62.
Grand Canyon rebounded in the women's 400 IM, as freshman Hannah Kastigar proved to be the class of the field in the distance medley. Kastigar took nearly six seconds off her prelim swim to win in 4:14.69, with Northern Arizona's Kendall Brown almost four seconds back in 4:18.46. New Mexico State picked up a podium finish with a 4:21.55 for third.
Fresh off his NCAA 'A' cut in the men's 50 free last night, UNLV freshman Dillon Virva looked equally impressive in the men's 100 fly, turning in the top time of 46.65 for his second individual win. Virva just missed the WAC record of 46.24, set by SMU's Lars Frolander way back in 1997. Grand Canyon's Ivan Nechunaev also posted a sub-47 swim with a 46.89 for second. Wyoming's George Eglesfield took third in 47.81.
In the women's 100 fly, Idaho's Jamie Sterbis hit the wall fifth at the final turn but came roaring home to take the title in 54.29. New Mexico State's Terrin Seaver led at both the halfway point and 75-yard mark but couldn't hold on and ended up second in 54.67. Grand Canyon's Rebecca Coan finished third in 54.85.
Wyoming's Adam Kalms, who last night took second in the men's 200 IM, made a huge statement this evening in the 200 free. Kalms took the race out fast and pulled away on the final 50 for a blistering 1:33.74, breaking the WAC record by more than a second. SMU's Lars Frolander set the previous record of 1:34.96 in 1997. That time just missed the NCAA 'A' cut of 1:33.58, but should be enough to earn Kalms a trip to the big dance next month. UNLV's Samuel Lameynardie hung with Kalms for the first 150 but faded to second in 1:35.10. Wyoming picked up another spot on the podium with Ethan Griffel in third (1:35.24).
Cal State Bakersfield's Michaela Paige earned her second individual win of the meet in the women's 200 free with a 1:47.32, denying Idaho's Rachel Millet her second win of the championships. Millet posted a 1:48.22 for second, while Grand Canyon's Iryna Glavnyk rounded out the top three in 1:48.90.
This morning, UNLV's David Szele broke his own WAC conference record in the men's 100 breast with a 53.12. Unfortunately, he couldn't duplicate that swim in finals, as North Dakota's Austin Smith flew to the win in 53.29. Szele wound up second in 53.31, while Air Force's Michael Barnosky, who took the race out first in 24.72, came in third at 53.54.
New Mexico State's Jessica Legge joined the winners' circle in the women's 100 breast, dropping four-tenths from her prelim swim and touching first in 1:01.78. Jordan Burnes of Northern Arizona, the top qualifier from the morning, finished second in 1:02.52, just .01 ahead of Idaho's Erica Anderson (1:02.53).
UNLV got its third win of the night from Henrique Machado, who touched first in the men's 100 back in 46.59, more than two seconds ahead of second-place finisher Jayce Calhoon of Wyoming (48.82). Air Force's Angus McDonald also came in under 49 with a 48.99 for third.
After finishing second in the 100 fly earlier in the evening, Terrin Seaver of New Mexico State pulled out the win in the women's 100 back, pulling away from the field on the final 50 to earn the victory in 54.77. Idaho freshman Madison Brewer finished second in 55.75, while Northern Arizona's Sara Lenhoff rounded out the top three in 55.77.
The Air Force men completely dominated men's platform diving, placing four divers in the top five. Dominic Vallejo led the way with 316.55 points, followed by Wyoming's Derek Campbell (297.10) and Air Force's Alex Pecci (288.00). Vallejo just missed his own WAC record of 318.90, which he set only 27 days ago.
UNLV continued its assault on the record books in the men's 400 medley relay. Henrique Machado, David Szele, Dillon Virva and Samuel Lameynardie crushed the previous WAC record of 3:12.21 with a blistering 3:08.83 for the win. That time clears the NCAA 'A' cut in the event and currently ranks 11th in the nation. Grand Canyon took second in 3:12.90, while Air Force was right behind in 3:12.95.
Meanwhile, Grand Canyon captured the women's 400 medley relay behind a strong effort from Iryna Glavnyk, Molly Graves, Rebecca Coan and Hannah Kastigar. The four swimmers combined forces to post a 3:40.91, comfortably ahead of Idaho's 3:41.69. New Mexico State rounded out the top three in 3:42.26.
After three days of racing, UNLV leads the men's team standings with 545 points, with Wyoming (506) and Air Force (470) in second and third. Northern Arizona continues to lead the women's meet, though their advantage has been trimmed to 19 points. NAU sits in first with 476 points, followed by Idaho (457) and New Mexico State (353).