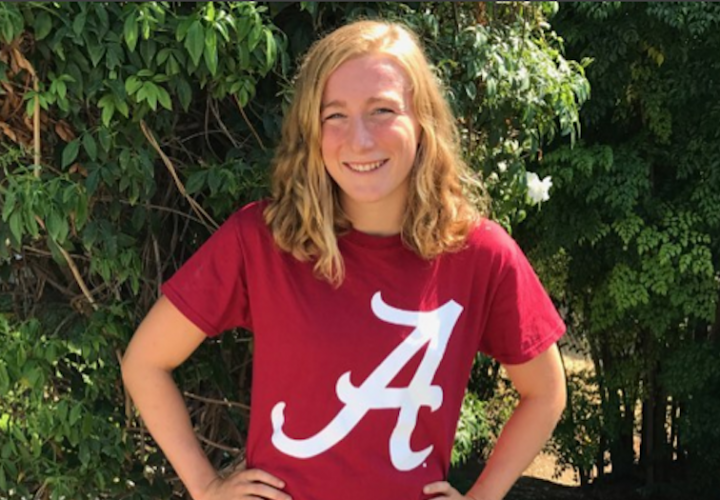 Photo Courtesy: Cathryn Salladin (Instagram @catsally)
Agon is the proud sponsor of all high school coverage (recruiting, results, state championships, etc.) on SwimmingWorld.com. For more information about Agon, visit their website AgonSwim.com.
To report a college commitment, email HS@swimmingworld.com. Join Swimming World's Watch List
NEW COMMIT: The University of Alabama now has a distance duo verbally committed for the Class of 2022. Open Water worlds team member Cathryn Salladin has given her verbal commitment to the Tide, joining Bolles' Kensey McMahon.
Salladin is from Anaheim, California where she swims for Fullerton's FAST Swim Team and is a senior at Esperanza High School.
McMahon and Salladin have both seen significant drops in the past year and are set up to be great training partners. They sit a mere two seconds apart in the 1650 while McMahon has the upper hand in the 200 and Salladin leads the way in the 500 free.
Salladin's top SCY times are:
200 Free 1:51.77
500 Free 4:44.56
1000 Free 9:40.47
1650 Free 16:14.98
At the 2017 SEC Championships Salladin would have been a 500 freestyle B finalist and sixth in the mile. While her pool swimming is strong, Salladin has earned more accolades in open water. At the 2017 USA Swimming Open Water championships Salladin finished sixth in the 10K with a 2:06:47.58. With that performance she qualified for World Championships where she finished tenth in the 25K in Budapest.
In her announcement made on Instagram Salladin wrote,
"I better start practicing my y'alls, cause I'm Bama bound!!! So thankful for my family, friends, teammates and coaches both past and present for helping me achieve my goals. I'm so excited for this new adventure! #committed"