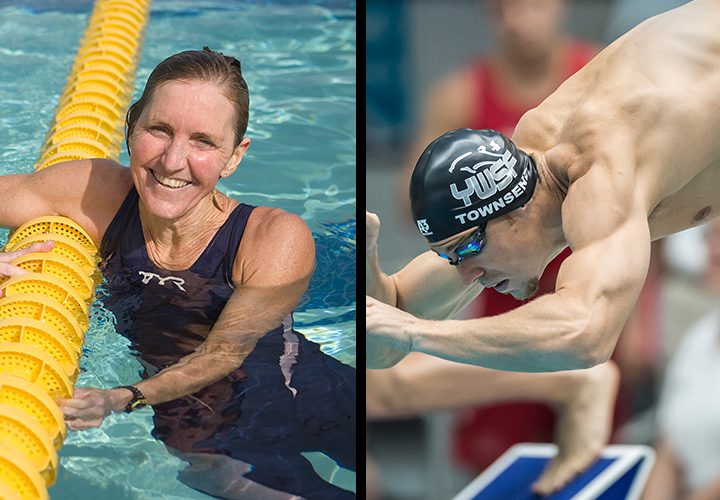 2016 Top 12 World Masters Swimmers of the Year
Swimming World Magazine has been recognizing the Top 12 World Masters Swimmers of the Year for the last 13 years. Running from April 4th through April 9th the staff at Swimming World will be shining a spotlight on the accomplishments of our Top 12 World Masters Swimmers of the Year, along with a special spotlight on the runners-up on the 10th.
Laura Val, USA (60-64, 65-69)
Laura Val moved into a new age group this past season and kept doing what she does best—that's breaking world records.
At the end of 2015—and the start of the new Masters competition season—Val grabbed one more world record (SC 200 back, 2:40.04) in her previous age group—her 75th global standard for women 60-64. Then, as a member of the 65-69 division, she took down WRs 28 times in 23 events (nine long course, 14 short course).
Named a Masters World Swimmer for her 11th straight year, Val nearly wiped the record books clean in short course freestyle, backstroke, butterfly and IM for all distances—except for the 100 fly (but she set that record in the beginning of the new competition season, clocking 1:15.40 on Nov. 20, 2016):
Freestyle: 50-100-200-400-800-1500 (29.99, 1:06.86, 2:25.41, 5:06.74, 10:34.67, 20:21.61)—her 200-400-800-1500 marks were all swum in the same race on Jan. 30, 2016. Backstroke: 50-100- 200 (34.12, 1:15.71, 2:44.59). Butterfly: 50-200 (33.53, 2:45.20). IM: 100-200-400 (1:17.85, 2:48.15, 5:55.00).
Val went on a demolition derby as well in long course, destroying previous marks in the 50-100-200-1500 free (29.92, 1:05.53, 2:25.29, 21:00.15), 50-100-200 back (35.46, 1:16.34, 2:49.39), 100 fly (1:13.70) and 200 IM (2:54.16).
Val stuck to her typical workout regimen—which is routine to her, but intense to the rest of the world. She works full-time as a nurse, and squeezes in 4,000 to 5,000 meters each day at 6 a.m. Most workouts include a 600 of kicking, 1,500 of pulling and lots of freestyle swimming. "I do mostly free, but enough stroke to keep it interesting," she said. Each workout ends with "a little vertical kicking with fins."
The highlight of Val's aquatic year did not come in the pool. Rather, it was when Pacific Masters Swimming renamed its year-end award—given to its top swimmer—the "Laura B. Val Swimmer of the Year" award. "This was a total surprise and a huge, huge honor," Val said.
"Seriously, I feel so, so lucky to have swimming in my life. There is nothing I don't love about swimming. I love to train, to compete, to travel, to hang with swimmers. It's the best!" —A.G.
Darian Townsend, USA (30-34)
After swimming in three Olympic Games for South Africa—and winning one relay gold medal in 2004—Darian Townsend was still living in Tucson, where he had attended the University of Arizona, but he wasn't sure what would come next.
"I was at a point in my swimming career where I wasn't sure if I was going to continue competing or retire," Townsend said. Coach Johno Fergusson of Tucson Ford Aquatics suggested that Townsend join the Masters squad while he was making his decision.
As it turned out, Townsend was not done competing at the elite level, but he would no longer represent South Africa. He officially became a U.S. citizen in July 2014. Last summer, he competed at the U.S. Olympic Trials, but it did not go according to plan, and Townsend topped out at 38th in both the 100 and 200 free.
"I didn't swim anywhere near what I was capable of swimming. After returning to Phoenix, I felt like I had unfinished business with the 2016 summer season," he said.
So over the next few weeks, Townsend swam in a pair of Masters meets in the Phoenix area—and broke Masters world records in the 30-34 age group. His 100 free time of 49.80 was much faster than he had swum at Trials (50.28), and he also dropped his time in the 200 by more than a second—from 1:50.61 to 1:49.56.
Townsend also set world records in five more events: LC—400 free (3:58.12), 50 back (25.97), 200-400 IM (2:02.18, 4:20.18); SC—200 fly (1:57.41).
Last month, though, Townsend officially retired from professional swimming, but he said he would still swim Masters.
"Staying motivated to train hard has been challenging," he admitted. "I did take some time out of the water, but I stayed fit running and lifting weights. I am back in the water now, with new motivation and new goals that I want to achieve." —D.R.