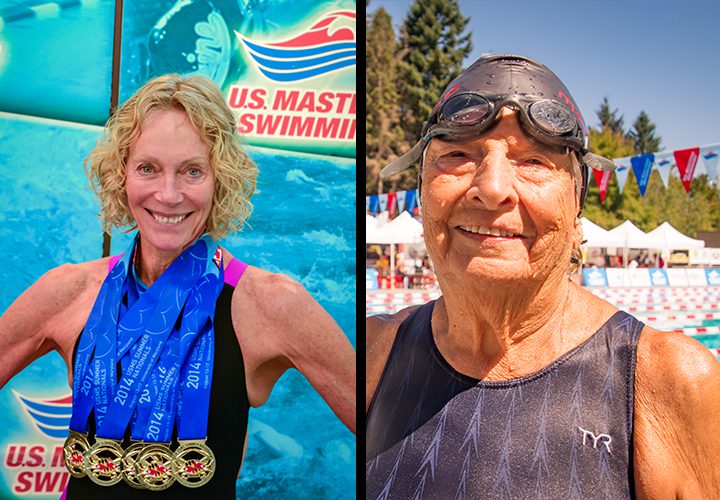 2016 Top 12 World Masters Swimmers of the Year
Swimming World Magazine has been recognizing the Top 12 World Masters Swimmers of the Year for the last 13 years. Running from April 4th through April 9th the staff at Swimming World will be shining a spotlight on the accomplishments of our Top 12 World Masters Swimmers of the Year, along with a special spotlight on the runners-up on the 10th.
Diann Uustal, USA (70-74)
In the past seven years, Diann Uustal, 70, has become a dynamic sprinter, setting 22 Masters world records (through Oct. 31, 2016) plus 72 USMS individual and three USMS relay records.
Last season, she posted five global standards: LC—50-200 free (33.52, 2:46.63); SC—50-100 free (32.79, 1:12.58), 50 fly (35.12).
Uustal was first selected as a Top 12 honoree in 2011—one year after setting her first Masters backstroke world records. Since then, she has extended her swimming mastery into sprint free, fly and IM. Additionally, she has etched her name into FINA's All-Time Top 10 list on 15 different occasions between two age groups, and has 18
USMS All-American honors (13 individual, five relay).
None of her accomplishments should come as a surprise, though, when one considers her family's background in the sport of swim- ming. Uustal's grandmother, Ruth Elizabeth Coburn, was a formi- dable open ocean and competitive pool swimmer, while her mother was a notable diver and swimmer in New England. —T.B.
Maurine Kornfeld, USA (95-99)
Maurine Kornfeld, 95, made her Masters debut in her 80s and set her first Masters world record when she was 90 (SC 800 free, 18:38.69).
Five years later, competing for the first time in the 95-99 group, she set 10 Masters world records during the competition season of Nov. 1, 2015 to Oct. 31, 2016: LC—50-100-200-400 free (1:04.02, 2:22.74, 5:03.47, 10:12.49), 200 back (5:42.64); SC—50-200- 400 free (1:09.70, 5:18.94, 10:51.92), 100 back (2:53.16), 100 IM (3:32.13).
Back in 2010, she was awarded the Southern Pacific Masters Swimming (SPMS) award for exemplary commitment to Masters swimming, personal achievement and inspiration for others. She has been named an All-America swimmer by U.S. Masters Swimming 28 times (17 individual, 11 relay) and has maintained an All-Star status with USMS since 2011. —T.B.